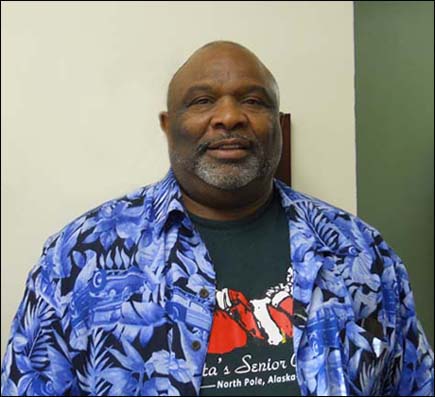 William-Sanderson
I caught up with William at the Senior Center last December, 2014, and was pleased that he was willing to share his story with us.
A child of the segregated south, William Henry Sanderson, Jr. was born on March 17, 1950 and raised in Glasgow, Kentucky. Known in his family as "Little Junior," he was older than his sister, Sheila Jo, by three years. At the tender ages of 6 and 3, their 26 year old father was killed in an auto accident on Easter Sunday. Their mother, herself a woman barely out of her teens, was unable to provide adequately for her two children, so agreed to allow her mother-in-law to step in. Grandmother arranged for the pair to be raised separately by their deceased father's sisters. William was subsequently placed with Aunt Mary Jane in Glasgow, while Sheila Jo went to live with Aunt Anna Jo in Louisville. She lives there to this day and brother and sister speak from time to time. Their grandmother's good friend, Sherman Lee, also lent a hand. At the time, William would never had guessed the impact that this gentleman would have on his future, but still remembers Sherman as being the strongest, most influential person in his life. Later, as William's grandmother lay on her deathbed, she secured a promise from Sherman, who was certainly not legally obligated to do so, to always watch over William. He ultimately became the father figure William needed. Aside from loving encouragement, Sherman also provided food, clothing and shelter. Lessons like, "Always take care of your family first," and "Boy, don't ever be depending on a woman. Learn to do for yourself." were only two of the important values he passed on to William at a very early age. The importance of a handshake, doing a job well and following through on a promise given are attributes that William, himself, went on to teach his own children. When Sherman passed away, William was left with his watch and a ring that are treasured to this day.
Though William missed out on the usual day-to-day contact most children have with their mother, he was able to spend time with her in Louisville each summer. He and she connected on a much deeper level for a brief period before her death in August of 2002, when she took her first plane ride to visit with him, his wife and children in Alaska. Spending time together and seeing her interact with her grandchildren are priceless memories for William and his family.
William vividly remembers how it was to live in the south during the 1950's and 1960's. Non-whites accessed restaurants, lunch counters and soda fountains via the back door where the question of "here or to-go?" would be asked. Of course, the correct answer was always "to-go" for those customers with dark skin. Anybody was free to come inside and shop, but the welcome mat would be quickly pulled up as soon as food or refreshment entered the picture.
William attended Ralph Bunch, a segregated school in Glasgow that included elementary, middle school and high school grades. With his high school years upon him, desegregation was in full swing, and he and his classmates were bussed to Glasgow High School where they were to continue their education. He recalls the difficulty that came with being moved into an integrated school environment where the teachers didn't want to teach Black kids, the students didn't want to share their school with Black kids, and the Black kids who'd been forced to change schools certainly didn't want to be there either. For the most part, William just laid low, did his school work and waited until graduation, which was accomplished in May of 1968. Prior to this, he had been an "A" student but now brought home "B's." Years later, in 1988, William would graduate from the University of Alaska Fairbanks with a 2 year degree in Business, an accomplishment that he would consider as the proudest moment in his life.
Because he had chores to do at home after school, he wasn't able to participate in sports or other extra-curricular activities, but did, however, play Little League baseball each summer, from the time he was a little boy through high school. His position as "hind catcher" in Kentucky was simply known as "catcher" elsewhere, and this foreign phrase was often the cause for laughter. As he got older, he had a paper route, cut tobacco, hauled and harvested hay and did odd jobs for people, using Sherman's old truck. Throughout his childhood, William also holds the distinction of having owned 26 bicycles, which he reportedly, "rode to death," besides owning one "tree pony." Not being familiar with this term, he explained this animal as being a burlap sack thrown over a tree limb and ridden!
Immediately after high school, William began working as a grocery bagger, shelf stocker and produce man for Houchen's Supermarket in Glasgow. It wasn't too long before he started getting letters from Uncle Sam, and since he wasn't particularly thrilled at the prospect of Army life, he decided to speak with the Air Force Recruiter, instead. He was accepted into the Delayed Enlistment Program in August of 1969 and in the following November, was headed to Boot Camp in San Antonio, Texas. In January of 1970, William went to a direct duty assignment at Davis-Monthan AFB in Tucson, AZ, where he was assigned to the 803rd Combat Support Group Supply Squadron. In March of 1973, he was transferred to Eielson AFB and the 5010th Combat Support Group HQ Squadron. He stayed there until his honorable discharge in February of 1980 after serving 10 years and 3 months of active duty in the USAF. In June of 1980, after a brief break in employment, William was hired by the State of Alaska, Department of Public Safety as a Licensing Service Agent at the Richardson Weigh Station. Those familiar with the trucking industry will recall that in those days, the only weigh stations in this vicinity were located in Ester and the In & Out-Bound Richardson. Fox Weigh Station consisted only as a concrete pad. Though his job duties differed very little, his job title often changed, and in 1982, William found himself working as a Weigh Station Operator I under the Department of Commerce. Then, in 1998, William was deemed a Commercial Vehicle Enforcement Officer under the Department of Transportation. He maintained this job title until his retirement in 2005 from the State. Not one to rest on his laurels, he joined the Air National Guard's 168th Air Refueling Wing in 1993 and served 10 years, retiring for the second time in his working career as an E5. When I asked him what his best and worst jobs have been, he cited his best two jobs were with the USAF and State of Alaska. Employment in these arenas provided him with financial security, health and retirement benefits, for which he is grateful, but then went on to say that working for the State was also definitely his worst job, made so because of the politics that were involved. He confessed there were days when he had to drag himself to work.
In 1971, while stationed in Tucson, William met Chrya. They dated for a year or so and around the holidays, became engaged. He doesn't remember if his was a particularly romantic proposal, but Chrya accepted and they were married February 18, 1972. In 2015 they'll be celebrating their 43rd anniversary, evidence that he must have used the right words! They welcomed their first child, Sherman, in November of 1972, their only daughter, Yonna, arrived in July of 1975 and their family was completed with the welcome addition of William Ashley in November of 1977. William had come to Alaska in March of 1973, leaving Chrya and Sherman behind until he returned in June of that year to accompany them north. The family of three lived in Moose Creek Apartments for a little over a year before moving into base housing on Eielson where they stayed for about 5 years. The next few years found the family relocating back to Moose Creek and North Pole and eventually, to their brand new home off Dyke Road where he and Chrya still live today.
Now that William is an official retiree and "house-husband" for Chrya, who still works outside the home, he stays pretty busy. Wednesdays, you'll find him in Fairbanks at Arctic Bowl lighting up the lanes with the "Hit and Miss" Senior Bowling League. Besides Santa's Seniors, where he likes to enjoy a cup of coffee around the Breakfast Club table, he belongs to AARP and the Fairbanks Senior Center. From the time the snow melts and the streets and trails dry up enough to ride, you'll see William peddling on his 7-speed Shindawa road bike. He puts in anywhere from 6-12 miles a day, just for the pleasure of riding, which continues until the snow flies again. He also putters in his garden and yard and has also been known to wet a line on occasion. William describes a Perfect Day as being outside in his yard, swinging on his swing, enjoying the beautiful fall weather and listening to the birds. His Perfect Day does not include mosquitoes!
William is most thankful that he and Chrya were up to the task of raising three good kids who didn't cause undo drama at home and who grew into independent adults who have provided him and his wife with nine beautiful grandchildren. He is also glad he is healthy enough to remain active and enjoys the luxury of a peaceful sleep each night without worry. This isn't to say he doesn't have definite opinions on what he doesn't like or appreciate. He holds particularly strong feelings against "Whiners," saying that if you see something you don't like, and then DO something about it instead of sitting around complaining.
Though a self-described "saver," given unlimited funds to spend, World Vision would be the benefactor of the bulk of his funds. Providing children with shelter, food, safe water and a future speaks to his innermost soul. William's favorite Scripture is John 3:16.
Life is good for this man who describes himself as a "good listener, friend, father and caring person." Having worked for several years within the same Division as William, I've gotten to experience first-hand how truer words have never been spoken.
Interview and Story by Francie Cork
Photo by Sharon Geese