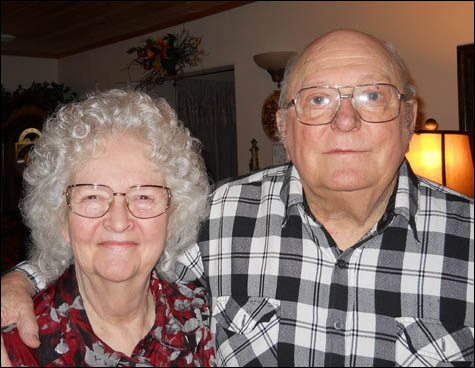 Wayne & Beverley Million
The second child born to a farmer and homemaker, Wayne Million arrived on July 21, 1929 in Pocahontas, Arkansas. He and his two brothers and five sisters were raised near his maternal grandparent's 80 acre farm in Noland, Arkansas. His was a close family who pulled together during the Dust Bowl and Depression years. Even though many have passed on, Wayne continues to draw inspiration from those who took the time to mentor and share their knowledge with him. When he was 14, he was employed as a stone mason for $1 a day. Never one to avoid hard work, he credits his talent and love of building to his mother. This ability has served his family, friends and neighbors well through the years. In October 1950, Wayne enlisted in the U.S. Air Force in Little Rock, Arkansas and a few months later he was sent to Goose Bay, Labrador on his first overseas tour of duty.
Beverley Joanne Koller, the oldest of six children, was born in San Diego, California on May 22, 1935 but was raised in Portland, Oregon. Her father was a longshoreman and her mother tended bar. Bev grew up in what we would call today a "dysfunctional home." Even as a child, she was expected to assume responsibility for her younger siblings when her alcoholic parents were unavailable. Although both parents worked, and her father hunted game to put food on the table, money was always in short supply. When she about twelve, Bev began babysitting outside the home for 35 cents an hour to help buy groceries. Always a good student, her home life didn't allow for sleep-overs or shopping excursions with friends. To this day she cannot recall any memories of family holidays or special treats. Because of her early exposure to liquor and her fear that she may be genetically vulnerable, Bev vowed at an early age to never drink and has kept that promise to this day.
These two lives intersected on April 9, 1952 when Wayne, who by then was stationed in Portland with the U.S. Air Force in the Fire Department, and two friends decided to take Wayne's 1950 Chevy cruising. They met a couple of girls who took them over to meet their friend who was babysitting nearby. Bev immediately liked the handsome, dark-haired soldier and Wayne saw something special in the pretty teenager. It should be added that she was also hard at work on her homework! These two struck up a conversation and the very next day, Wayne dropped by Bev's house to meet her father. They became engaged on May 3rd and on June 14, 1952, accompanied by her parents, seventeen year old Bev and soon-to-be twenty three year old Wayne, became husband and wife in Stevenson, Washington. It must have been True Love, because in 2012, they celebrated their 60th Anniversary!
Their first home was a $30 a month one room apartment with a shared bathroom in Portland. Wayne "worked it off" by providing maintenance services while Bev supplemented their income with tips from a waitress job. In his off duty hours, Wayne earned extra money at Libby's. Their efforts paid off and they purchased a one bedroom, 24' house trailer in a court near the base. In July of 1953, Jerry, the first of their five children arrived.
Wayne's military obligation ended and he re-enlisted in 1954. Soon, he and his family were ordered to Scott AFB in Illinois until they were transferred to Alaska in May of 1955. The three of them drove the Alcan with a 38' house trailer in tow. It took them 14 days. They found space in Lakeview Trailer Court for a time before moving their trailer to property they'd purchased on Badger Road. There, a wannagan was added and they stayed until September of 1959 before being transferred again by the Air Force. Wayne, a very pregnant Bev, Jerry and new family additions, Cheryl and David, would be calling Shaw AFB in Sumter, S.C. home. Daughter, Linda, joined the family that December. Having been raised in the Great Northwest where there were no color barriers, the segregated South came as a real surprise to Bev. Ignoring the "rules of behavior," did not endear her to several people during her time there. In February of 1964, Wayne accepted an "overseas" assignment of 15 months to Galena, Alaska. If there was ever a rocky time in their marriage, it was after Wayne returned to South Carolina following this solo tour. Upon his return in May of 1965 he discovered Bev, his once compliant, very dependent bride, had gained new confidence and had become pretty self-sufficient during those long months as a single parent. Thankfully, their commitment and deep love for each other was strong enough to weather these days.
Weeks later the family left South Carolina and drove the Alcan Highway, headed to Eielson AFB, their next assignment. They built a house near the intersection of Dyke and Laurance Roads that became the gathering place and safe haven for many local youth. A kind word, good food and interested adults who took time to listen were the draw. It also didn't hurt that Mr. and Mrs. Million routinely offered their garage for Jerry's band practice! In this happy environment, the family welcomed their fifth and last child, daughter Kathi, in August of 1967, during the flood. Wayne and Bev also went on to foster another daughter for two years.
Wayne retired from the Air Force in 1970 but continued working in fire services on Eielson through Civil Service, attaining the title of Fire Chief from 1975-1977. After he left that position, he and Bev sold out and moved to Warsaw, Missouri with their youngest two children. They remained there a whole ten months before returning to this area to help their son, Jerry, build a garage for his business, Million Automotive. The four of them lived in a cab-over camper on Jerry's front lawn during the construction. It wasn't too long before Wayne determined that "someone" in the household needed to get a job, so in September of 1978, he accepted the position as one of the Fire Chiefs for the University of Alaska. This was fortunate timing because an apartment in the fire station was included and winter was closing in. In 1985, Wayne and Bev left the station to move into their rental trailer on Lyle. They also bid farewell to the 24-hour a day, 365-day a year alarm system that had kept them hostage for so long. Wayne retired in September 1992 after 42 years in the fire service. With a lifetime of relocating, construction and renovation projects behind them, they built their present home off Laurance Road on Joan Avenue, their "favorite place in the world" where the sign in the driveway proclaims, "Welcome to Millionville, Population 2 Million-Wayne & Bev." Tucked in the rear of the spacious garage lies, "Wayne's World," which is an isolated, private area that can stand alone as comfortable accommodations for the occasional long-term visitor. It is definitely the quintessential Man Cave!
Wayne and Bev have offered their time and talents in active community service and are especially generous to those organizations who offer a helping hand to those in need. The Fairbanks Rescue Mission, Food Bank, Promise Keepers and Santa's Seniors are but a few of their benefactors. They are involved in their church, Moose Creek Baptist, where Wayne currently serves as an Elder. He was also active in the Prison Ministry for quite some time. Now, they participate in a weekly Bible study and are the regular hosts for Faith Bible Institute. They've also held various church offices, taught Sunday School and have supported our local schools. Although Bev wishes she'd gotten a better education herself, she made sure her own children were given every opportunity to pursue their dreams to become successful.
These days, daughters Cheryl and Kathi live out of State with three of the Million's grandkids and son David, is in Anchorage. Sadly, they lost their daughter, Linda, on December 4, 2009 who left behind three children. One of her daughters lives in Fairbanks and Jerry and his two sons live nearby.
Not too surprisingly, but nevertheless heartwarming, both Bev and Wayne lists the other as "their greatest blessing," and Wayne even elaborated by saying he "NEVER regretted marrying Bev because she taught him how to be generous with love."
A "serious hobbyist," with a special interest in ceramics and counted cross-stitch, Bev still crochets and has made and given many afghans to friends and family. In the past, she served as a judge for the Tanana Valley Fair and is an avid reader. She particularly enjoys mystery/romance books (as long as they contain good language) and enjoys books written by Mary Higgins Clark and Janette Oke. She recently finished reading Bill O'Reilly's, "Killing Jesus" and has passed this on for Wayne to read. He likes short stories and human interest books. He strongly disagrees with this description, but his wife, who probably knows him better than he knows himself, says he is a "Bible scholar."
Only health challenges and time have made this couple slow down. Wayne, who is pretty much house bound in the winter months uses a walker to help steady himself and Bev has become his personal caretaker. One positive thing about getting a little older is they can finally treat themselves to small pleasures that often eluded them in the past. Wayne can sleep in when he wants and Bev keeps a regular hair salon appointment. They also take great pleasure in the company of family and friends and the unexpected ARK (Acts of Random Kindness) that come their way--sometimes in the form of a smile or a helping hand in a slippery parking lot. Having Meals on Wheels and a Home Health Nurse who regularly visits have been real blessings that gives them peace of mind. Since experiencing five days of power outage last December, they both agree that electricity should be counted as the best modern invention we often take for granted. Wayne reminded us that because of it, we enjoy indoor plumbing!
When I asked them for words to describe themselves, "Honest" topped both of their lists. Bev added "Too" to that word as well as "Easy-going, Thoughtful and Generous." I think "Joyful and Gifted with Numerical Memory" should be given consideration. Wayne claims "Dependable and People-lover" as his strengths. I'd also suggest "Great Storyteller with Questionable Musical Talent," but must say whatever Wayne lacks in talent is more than made up for with enthusiasm!
Peeves and Concerns they share would be the general lack of thankfulness that is displayed these days by young and old alike and people who are untruthful and who fail to follow-through.
When I asked the question, "What do you know for sure," Bev responded, "I'm alive and happy." Wayne answered, "I'm loved by my family and they let it show."
What more can possibly be said?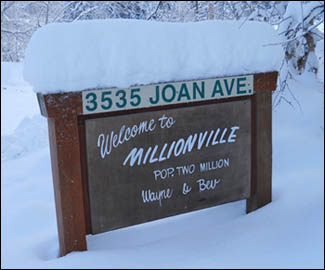 Interview & Photo by Francie Cork