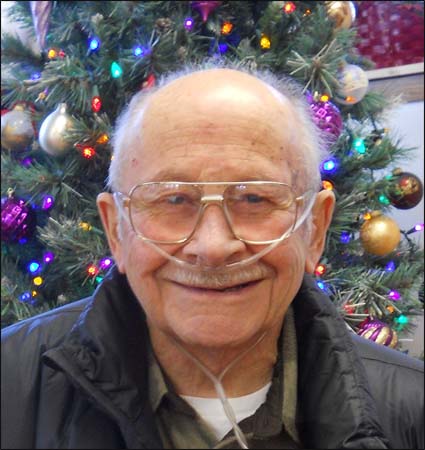 Walter Gelinas
Walter Henry Gelinas was born about two miles northwest of Boston in Somerville, Massachusetts on July 14, 1935. He was the youngest member of a family that consisted of two brothers, who were five and ten years older, and three sisters who had died at birth. Walt's father was the general manager of two lumber yards near Somerville while his mother maintained the household. While they were in no way wealthy, the family was able to enjoy some of the finer things in life. Typical summer vacations would find them in a rental at the beach for ten weeks in Massachusetts, Maine or New Hampshire.
Growing up in Somerville, Walt walked the mile or two each way to attend his first seven years of grade school. After his grandmother sold the house they were living in, just prior to Walt's entering 8th grade, he and his parents relocated about four miles away in Arlington, where he completed his final year of primary school before advancing to the local high school. In those days, students had the option of studying for their diploma while working toward their vocational training certificate. Walt was one of those who juggled high school plus part-time employment from 4PM to 11PM each day for a dealer in Belmont, the next town over. As a testament to his diligence and mind-set, Walt graduated early, in December of 1953, and returned to his high school only to receive his diploma and his vocational automotive certificate. Today, Walt has little patience or sympathy for young folks who are slackers. As a side note, commencement was delayed by an unusual tornado threat but eventually, Walt was able to receive the awards for all his hard work.
Never much of a troublemaker, Walt was a dreamer who wanted to travel and envisioned flying. Little would he have guessed that he'd see a lot of the world and though he never achieved that pilot's license, his military service would play a part that allowed others to fly.
Walt remembers life in his home as having a virtual revolving door. Lots of maternal aunts, uncles and a few cousins would be on hand for holidays and frequent get-togethers. His mother had one major stipulation and that was "No foreign languages were allowed to be spoken in her house." As a result of this rule, Walt's father's French Canadian relatives seldom stopped by or stayed very long!
Uncle John, Walt's mother's brother, played a pivotal role in his life. Following WWII, and himself an Army Air Corps Veteran who served in England, Uncle John came for a week's visit and wound up staying ten years. It was Uncle John who convinced Walt to pursue a career in the Air Force, because, "If you join the Army, you'll sleep on the ground in a tent, in the Navy you'll sleep in a cubbyhole on a ship and only occasionally see the sky, but the Air Force can offer you good food and pretty nice lodging." Walt listened.
With Uncle Sam breathing down his neck, and remembering the sage advice given by Uncle John years before, Walt joined the Air Force in June of 1954. This smart move allowed him to avoid the draft and saved him for suffering the fate of tents and cubbyholes. His basic training took place at Sampson A.F.B. in New York before being sent to Denver, Colorado for a year of training in aviation electronics. From there, he moved on to assignments to Ramey A.F.B. in Puerto Rico, Fairchild A.F.B. in Spokane, Washington, all the while accepting three month short assignments to Eielson, A.F.B. Though Walt continued to request a transfer to Alaska, it never happened. When he was moved to Panama for three years, it was as an administrator. Ellsworth A.F.B. in Rapid City, South Dakota, saw yet another change in duties, as an administrative work in missiles. Walt hated this, again requested Alaska and was denied...still! It is uncertain whether Walt wore them down or they eventually saw the light, but after a long wait, he was finally transferred to Eielson A.F.B. After exhausting his extensions, he was sent back to the missiles in Grand Forks, North Dakota where he stayed before retiring in 1974 with twenty years of military service under his belt....in Eielson! He remained in Alaska and has lived in this area ever since.
Walt worked as a federal employee for the Alaska Railroad in Fairbanks for eleven years, progressing from a helper in the roundhouse to Diesel & Derailment Foreman. This position ended when the State took over the operation. After this retirement, Walt attended classes at UAF in pursuit of a degree that never materialized. Soon after, Fairbanks North Star Borough Personnel approached him to offer a job driving the little train at Alaskaland that summer. He and another engineer kept the train on the track and maintained the equipment, too. Although the wages weren't the greatest, Walt says it was the best job he'd ever had. He was paid to visit with people and never had a bad day at work! After this, He was Assistant Manager for the Food Bank in Fairbanks when it was still on Gaffney Road and was also employed as the Assistant Manager for TMS and Mayflower, the school bus people. Mayflower was eventually absorbed by Laidlaw and Walt stayed there until he refused to follow a direct unscrupulous order given by an Anchorage "big wig." It turns out Walt has little tolerance for a wagging finger! Walt decided to pursue other interests that would lead him on a journey even he wouldn't have imagined.
Even as a little boy, Walt enjoyed playing "priest." All through his adult years, that idea never left, but slowly germinated until the opportunity arrived nearly 30 years ago that allowed him to follow his dream. A program was locally available that would entitle him to finally serve God and his community in a capacity that was almost priesthood. Thus began a difficult, challenging and rewarding four year course of study that would eventually enable him to be an Ordained Deacon of the Catholic Church. He has been on staff at St. Nicholas Catholic Church here in North Pole ever since and can do everything a priest can do except consecrate the Eucharist. He performs marriages, funerals, baptisms and assists in communion, among other duties that benefit the church and its congregation. Walt admits that once he puts his vestments on, there is a tendency for some folks to suddenly clean up their language or get choosy about which joke or story to tell in his presence. People tend to be on their best behavior when they believe God is nearby! This part of his life has been particularly fulfilling and Walt says he has learned a lot about himself. He continues to take periodic "refresher courses" and intends to remain a faithful servant of St. Nicholas Church for as long as he is able.
Though he is admittedly not a morning person, he makes one concession each Saturday morning. Walt is a regular attendee to an early get-together with other members of the Knights of Columbus at the North Pole McDonald's. For several years, Walt also delivered boxes from the Food Bank to the Senior Center, no doubt falling back on his prior experience. He has also been spotted at Senior Luncheons and around and about North Pole.
Walt enjoys fishing and has a 21' aluminum inboard/outboard "Valdez boat" that has also spent time at Paxson Lake ("to clean the salt water out of the boat") with family and friends. Perhaps it is lucky that he has had no luck in that location, because salmon is not a favorite of his. Mainly, he just loves the preparation and the trip itself. Asked to describe his perfect day, Walt chose springtime and spending a peaceful, quiet day at home, most likely reading non-fiction historical and war books, puttering around on his boat and NOT answering his phone since this last task involves climbing up a ladder.
Walt has managed to get in a fair amount of traveling. He has been on 4 or 5 cruises to the Caribbean, Bermuda and the Virgin Islands. He has been to Israel twice, the second time as a tour guide, and has certainly covered extensive territory within the United States. He still looks forward to that oft-wished for Alaska Inside Passage Trip. When he was sent to Puerto Rico in his early military years, he met his wife and they were married in 1955. Though this union did not last, he was blessed with four kids – two sons and two daughters and has added eight grandchildren and two great-grandchildren to his family tree. Walt is fortunate to have one son who lives nearby while another resides in Hawaii. His daughters are in the Portland, Oregon area and at the Pentagon in Washington, D.C.
As far as surprises or things not many of us know about Walt, he shared that his first trip to Israel was funded by winning the Monroe Foundation's $10,000 Grand Prize at HIPOW. It must have been a wonderful experience because it prompted him to return a few years later.
Late in the interview, I asked Walt to complete this sentence: "One true thing I've learned is..." and he answered, "Humility. Even if you don't agree with the other person, it is always best to be humble." As it is, Walt is one of those quiet people who tirelessly works behind the scenes to make life better for us all. It was an honor to sit down with him and hear just a little about his life story. And, in case you wondered, Walt is always willing to hear a good story and laugh at a funny joke!
Interview/Story by Francie Cork ~ Photo by Sharon Geese