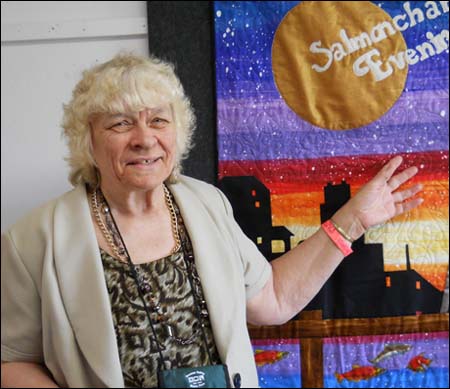 Victoria Thompson
In August, I met up with Victoria in the Agricultural Museum of the Tanana Valley Fair. She has been actively involved in this organization since 1993, frequently giving her time and talents as a judge and food preservation superintendent. This year, she was recognized for her hard work by being named the 2014 Superintendent of the Year by that Board. She has served on the City of North Pole's Beautification Committee, the July 4th Summer Festival Committee, Christmas in Ice, Voter Registration and is a member of Moose Creek Baptist Church. She joined Santa's Seniors in 1995 and has served as a Director and supporter since then. Making jelly and jam for residents of Holiday Heights, sharing her knowledge of cooking, canning and giving away her products are what she considers to be her guilty pleasures.
Victoria was born at home in Concord, a small town in east Texas, on December 7, 1939. Weighing in at ten pounds, she was the third and smallest baby born to a truck farmer and a homemaker. The family worked long hours growing watermelon, cotton, peas, peanuts and tomatoes that they sold at market. At an early age, the children were expected to help out where they could, which often meant being alongside their parents in the fields.
When Victoria was twelve, she heard Pauline Frederick, an American journalist in newspapers, radio and television, broadcast from the United Nations. As a woman in this field, Ms. Frederick was far ahead of her time, once remarking, "All news activities are about people and the ability to cover should not be judged by the sex of the reporter but by the reporting ability." This struck a chord with Victoria and she knew from that moment that this was the type of work she was meant to do. At fourteen years of age, while visiting her aunt in Trinity County, Texas, she attended a revival at the Oaklawn Baptist Church, was saved and surrendered her life to mission work.
Victoria and her siblings attended school in Montalba, Texas, only three miles from Concord. They typically walked the half mile to catch the bus to school unless rainy weather washed out the bridge. When this happened, the bus couldn't cross so the children would pass over to the other side of the bridge and then walk the additional half mile to catch their ride there. She completed tenth grade there before graduating from high school in Palestine, Texas.
Diploma in hand, Victoria went on to wed and have four children. By the time her marriage ended, all but one child, a tenth grader, were grown and out of the house.
At age thirty-five, Victoria enrolled in Sam Houston State University in Huntsville, Texas and graduated with a Bachelor of Arts Degree in Education with a focus on English studies and journalism. She eventually taught in four schools and worked at three newspapers and four radio stations.
In the winter of 1982, Victoria's Texas pastor preached a revival in North Pole at the First Baptist Church. When he returned home, he reported to his congregation that although the trip went well, the -52 weather just didn't suit him. One day he and a group of church members were talking about his trip and Victoria told her pastor not to say he would not go to Alaska because sometimes God sends us where we do not want to go. He just looked at her and said, "No, He's called YOU to Alaska—YOU go!" In 1991, Victoria applied with the Southern Baptist Convention North American Mission Board to be a Mission Corps Missionary. She specifically requested Alaska, believing she'd be teaching English as a second language or using her talents in journalism and photography. She wound up spending the summer of 1992 traveling around Alaska taking pictures of Southern Baptist Churches, camps and activities. While in North Pole, she took the tour at KJNP and felt that was where she should be working. She returned to her teaching job in Houston, Texas and had a disastrous year. In 1993 she accepted an assignment at KJNP and has been there ever since, currently serving as their News Director. Her duties are varied and you may recognize her as the familiar voice of The Bulletin Board on KJNP's AM Radio 850 that broadcasts at 8:50 AM and again at 3:30PM on KJNP's FM station. She also presents the news and gives local, Interior and Arctic coast weather reports. For the past three years, Victoria has been the voice of those hourly updates for the Iditarod and Yukon Quest sled dog races and additionally provides us with special travel and weather advisories as necessary.
Though her journey has often been rocky, Victoria is grateful to have achieved her goals as news reporter and as a missionary. She says the two greatest years of her life were caring for Mabel Carey, her mentor and cherished friend. Many of you may remember this dear little lady as one of our own Santa's Seniors members who passed away in 2008.
One Truth prevails for Victoria and that is, "the Lord will always take care of me. I've never drawn a salary but have everything I need, everything I want and a lot of things I don't. I'm becoming more aware of this as I pack my car for an extended mission support trip." In 1996 Victoria's story was printed in the Women's Auxiliary Magazine, The Mosaic. As a result of the article, financial support, prayers and assistance were generated, far and wide. She will be visiting individuals and churches to personally thank them and to give reports on the status of mission work in the Interior. She has made two such trips in the past, lasting about a month each. This time she expects to be gone about ten months and will cover the majority of the states.
By the time you read this, Victoria will be well on her way. We wish her Godspeed in her travels and look forward to having her in our midst again.
Interview by Francie Cork - Story written in collaboration with Victoria Thompson - Santa's Senior Photo