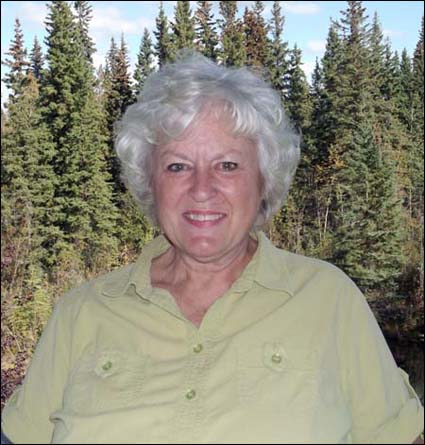 Sharon Geese
Sharon Lee Plummer was born in Delaware, Ohio on December 10, 1946 to Walter Lee Plummer, a Theology student, who at the time pastored two small churches and Elizabeth Hartswick Plummer, an elementary music teacher/ musician. The firstborn of three children she narrowly escaped being named Penelope. Her mother could hardly bear the thought of having a "Penny Plummer" in the family so, after 24 hours of hard labor, Sharon's Dad acquiesced and let his wife name their daughter.
With a Methodist pastor for a Dad, Sharon and her family faced many relocations as they were called to minister throughout the State of Ohio. As an infant, Sharon lived with her parents in the G.I. trailers on the campus of Ohio Wesleyan College in Delaware. During his undergraduate years, her Dad served many small churches in and around mid-Ohio, living in various parsonages. Before starting school, the family moved to Granger. Sharon started school as a first grader in (coincidentally) Sharon Center, near Akron. The Plummer family remained there until Sharon was a fourth grader then found themselves in Lakeside, Ohio, a seasonally gated Christian community. There were some great advantages to living in an environment like this. The wholesome surroundings provided easy access to the beaches of Lake Erie, beautifully maintained grounds and wonderful outside recreational areas. And, best of all, it was also the site of Hoover Auditorium. This facility was geared to attracting family-friendly activities, great speakers, musicians, concerts, and special programs. Sharon recalls witnessing the performance of Marion Anderson and waiting in line for her autograph following her show. Another bonus for living there was Cedar Point Amusement Park, located in the next town over. Later in life, it spoiled Sharon's children for Disney World. It was around this time when Sharon discovered a violin in her Mom's closet. Although she didn't realize the significance then, she was, nonetheless thrilled by her find. As a music teacher and instrument's owner, her Mom was very pleased. Lessons were begun and Sharon began an accomplished violinist, receiving superior ratings at State contests during her high school years. Leaving Lakeside was difficult, but when she was half-way through 8th grade, her Dad was summoned to the farming community of Hilliard, a suburb of Columbus. There, in 1964, Sharon graduated Hilliard high school and remained until her marriage.
Sharon's first job took place between her freshman and sophomore years of high school. She worked as a file clerk, complete with rubber finger, and spent her days with a half dozen other young ladies in the filing pool talking and laughing. This was her first taste of earning a paycheck. The next summer, she worked as a Girl Friday in a dental office.
After hearing Joe's story about meeting Sharon and how immediately he was smitten by her, I had to ask if the feeling was mutual. As it turns out, it was not. Both she and Joe were very active members of their church youth group and their relationship grew slowly and steadily from a deep friendship and mutual respect for the other. Sharon was attracted to Joe's sense of humor and the sweet relationship he had with his Mom, while he, no doubt, was moved by her appearance and wholesome demeanor. After a good deal of group dating, multiple movies, fifteen cent burgers and happy times singing in many groups together, Sharon was convinced she'd met the man with whom she'd spend the rest of her life. One of her fondest memories was being cast with Joe as the leads in "Oklahoma", their high school's first musical presentation. She and Joe Geese (See Spotlight # 25) were wed on August 14, 1966. Earlier this year the couple celebrated their 50th Wedding Anniversary touring the Panama Canal, with stops in Florida and Las Vegas. Sharon's bucket list includes a trip to Israel and a European River cruise.
Prior to their wedding day, Sharon had begun taking classes at Baldwin-Wallace College, a Methodist University in Berea, outside Cleveland. After the wedding, she transferred to Northern Michigan University in Marquette as Joe was stationed at K.I. Sawyer AFB in UP Michigan. Although she began her studies as a music major, she soon felt this was not a good fit for her so, changing her focus, graduated with a Bachelor of Science degree in elementary education the spring of 1968. Her parents both felt very strongly about the importance of Sharon graduating college. She recalls her Mom saying, "This degree will be like a second insurance policy for you," and thus pledged their financial assistance. This turned out to be a true blessing, because as Sharon put it, "Joe had two stripes. We had nothing to put toward tuition."
After her graduation from college, Joe was sent to Thailand. Sharon remained in the states in the good hands of her in-laws and parents and gave birth to their first child, a daughter, Kelly, in 1969. Joe didn't see his little girl until she was 3 months old. The military transferred the family of three to South Carolina for two years following Joe's return home. In 1972 they received another call to duty—this time to Alaska. Sharon was able to substitute teach and did so until the birth of their son, Kevin, in 1974 at the (old) Bassett Hospital on Ft. Wainwright. Sharon was offered part-time work as a Kindergarten teacher at Adler in Moose Creek and was there from 1978-1979 before Uncle Sam sent them to Fairchild AFB near Medical Lake, WA for another two years before returning them back again to Eielson. Sharon especially hated leaving Washington. It was there they'd purchased their first home, had become active in a church they loved, and had developed many deep friendships. While living in that area, Sharon, with her background in education, played an integral part in organizing their church's pre-school program in concert with Wee Lambs Daycare. In January of 1982, four Geese's found their way back north to the Interior of Alaska. After returning, Sharon resumed teaching and retired from the Fairbanks School District in 2005 after spending 22 of her 24 years in Kindergarten on Eielson.
Many of us have regrets and Sharon is no exception. When her children were young and she was teaching full-time and volunteering outside their home, she missed a lot of time with her children. To this day, she regrets her "busy-ness" during their younger years. Quite often, circumstances and financial situations influence our choices and parents are left to do the best they can at the time. Certainly, neither of her kids have suffered for this!
With her strong faith being the most important factor in her life, Sharon (and Joe) have been members of North Pole Assembly since the mid-80's. She has taught Sunday school, led Women's Ministry, led worship, played piano (in a pinch!), conducted Bible studies and has supported a myriad of other activities, as needed. Sharon begins each day in Bible study and devotions and particularly loves the messages in Psalms 19, 25 and 103. She has memorized many passages and verses by rote and truly has the heart of a servant.
Outside of church, she serves as secretary for the Friends of the North Pole Branch Library. In fact, at the recent Snowflakes & Sweets Library Fundraiser that was held at the Center, it was Sharon who can claim credit for the beautiful decorations. 17-Mile Homemakers FCE also claims her as one of their own. She is a talented baker and a darned good cook. She perhaps got some of these gifts from her parents, who served as her example of gracious hospitability and generosity.
Sharon is a lover of spinach, chocolate and Thanksgiving. She knits and crochets, "in spurts," and enjoys camping and travel. As a frustrated tour guide, nothing pleases her more than showing visitors around our great state. Sharon has been a member of Santa's Seniors since 2009 and as our former Administrative Assistant, you can bet she is really good at giving local directions, too! Reading is a real passion for Sharon and she has books in every room of her apartment. She is, admittedly picky and prefers Christian authors such as Davis Bunn and seeks books that offer inspiration or have a story to tell or a lesson to impart. She also likes a good mystery and Mary Higgins Clark quickly comes to mind.
One could look a long time before finding someone who is as proud of her family as Sharon is. Both Kelly and Kevin are teachers turned active Air Guard members. Lt. Colonel Kelly outranks her younger brother, Kevin, a Major. Sharon and Joe are the very proud grandparents of three who live in the area. This close family sees each other often and are quick to gather together for family dinners and visits. They are, collectively, Sharon and Joe's greatest blessing.
The One True Thing Sharon knows and believes with all her heart is this: "God loves us with an everlasting love and made us for fellowship with Him. Through Jesus, He has a great and everlasting plan for our lives."
I neglected to ask Sharon about her greatest strengths, so I'll answer for her: She is a good listener. She does not judge or offer unsolicited advice. She is kind and the first to offer a helping hand. Oh, what a world this would be if we could clone Sharon Geese!
Interview by Francie Cork 9-1-2016 Photo by Santa's Seniors.