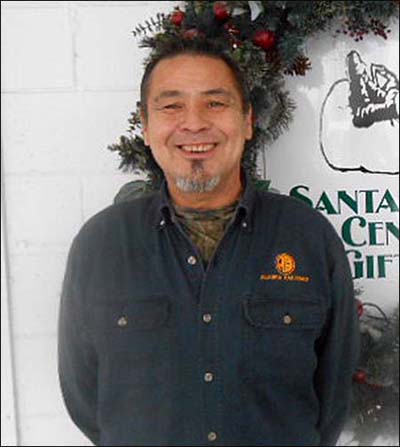 Rick Thumma
If you've ever eaten at Santa's Senior Center, whether it was simply coffee and a breakfast-to- order from The Breakfast Club, a Free-Will Offering Lunch, a quick sandwich or snack at a fundraising event or a monthly Birthday Luncheon meal, chances are good that Rick had something to do with the food preparation. It is my great pleasure to present his story here.
On May 9, 1959, the day before Mother's Day, the Episcopal Church welcomed Ricky Glenn Thumma with open arms and baptism shortly after he took his first breath at St. Joseph's Hospital in Fairbanks. Rick was the fourth of six children of a father who worked for the Alaska Railroad and a homemaker who was Koyukuk Indian and Inupiat Eskimo. When Rick was eight, his mother passed away, leaving his father, at age 30, to raise his children in the family home at 1234 3rd Avenue. Fortunately for the family, the Little Sisters of Jesus, a group of Catholic nuns assigned to Fairbanks lived just across the street. They were instrumental in the upbringing of the children by keeping a watchful eye out for them. Florence Marshall, their "Grandmother," also had a hand in raising the children.
As a young boy, Rick spend many hours with his siblings and neighborhood children playing baseball. Bill Stroeker, who lived one block away from the Thumma family, owned a corner lot that he designated specifically for ball games. He also frequently stopped by to referee. Mr. Stroeker made sure that as long as the lot was used and enjoyed, it would remain available for the kids. Later, another neighbor provided space in their yard for a basketball court.
Though Rick was a "town kid", his Dad made sure he was exposed to hunting and at a very early age, gave Rick his first rifle. It was a Remington Nylon 66 .22 Rimfire Semi-automatic and was used on small game like squirrels, rabbits and geese. Rick remembers the first time he was invited to accompany his father on a moose hunt. Though he was encouraged to bring his gun, his Dad provided no bullets. This exercise served as proof that Rick could focus on the task at hand, handle himself on an expedition into the woods and not mishandle a weapon. Interestingly enough, following his own successful moose hunt as a teen, Rick swore off hunting entirely. Though he still enjoys eating game, he no longer has the stomach for the kill and instead, prefers to spend his time fly fishing. He has several favorite, undisclosed spots that he finds particularly appealing.
Educated locally, Rick attended Denali Elementary, Main School and Ryan Jr. High, graduating in 1977 from Lathrop. Those of us who were here during the pipeline years, remember Lathrop's notorious split shifts. In Rick's sophomore and junior years, he was in school from 6AM to noon.
A truck driver by profession, Rick was sent Outside by Doyon for four months and obtained his certification for Slope work by attending Nebraska Custom Diesel in Omaha Nebraska. Throughout the years, Rick has received many awards and acknowledgements for his experience and safe driving record (3 million miles without accidents or claims) and strives to someday own and operate his own truck Outside, where he will be closer to family. Available most of the winter, warmer months might find Rick working in self-employment as a truck driver. Last fall, he worked in the oil fields of North Dakota.
Asked how he learned his way around the kitchen, Rick said that with six kids and no Mom in the family, everyone had chores. He chose cooking because that way he could fix what HE wanted to eat and besides, it came easy to him and he liked doing it. He is proficient in grilling, smoking and enjoys all kinds of meal preparation. Rick also has a reputation for baking a killer pineapple upside down cake that cannot, in the opinion of many, be surpassed.
At the age of fourteen, Rick's first job was as a bagger for Safeway off Barnette Street in Fairbanks. That building now houses the Post Office. It paid $1.60 an hour. With six kids whose needs were many and varied, anything not deemed absolutely necessary to life by Dad was individually covered by each child through baby-sitting, part-time work and creative barter. Nevertheless, the person Rick most admired and looked up to was his father. The two could discuss anything and everything and his passing at the age of 87 in 2014 was hard on Rick. He still misses his friendship and council every day.
Rick has been a fixture at Santa's Senior Center since 2010, when he moved to North Pole and made the acquaintance of his good friend, Hunter. Since then, he has been recruited to assist with food boxes, cooking, maintenance, shoveling the Center's roof and walkways as well as helping with events. In fact, Rick finds his greatest joy in volunteering. He is well-known by name and reputation both here and in Fairbanks and is quick to lend a hand where it is needed. Truly, he is giving and generous by nature and goes out of his way to be respectful of others. Besides his regular involvement with Santa's Seniors, he is a proud share-holder of Doyon, Ltd., a current member of St. Matthew's Episcopal Church, a former member of Teamsters Union Local 959 and holds the distinction of belonging to Prudhoe Bay's Polar Bear Club.
When he isn't at the Center or elsewhere giving of his time, Rick cuts and splits firewood. As he stated, "I don't need a gym membership—I heat with wood!" He spends between one to two hours each day keeping his new stove fired up. As the owner of two dogs, Biggy and Baltos, both hairless Chinese Crested, the incentive to keep the house warm and cozy is great.
Blessed with a cheerful demeanor, Rick has no regrets in life. He believes all life experiences are opportunities to learn lessons and help to define who he is today. He is a firm believer that everyone, himself included, has control over their own attitude and mood and chooses to just stay home when he is upset or sad. Rick projects his best to us all each day and is happiest when he is cooking for people who appreciate good food. He is especially thankful for the friends, support and relationships he has gained from his association with Santa's Seniors, as well as the relationships he has formed through his close friendship with Hunter.
If Rick was to order breakfast for himself outside of The Breakfast Club, he'd probably order biscuits and gravy, mainly because that meal isn't easy to mess up and in his words, "nobody can cook like I can." His choice of food for lunch would be a basic burger without cheese and regular fries. His favorite dinner is lasagna and his before mentioned pineapple upside down cake for dessert……accompanied, of course, with a cup of coffee with cream and sugar!
During our brief interview, I learned that Rick, like some others in this organization, is a football fan who favors the Seattle Seahawks. Littering and those motorists who ignore the stop signs near his home are his particular pet peeves. He also strongly dislikes, fake "friends and family." The first book he read, cover to cover, was "On the Edge of Nowhere," which chronicled the Huntington family. He is partial to country music with Charlie Pride being one of his favorites. Louis Armstrong's "What a Wonderful World" also holds a special place on his favorites list. A 1963 Plymouth station wagon with a push button transmission was his first car. When his Dad gave it to him a rod was knocking and he was advised to take it easy. Rick drove the car a week before the motor blew. Obviously, he and his Dad had differing ideas of what "take it easy" meant!
It may come as a surprise to some to learn that Rick had a son who was killed in the service of our country in Afghanistan and a daughter who presently lives in Arizona. So far, there are no grandchildren, which meets exactly with Rick's approval. He'd much rather his daughter take her time and not rush into having babies.
His Thanksgiving and Christmas plans are simple and mirror exactly how he has spent these holidays for quite some time. He'll smoke several turkeys and give them away, enriching the season for people who struggle to provide for their families.
Make a moment to chat with Rick the next time you spot him at the Center. Your time won't be wasted and your day will definitely be better for just being around him.
Interview by Francie Cork. Photo by Santa's Seniors.