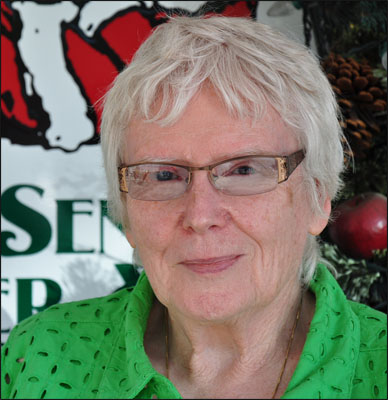 Pat Thurman
Patricia Ann Metcalf was born in Sterling, Kansas on 3-21-39. She was raised on the family farm, ten miles north of Lyons, Kansas where her father grew wheat on 80 acres in addition to the 500 acres he rented. Her mother was a true Renaissance woman, who was born 50 years too early. As the first farm wife in their area to work outside the home, she held the arts, education (even attending college for a time to become a librarian), community service and the possibility of achieving goals and dreams in high regard. She is Pat's inspiration to this day because "she could do it all and wanted more out of life than being just a farmer's wife." She acknowledges though, that while her father often followed his wife's lead, he was always the practical one.
Pat is the eldest of three daughters, who together are still referred to as "The Metcalf Girls." Many of us had the pleasure of meeting Sue and Kay a couple of years ago on one of their visits to North Pole. It has just come to light that their big sister, among other things, was an active 4-H girl who beat out the boys for a Grand Champion ribbon at the Rice County Fair for showing her swine. This was in addition to being awarded the Purple Ribbon for her demonstration of "How to Iron a Shirt" at the Kansas State Fair. Who among us could have imagined such hidden talents?
After high school, Pat attended Cottey College, a women's college, in Nevada, Missouri. After she graduated in 1959 with an Associate's Degree in Arts, she took a break from school and waited tables for a few seasons at Wood's Lake Resort in Basalt, Colorado. After learning more than she'd probably bargained for about people in general, she decided to continue her education at Ft. Hayes State in Hayes, Kansas. In 1961, with her BS in Elementary Education in hand, she headed to Chapman, Kansas where she taught 4th Grade for two years, followed by another year of 4th graders at Naha AFB in Okinawa. By the time Pat returned to the states in 1963, she realized that she really didn't want to teach. Unable to ignore the "teacher blood" coursing through her veins, she set a new goal for herself to become a librarian. She'd saved up only enough money for one semester of school so her parents covered the rest. She learned much later that they'd borrowed money to do this. In 1964, Pat received her MS in Library Science and was certified as a bona fide School Librarian. Since this designation has become less and less common, she is especially proud to carry this title; so much so that she'd like her obituary to mention that "she was an awfully good Librarian."
The story of Pat's and Mike's marriage and move to Alaska is detailed in Mike's Spotlight #11. In 1969, Pat opened the new Ryan Junior High School Library and in 1972, she accepted the position of Library Media Services Coordinator for the Fairbanks North Star Borough School District. This was such a great fit that she stayed there until her retirement in 2000. After this, Pat spread her wings and worked as a Bailiff for the Alaska Court System, was the Library Media Services Librarian for the Yukon Koyukuk School District and now, as a substitute at the North Pole Branch Library, "has the best job in the world."
Even after 47 years of marriage, Pat confided that Mike still surprises her, describing him as the person she depends on the most for his steadfastness and patience. As a parent, Pat acknowledges motherhood has caused her to become more understanding of people, especially younger ones who are learning and growing. She also believes that we shouldn't try so hard to make our kids into what we want them to be and that the children entrusted to us sometimes march to a different drummer.
If you've ever tuned in to KJNP's Closing Comments, chances are you'll see Pat. Dick Olsen, the Commentator, frequently refers to her "many hats." Fortunately for us all, she is not bashful about promoting upcoming community events and is frequently called upon to "spread the word" for Santa's Seniors, 17 Mile Homemakers-FCE, Friends of the North Pole Branch Library, New Hope Methodist-Presbyterian Church and the North Pole Branch Library. Besides these organizations, she is a member of Pioneers of Alaska, PEO, Alaska Library Association and the American Library Association. Pat currently holds offices in several of these groups and is instrumental in some of the more creative money-making opportunities that occur in our community. When I asked her why she gives so much of her time in volunteer work, she replied, "I think I can make a difference."
In her "spare time," Pat knits dishcloths, loves to visit with her sisters and friends, and enjoys admiring the beauty of nature and reads. She tends to lean toward mysteries, "but just the cozy ones--not the gory, disturbing kind." Tony Hillerman and Anna Perry are two of her favorite authors.
When I asked about her pet peeves, Pat quickly named "People who don't follow through, negativity in general and the fact that I'm unable to overcome my own procrastinations. I still haven't gotten around to the housework I promised I'd get done after I retired."
Although her life is full of them, her most recent "proudest moment" was signing her name on the very last beam of the new North Pole Branch Library that is scheduled to open in October 2014. Not surprisingly, if forced to choose her "favorite" among all her volunteer projects, she confesses her heart lies with the Library.
Self-described as kind, caring and a good friend, Pat also freely admits she can be bossy, very much likes things done her way, and has a tendency to try and save the world by fixing everything. Her dedication to her community and her willingness to give of her time and talents touches us all. Pat's parents would have been superbly proud of her.
Interview & Story by Francie Cork
Photo by Clarence Schulte