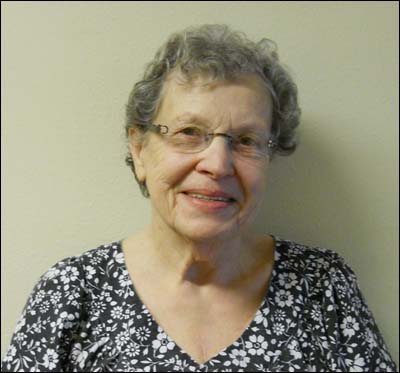 Pat Goble
Patricia Ann Sutton made her appearance on March 19, 1933. Born at home on the family farm, located just south of Park Rapids, Minnesota, her parents raised a variety of livestock, poultry, grain and hay. They grew and harvested a large garden. They produced everything with the exception of a few store-bought staples. Pat was the youngest child, third daughter and fourth child to be welcomed into the family. Five years separated each of the girls, as her parents had lost their second child, a son, at the age of four. This was a blow from which her folks never really recovered.
Pat's first eight years of education was completed locally. Hers was a one room schoolhouse with an outhouse, a pump and a common pail and dipper for drinking water. Although nobody seemed to suffer ill effects from this practice, little paper cups eventually were introduced to the students. Like all the other children, Pat walked to school, no matter the weather. There were no "snow days!"
Pat was fourteen when her mother passed away. As the only child left in the household, she picked up the extra chores and duties of the woman of the house by age fifteen. It was now Pat's responsibility to see to the canning, gardening, cooking and to make the arrangements for the threshing crews besides keeping the household in order for her father. Electricity didn't arrive until 1948, so imagine how much easier her life would have been with lights and running water!
At the completion of eighth grade, Pat went on to attend high school in Menahga, which was a walk and bus ride away. After her graduation in 1950, when she was barely seventeen years old, she set her sights on attending college in the big town of Bemidji. As a young girl, her decision to pursue teaching as a vocation was strongly influenced by her dad, whose choices were typical of the times...."women who sought higher education became teachers or nurses." Pat worked very hard and attended school full time....VERY full time, including summers, so she was able to obtain her Associates Degree in Elementary Education in December of 1951.
Because of an honest misunderstanding on her part, Pat signed a contract to teach in Saco, Montana, for the princely sum of $2600 a year. Unfortunately, the timing of her graduation and the signing of this agreement were in certain conflict. Thankfully, her instructors provided her grades earlier than usual so she could legally accept this position. She taught Grades 3-4 as well as the girls' high school physical education class. Pat stayed only one year as it was apparent her job description was changing and the work load kept increasing. It was during this time of her life that she learned a valuable lesson: "You have to sometimes say "NO!" The first time is hard, but it gets easier with time."
In 1952, Pat met George Goble in Montana. They married and created a life together that lasted for 50 years. Soon after the ring was slipped on her finger, George asked Pat what she thought of Alaska. All she could recall about that place was from photos she'd seen of igloos, Eskimos, ice and snow. Nevertheless, when George, who worked in construction, was sent to Valdez in 1954 by his employer, Pat was on board, although she'd believed at first that this was a temporary assignment that would last only one season. By then, their family had expanded to include two young daughters, Sandy and Susan. After a couple of years, the family moved to Copper Center in the fall of 1955. Pat taught Grades 1-4 for about five years at what was then known as a Johnson-O'Malley School. These schools were put in place by the Bureau of Indian Affairs and the Territory of Alaska as transition schools. Besides providing instruction for the students, the teachers were expected to cook and clean.
The early l960's found Pat working at the Post Office in Copper Center. By then, she and George had four kids, with the addition of Steve and Ray in their family. After the Earthquake in 1964, they relocated to Glennallen where they resided in the abandoned school building which had been condemned as a result of the Quake. The Klutina River was out of its banks so the family moved every bit of furniture, food and belongings they could carry to the school. Pat clearly remembers the night of December 21, 1964, when everything they owned in the world was dumped in a huge pile in the middle of the schoolhouse floor. By that next morning, she'd dug through the heap and had put nearly everything away. For the next seven months, that building provided shelter and served as "Home Sweet Home" for the Goble clan. In April of that following year, George and a hired man returned to the home they'd left in Copper Center intent on chopping the ice out of the house. To this day, they probably hold the record for the Biggest Ice Cube Discovered in a Single Residence....the one that was chipped out of the bathtub! After floors were replaced and the house dried out sufficiently, the family returned to Copper Center while work was progressing on their home in Tazlina Flats. November 26, 1965 proved to be perfect timing for The Big Move, because of the additions of Mike and Sheri, they were now a family of eight. Frankly, they needed the space!
In 1968, Pat began working for the U.S. Weather Service at Gulkana while George was the school bus contractor. As Pat continued working for the government, several more moves were required, both around and outside of Alaska. In 1969, while Pat was employed by the FAA Weather Station and living at Summit, not far from Cantwell, the family fell in love with the area and stayed until her next transfer in 1971. One of her children required medical attention and there was no available high school for three of her kids who were ready for that step. After bouncing around to Idaho and South Dakota for three years, they finally got their chance to return to their beloved Summit area in 1974. They stayed there until the weather station was closed. Pat and her family were forced to relocate yet again...this time for six years, though every vacation led then back to Cantwell. From Fargo, Pat accepted a position in Nome while George and the kids stayed in Cantwell. Pat eventually joined them and following some health issues, she returned to her family, opened a small gift shop in Cantwell and ran it for fifteen years. From this site, Pat took weather observations for the U.S. Weather Service for another twenty-six years. Her last official report was in 2009. Wouldn't you think that given the proper instruments and access, she could tell all of us when it would be safe to put our show shovels away and get out our bikinis?
After a lengthy illness, George passed away in 2003 with Pat at his side. Fortunately, Pat had many good friends, among them, Norm and Faye Grantham, who had moved to Holiday Heights and wanted Pat to live closer to them. Unbeknown to Pat, Faye put Pat's name on the resident waiting list and then called to inform her. With strong ties to Cantwell, Pat wasn't quite ready to leave there and only after a health bump was she ultimately led to the decision that she should be living closer to town. Her house was eventually sold and she has been a resident of North Pole since February 2010.
Pat is a naturally upbeat, positive sort of person who brings out the best in everyone. She has a grateful heart and feels especially blessed by her grown children and family. Her strong faith in God and her church is also a source of great pleasure. Pat doesn't let much bother her, mainly because she has created a lifetime habit of staying busy. That said, she makes a point of not hurting anybody's feelings or creating unrest.
In her spare time, she enjoys reading a variety of books, depending on her mood. Sci-Fi, however, is definitely off her list! She enjoys eating out, but limits these to special occasions, because she likes to keep a close watch on her diet. When she does indulge, she leans away from fast food and chooses "regular cafe" fare.
Pat is a member of St. Nicholas Catholic Church, North Pole Housing Authority and of course, Santa's Seniors. She has served as a Board Director and spent many hours as the Gift Shop Manager. In this position, her past experience, marketing/display skills were invaluable and instrumental to our Gift Shop's current success.
I asked Pat to give me three words that she'd use to describe herself. I think you'll agree with me that she hit the nail right on the head when she chose: "Trustworthy, easy-going and kind." Pat is ALL of these---and more!
Interview & Story by Francie Cork
Photo by Sharon Geese