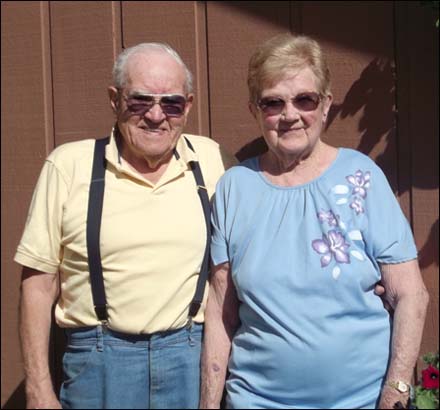 Norm & Fae Grantham
This time, instead of starting at the beginning, I'm taking a short detour. Catching up with this couple was no small feat because besides spending time here in North Pole, they also have "nests" in Arizona and Oregon. Snowbirds since 1980, they miss family, friends and especially Holiday Heights. Norm particularly mourns the loss of his "harem," the all-female coffee klatch he joined while residing there. Nevertheless, we sat down on what was, coincidentally, Norm's 91st birthday. I asked each of them to tell me something that our readers would be surprised to know and they didn't disappoint. How many of you would have guessed that Fae is a former Vice-President of a large security company or that Norm had been the superintendent in charge of establishing the camps on the Haul Road for the State of Alaska? Thus begins their story.
Fae Jeanette Dougherty was born at home, a one room log cabin, in Lacomb, a small community in the Willamette Valley of Oregon on 2-11-1931. Dad was a railroad man while Mom was a homemaker who eventually worked for the Postal Service in Fairbanks many years later. Fae joined two older brothers at home and eventually a younger sister completed their family. While specific details of her birth were never discussed by either parent, there were periodic hints dropped throughout her childhood that led Fae to believe she had a twin that had been turned over to the doctor to pay for her mother's care. Future attempts to solve this family mystery were futile.
As a "Daddy's Girl," Fae remembers having to beg her father for permission to obtain her first paying job picking berries of all varieties at age twelve. She doesn't recall how much she was paid but remembers the many hours she spent filling hallocks. For four years Fae harvested fruit in the summer and picked hops in the fall. She spent her first fifteen years in Oregon before moving to Bellingham, Washington and at seventeen married her first husband.
Fae's first excursion to Fairbanks, Alaska was 8-26-1952 while separated from her husband. In 1946, her Dad took a job in Healy with the Railroad and in 1948 her Mom and younger sister joined him in Alaska. Shortly after receiving a short stay from them, Fae brought her two children, a two year old son and a two month old daughter, to visit with her family. This, according to Fae, changed her entire life and was prompted by a $20 bill and note from her Dad that was left in her powder box saying, "You best pack your bags and come to Fairbanks." Fae's husband's Aunt and husband bought her plane ticket which was later repaid. Eventually, the couple divorced. While she was unable to achieve her girlhood dream of becoming a pharmacist, Fae continued to pursue her education, studying for her G.E.D. and later taking classes in business management through her employers.
According to the U. S. Government, Norman Dale Grantham made his appearance on June, 6, 1924. He was born on the family farm, thirteen miles from Wilton, North Dakota on a Sunday. The doctor in attendance came out on June 5, 1924 to attend the delivery, returned to town late in the day, and by morning reported the birth as happening on June 6. It wasn't until Norm filed for Medicare when he was seventy-five years old, that this discrepancy was discovered. Since Uncle Sam's involvement, his birth certificate, Army and Social Security records all match and Norm's "official" birthday is June 6, 1924. Norm's siblings eventually included one younger sister and a younger brother. The majority of his early years were spent in Bismark, N.D. Norm became the "man of the house," while his Dad worked as a miner in Alaska and supported his family long-distance. Two years later, when Norm was fifteen, his Dad sent for the family. They made their way to Fairbanks where his Dad worked for NC Company in Fairbanks driving the coal truck for the local powerhouse. His Mom was a cook at the Grahl Bar and later worked at Lathrop High School. Norm attended high school for two years but after securing summer work with the Highway Department, opted not to return. Instead, at sixteen, he worked as a cabbie for Pioneer Cab Company in Fairbanks, during the winter months, returning each summer to his job with the Alaska Road Commission. As a cab driver, one detail that remains clear is the $12.00 an hour fee that would be charged to "sit" with someone at a bar. At age eighteen, Norm enlisted in the military at Ladd Army-Air Force Base. His summer equipment experience with the Territory paid off and he was sent directly to the Motor Pool as an equipment operator. He was there for three years before being transferred to California and then on to India for approximately one year of duty. Although he'd been sent there as a PFC truck driver on the Burma Road, his records were lost for a period of time. When they finally appeared, he was put in charge of the Post Office and retained that position until he was shipped back to the states as a Sgt. A sixteen day ocean voyage ensued and he received his honorable discharge in Ft. Lewis, WA. before returning home to Fairbanks.
Meanwhile, Fae was working three jobs in Fairbanks to support her two young children and to pay for a sleeping room for herself. She was a waitress at the Bus Depot and Co-Op Drug Store lunch counters and a cashier at the Arcade. Her children were housed elsewhere while she worked. She saw her baby daily and her son several times a week. In November of 1952, Fae traveled Outside, for the first time since her arrival in Fairbanks, to take her son to his father in California. She returned to Fairbanks in February of 1953, picked up her daughter and went back to California. She stayed until August of that year before leaving the children with their father to accept a contract to work as the Assistant Manager at the Silver Fox Lodge, a roadhouse located about 50 miles from Fairbanks on the Richardson Highway. As it turned out, this job description entailed all aspects of the business.
Fae's and Norm's lives were about to collide when a gentleman, who was the Silver Fox cook and also her transportation to the lodge, picked Fae up the night she arrived back in town in August of 1953. Coincidentally, Norm was working on the black top crew for the Road Commission and was billeted at the Silver Fox with the rest of the men. At the time, Norm was 29, Fae was 22, a married woman with two children and not overly anxious to get serious.
Fae and Norm took things slowly. They spent time together and got to know each other. They went bowling and danced anywhere in town that had a floor. Fae's divorce was final 11-7-54 and they were married 11-11-54 at the Christian Church on 17th and Cushman with Norm's sister and her husband standing up with them. They ate their wedding supper at the Wagon Wheel which was located near Noble Street. They purchased their first home at 236 Ina Street in Fairbanks for $9,300.00 and it was there in that two bedroom, one bathroom house with the attached single car garage that their life together began.
Between them, they've got five children, three sons and two daughters, an adopted son and a long-time foster daughter. With all of them married and several with children of their own, the Grantham's claim 14 grandchildren. They are most fortunate to have family nearby in Valdez, North Pole and Fairbanks.
After many years of employment, both can now finally claim to be "retired." Fae's last job ended in 1980 as Vice-President after nine years with Wackenhut of Alaska, a physical security company now based in Anchorage that provided services to the Alaska pipeline. After thirty-four years of service with what we now call the State of Alaska, Department of Transportation, Norm is free to do as he pleases and only regrets never learning to play the Lowry organ that has since found a home at Holiday Heights.
Both are long-time members of Santa's Seniors and Fae has served as a Director on the Board. They've also been active on the Holiday Heights Residence Advisory Board and with the North Pole Housing Association. Norm is a life member of the VFW, North Pole Post 10029 besides belonging to the Elks Lodge.
These days, this couple finds their greatest pleasure and joy in seeing their kids. Aside from this, Fae would like to spend the remainder of her leisure time sewing and is willing to do nearly anything to avoid vacuuming. Norm still enjoys playing pool and woodworking. Evidence of his talent can be spotted in the whirly-gigs and napkin holders that are displayed at Holiday Heights. He prefers to avoid yard work whenever possible and neither of them enjoys shopping, big stores or crowds. After all these years together, important decisions are still made jointly, neither can tolerate foul language and both agree life would be terribly hard without each other.
When I asked them their choices for a favorite meal, there was no hesitation, whatsoever. Norm would choose sweet and sour chicken while Fae prefers her daughter-in-law's manicotti.
We ended on a very high note when Fae shared her "one true thing" she has learned through the years. It is, "Put more trust in people." I'd venture a guess that if we truly gave each other the benefit of the doubt, we'd all rest easier at night.
Hopefully, this story will jog some memories of old-time Fairbanks and days gone by for a lot of you, just as it has for me, and you'll make plans to visit with this remarkable couple while they're in our area. If you miss them this time around, watch for them in 2016!
Interview and Story by Francie Cork ~ Photo by Sharon Geese