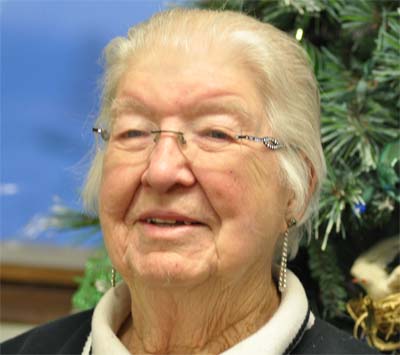 Lucille Reese
With only a little bit of urging, friends describe her as caring, determined, creative, independent and adventurous. Here is just a little bit about Lucille:
Lucille Elaine Dahlke was born in Glencross, South Dakota on September 9, 1927 to a local farmer/laborer and full-time homemaker. Third in line behind an older brother and sister, seven younger siblings followed along behind. As a child, she dreamed of someday living where there were trees and mountains….just like she'd seen in pictures of Switzerland.
She attended local schools until leaving at 16 to work as a farm hand. It was war time, rationing was on and most of the young men had gone to fight. Strong, practical and no stranger to hard work, Lucille found employment pitching hay, working in the fields, babysitting, cleaning barns, grooming, exercising and feeding race horses. She never lacked for company, because she'd also brought 3 younger siblings with her so they'd be able to attend school and be closer to medical services. That number swelled to as many as 5 in the summer months. Lucille tells about "Billy," an old grey horse that carried the older children, all at one time, the ¼ mile to school each day. He'd drop the kids off and return alone to the barn until he was needed again. If one of the kids had the misfortune of falling off in route, this gentle, patient beast would stop and wait for someone to come along and return him to his rightful position on his back.
Sheer steel determination (some may call this "stubbornness") to make her way in the world also lent itself to the term, "Living off the Land." Lucille recounted how a local merchant paid her a $3.50 bounty for every skunk she could drag out of the culverts, thump on the head and toss into a cream can... presumably, to be later skinned and sold as "fur." She also remembers often being hungry when, for lack of water, fields lay fallow because nothing would grow. Her family ate tumbleweeds and dandelions and she remembers never having a glass of milk or a piece of meat. She still remembers her 12th birthday and the three small hotcakes with "burnt flour gravy," for each of her three meals that day. Naturally, there were no candles to blow out or presents to open. I asked how she thought our current generation would fare in the face of a similar hardship and she replied, "Nowadays, many would starve to death. They can't live on the food we had to eat morning, noon and night." On a somewhat happier note, Lucille shared with me how she'd ride shotgun, literally, on the fender of the car, and shoot rabbits for 10 cents each so she could afford a ticket to the movie in town! No doubt these experiences helped mold Lucille into the person she is today.
In the spring of 1947, Lucille and a girlfriend decided Montana sounded like a good place to vacation. So, they packed up a 1938 Pontiac and they headed out—but not before an invitation was extended to Mom, Dad and five of her brothers and sisters! They visited relatives and by some miracle, all the adults managed to find work. Each day, Lucille babysat 8 hours, worked as a cook-waitress-hostess-cashier for 8 hours and still had 8 hours left to play! It was at that restaurant, in the fall of 1947, she met Jack Reese, a handsome Alaskan who just happened to be in Montana visiting his mother. When time came for him to return home in March of 1948, he took Lucille's heart with him. He sent her a round trip ticket ($99) and an offer of marriage with the understanding that if she didn't like Alaska, he'd be happy to send her back home, because he wasn't leaving! On June 1, 1948, following a non-stop Pan American flight (that included a full trout dinner) from Seattle to Ladd Field (now Ft. Wainwright), Lucille set foot in Jack's Promised Land. They were married June 13, 1948 and cashed in the other half of that ticket! Back in Montana, there was no work to be had, so in 1951 Lucille and Jack invited her parents and the last of their 4 kids still at home to come up. Don, who was featured in our Third Spotlight article, was the oldest. They stayed until 1962 before moving to Seattle.
Son and daughter Bruce and Bonnie completed Lucille's and Jack's family in 1949 and 1951. Bruce now resides in Idaho and Bonnie lives just down the street from her Mom. Lucille is also the proud Grandmother of four and Great-Grandmother to ten (soon to be eleven).
She and Jack were a good team. Although Lucille had worked as a dispatcher for a cab company in Fairbanks, her willingness to serve others, besides keeping the home fires burning for her children and husband, became her new focus. In 1957, Jack's expertise as a welder took the family to the Suntrana coal mine at Healy. Although this was a small community of only 100 people, Lucille says they were like one big family. Everyone regularly got together for reel movies, Saturday dances, and Sunday worship. They worked, played and depended on each other. Even now, this place remains as Lucille's favorite spot in Alaska. They lived there until 1960 when the mine closed. After that they wandered a bit in the Lower 48, eventually living in Montana to run a Texaco gas station for Lucille's mother-in-law. In 1970, they were finally able to return to Alaska and lived in Usibelli, Shaw Creek and eventually, North Pole. She and Jack had 48 wonderful years together before his death in 1996.
Known for her volunteerism, Lucille has served this community for many years and in many ways. She was recognized as North Pole's Citizen of the Year for the Fairbanks North Star Borough in 2002, was selected as the Chamber's Queen Regent of North Pole in 2006, is the proud recipient of the Cooperative Extension's State Heart of FCE (Family-Community-Education) for her work as a member of 17 Mile Homemakers, is past president of Igloo #8, Pioneers of Alaska, is a member of Eagle Auxiliary #1037 and New Hope Methodist-Presbyterian Church. She has also given countless hours to Hospice of the Tanana Valley as well as to Ice Alaska.
When she isn't traveling, berry picking, sewing or cooking, Lucille is an especially active participant and supporter of Santa's Seniors. She is a major contributor in the 25th Anniversary Edition of Santa's Seniors Cookbook, attends our Exercise & Strong Seniors Classes on Mondays and Fridays and was, in fact, instrumental in bringing "Strong Seniors" to us. We can count on her to help with special events and she hardly ever misses the monthly Birthday Luncheon, First Saturday Potluck & Bingo or the weekly Friday Noon to 3PM Potluck and Games at the Center. If you've ever played with this lady, you know she is as sharp as a tack and takes no prisoners! Although she names dice games Farkel and Sequence and card games Phase 10 and Hand and Foot as her favorites, don't be fooled for a minute. She can beat you at ANY game she playsl!
As somewhat of a collector extraordinaire, Lucille has a local reputation for being able to supply nearly anything you might need to borrow. Short on mining equipment? Have a hankering for toast made in an antique toaster? Need an emergency playpen for a visiting grandbaby? How about some extra large mixing bowls or muffin pan for a community baking project? Running out of fabric, yarn, rick-rack, glitter or fancy trimmings for Sunday school? Have a craving to relive the olden days by whipping something up on a treadle sewing machine? Call Lucille. Chances are pretty good that she has what you want! When I asked my usual question regarding unfinished business, regrets and bucket lists, her daughter, Bonnie, chimed in with, "she needs to clear out her garage."
Lucille admitted that there was a time when she'd rather dance than eat, is very fond of "old" country music played with violins and accordions, loves seafood, and has slept, head back, mouth open, through thousands of miles of vacations. In fact, it won't be too long before she can again resume the position on trips to visit family in Atlanta and southern California in 2013. In 1977, Lucille traveled extensively in Europe and did get to see Switzerland!
She is very upfront when she says "I never liked house work; I don't like to stay home. I like to be OUT!" With that statement, it is easy to see why she names as her pet peeve, "People who say there isn't anything to do in Fairbanks" There are lots of plays and programs and so much to do."
Lucille counts her greatest blessings as having enjoyed good health, exceptionally strong family bonds and always having "something to do." Santa's Seniors is proud to count Lucille as one of our own.
Interview & Story by Francie Cork
Photo by Clarence Schulte