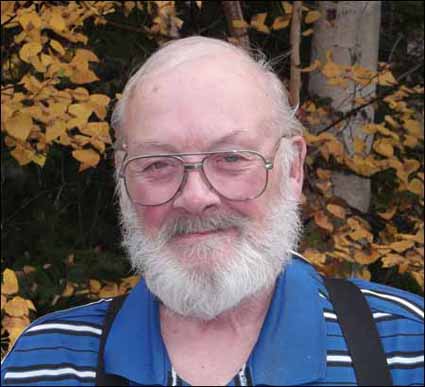 Les Warnke
Leslie Robert Warnke was born November 28, 1937 at Mercy Hospital in Detroit, Michigan. His middle name was chosen in honor of his Godfather, Bob. Mother was a homemaker and Dad worked as an automobile advertising agent in the "Motor City." The eldest of three sons, Les is the only one remaining, having lost his younger brothers to cancer in 1974 and 2006.
Les was raised in Detroit proper through 1941 before the family moved to St. Clair Shores, Michigan for several months during the final years of WWII. After that, they relocated to a new home his Father had built in Berkley, Michigan. This remained "home," until he moved out on his own.
As a self-described adventurer and risk-taker, Les was a curious little boy, who was active, though not particularly athletically gifted. He had several childhood friends, with whom he has maintained contact via telephone. With the encouragement of one such "Buddy" the bright idea of constructing a diving helmet unfolded. The two boys came up with a five gallon propane tank, cut out a breast plate, water-sealed the helmet, and utilizing a compressor from an old paint sprayer, affixed an air line. Being the braver of the two boys, Les was chosen as the first to take their invention for a test dive. Strapped into the weighty device, he began his descent down into the water with the aid of a ladder. As he plunged below the surface, the water level rose inside the helmet, covering his face and nose. Fortunately (or luckily!), he was able to grab the last rung and save himself before succumbing to an early grave. Besides failing to consider whether or not the compressor had the capability of keeping up with the necessary air flow, they'd underestimated the weight of the tank and that they'd most likely sink like a stone in the muddy water of the lake.
Though he wasn't overly interested in hunting or fishing, Les has fond memories of his grandfather's cottage on Lake Chemung in Michigan. In the 1920's, his Father, five Uncles and one Aunt helped construct the primitive four bedroom structure. Each spring the Uncles would get together to decide which brother would be assigned specific weekends at the vacation place. Major holidays, however, were big family events when the entire clan would all be together, enjoying each other's company, eating, and playing euchre, a favorite card game. This also served as the "scene of the crime" for the diving helmet fiasco.
When Les was 8 or 9 years old and in 4th grade, he contacted paralytic polio in an epidemic that swept his town. He was unable to walk and found himself hospitalized with about ten other unfortunate children who were likewise stricken. Treatment, which at the time was considered revolutionary, was referred to as the "Sister Kenny Treatment." In a nutshell, it involved extremely hot compresses covered with chamois and securely wrapped around his arms and legs, feet and ankles. Les remembers it being very painful in the beginning, as polio had damaged his nerves, affecting his muscles. To add insult to injury, after being nearly cooked alive, his body was then physically pulled and twisted in an attempt to bring his limbs back into compliance. These treatments lasted the entire 6-8 months he was a patient, and continued after he was released back home. Nevertheless, he walked out of that hospital! Les credits his ability to walk without limping to those treatments he received at the hospital and which were continued at the hands of his Mother three times a day for nearly the next two years. Because he'd missed so much school, he was required to repeat 4th Grade, which was, at the time, the most devastating news of his young life. Les reports that as a result of all the massage, bending, twisting, etc. he was the fastest kid at his school and could run like the wind!
Les received his education in three Berkley, Michigan schools. He graduated high school in June of 1957.
As people asked then and continue to do so today, "What will you do after you graduate?" Les took the council and advice of his Uncle Bill. He suggested Les enlist in the Navy because, "They have good food, clean sheets, excellent training and regular paychecks. On the down side, the Navy dies in bigger bunches." At the time, every healthy male was required to give 6 years in service to their country which could take the form of active duty, reserves or ready-reserves. Faced with the inevitable and with Uncle Bill's enticement still ringing in his ears, Les enlisted in the Navy in April 1956 for ready-reserves. His timing was perfect. Although he was still in high school, a little legal loop-hole allowed him to postpone his active duty for several months and made him eligible to participate in summer boot camp. He returned to high school in the fall with his basic training under his belt. Following graduation in June, Les soon found himself attending Basic Rate School and training to be an AT (Aviation Technician). He expressed his desire to fly so was assigned to Naval Air. After three months of electronics training, Les achieved his rating as an AT3. After a series of assignments and additional instruction, he was assigned to a squadron in Sanford, Florida. Eventually, the Navy sent him to the Mediterranean with heavy weapons designed to, if necessary, drop the atom bomb. He spent time on the USS Saratoga that was one of the first four stall class aircraft carriers assigned to that area. Les served his country for 22 years at various duty stations and retired as a Naval Training Coordinator from a three star Admiral Staff in 1978. He attributes his interest and expertise with computers to his many years in the Navy.
Les was married in 1963 to Lillian, whom he called "Ginger." She was the love of his life and together they welcomed the births of a son and a daughter. Ginger passed away quite unexpectedly and suddenly in 2006 and Les misses her still.
After Les retired from the Navy, he and his family lived in Inyokern, California. This high desert area of California brought him and his family much happiness. On motorcycles and four-wheelers, they explored this country extensively, searching for fossils, artifacts and other interesting treasures. Late in 1991, while Les was working for Xerox, he was offered an opportunity to transfer with the company to Fairbanks. Their "nest" was empty and they were ready for a change. Since Les had always dreamed of coming to Alaska and a job was already promised and waiting, he and Ginger packed up their car and headed north. By the time winter arrived, they wondered what they'd done, but decided to stick it out. They purchased their place on Sunflower Loop off Badger Road in 1994 and Les remains there today. Les retired from Xerox in January 2000, after 20 years on the job.
Les agrees he has been very fortunate in this life and says, "If I ever heard of something I wanted to do, I'd try it." Three examples come to mind for me: the diving helmet adventure, his interest in flying that resulted in his obtaining his private pilot's license and the fulfillment of realizing his dream of seeing Alaska. He is also one of the few people I've interviewed who has no regrets. "What I've done in my life is pretty much what I planned. I didn't want to work in the Detroit auto plants, hence I chose the Navy." He is grateful, however, for the many opportunities that have come to him in his lifetime.
Les lost his son in 2008, but is blessed to have his daughter nearby. The day of this interview, Christine called "just to check in," and offered a dinner invitation to her Dad. Les' two children have presented him with seven grandkids and seven great-grandkids—a few of whom live near enough to visit.
Les joined Santa's Senor Center in 1997, at the urging of his departed good friend and neighbor, Hazel Rosendahl. He can sometimes be found sipping coffee at the Breakfast Club, attending the occasional Board Meeting or just stopping by the office to see what's new. He is a former member of the Trustees Committee and is a lifetime member of the VFW.
A fan of westerns and historical novels, Les lists "reading" as something he particularly enjoys these days.
His bucket list is short. Years ago he purchased land on the big Island of Hawaii and his grandson, who lives there full-time, daughter and son-in-law have all been busy building a small residence on the property. Although Les has never visited this state, he'd like to give spending a winter in Hawaii a try. Who knows? He might just like it!!!
Asked about pet peeves, Les answers in one word: "Politicians," whom he finds, as a whole, to being particularly irritating. I inquired as to his voting status, and was told he has missed voting only once since he became old enough to cast a ballot and then only because he was aboard ship and far away from the States.
Les is generally content with his life and where it has taken him. He doesn't worry about aging, lives simply, would love to taste his Mom's "gooey chicken" again and reportedly dislikes giving interviews! He currently has none, but is a pet lover who holds a fondness for the company of cats. When all is said and done, Les is someone who is quite comfortable in his own skin, realistic about his limitations and positive in his attitude. It was a pleasure to sit down with him for a couple of hours and learn more about this interesting gentleman.
Interview and Story by Francie Cork ~ Photo by Santa's Senior