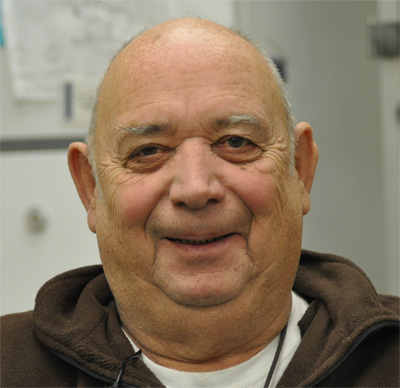 Leon LaSalle
No doubt you've heard the saying, "If you want to get something done, ask a busy person to do it." Long time Santa's Senior Member Leon LaSalle can certainly be described as such an individual.
Born in Klamath Falls, Oregon, he moved with his parents, Ralph and Lela, and brother Ralph, to Skagway, Alaska at the ripe old age of 12. After his family spent two summers managing Everett Dahl's hotel in North Pole, they relocated permanently to 13 Mile, known to many of us as Highway Park.
Leon graduated from Lathrop High School in 1960 and was able to partially fulfill his dream of being an electrical lineman when he went into the Navy in October of that same year. After completing his military service, he graduated from Western Washington State with a degree in Technology: Materials, Processes and Graphics. This led to his Civil Service employment at Eielson where he'd worked as an electrician, planner, estimator and boilermaker. He retired, or more accurately, his regular paycheck ended June 3, 2002.
Throughout Leon's full time employment on Eielson, he continued to be involved in the community. In 1984 he started and served as Chairman of what is now known as the North Pole Summer Festival. And, because there was no mid-way, thus no games or rides, he busied himself and built a wonderful variety of activities that appealed to adults and children of all ages. The LaSalle Family Carnival kept us entertained for many years until 2002. All in all, Leon says it was a good experience. He served on the Summer Festival Committee for 14 years, took a break and has been active again for the last 6 years. In honor of his years of service to North Pole, he was chosen as Grand Marshall in 2012.
This summer, Leon and Mary Lou, proud parents of three grown daughters, will be celebrating their 43rd wedding anniversary. Together, they reigned as North Pole's King and Queen in 2007. Their other "daughter," Pebbles, is a small, very friendly apricot poodle service dog who is 3 ½ years old. She has the gift of lifting spirits and bringing smiles to everyone who pets or holds her. Pebbles began her service with Companions, Inc. at age 1 year and accompanies Leon on routine visits to the Pioneers Home, Denali Center and of course, Santa's Senior Center.
Tundra Rollers RV (Good Sam) Club holds a special place in the lives of Leon, Mary Lou and eldest daughter, Christy. They have attended four "Samborees" in Palmer and camp with club members at least a couple of times each summer. Leon is also a Past President of the Club. They have not limited their travels to Alaska, but over the years have made 5 motor home trips to Washington and California. Left to his own devices, Leon would love to just take off for the Lower 48 States and try living in their rig for 6 months. So far, he has yet to convince Mary Lou that this is a great idea!
If you've ever eaten a meal at The Breakfast Place or enjoyed a Birthday Luncheon, chances are pretty good that Leon has occasionally prepared your food. He started cooking at the Center in 2003 and only recently stepped back a bit. Since both his parents cooked, and Leon "bull-cooked" as a kid, it was a natural progression to wind up spending time in the kitchen. Having served as Master of the North Pole Grange for 14 years as well as State Master for the Grange for 4 years, Leon has done his share of cooking for crowds. Officially, he holds high status as the State of Alaska recognized "Kitchen Manager," for Santa's Seniors.
When I asked him to tell me his favorite thing to cook, Leon not only answered, but provided his recipe for Baked Salmon. "Filet the fish, spray your pan with cooking spray or line the pan with parchment paper, lay the fish skin side down then cover with Wishbone Italian Seasoning. Bake 350 degrees for ½ hour or until done. Delicious!" He is also a big fan of corned beef and cabbage.
Leon is also in charge of purchases for the Center. So whether it is food, paper products, cleaning or office supplies, we have Leon to thank for making sure we're well stocked.
In order to keep the spring in his step and the calories at bay from all that time in the kitchen, Leon regularly square dances at Pioneer Park and belongs not only to Santa's Swingers but also to the Prospectors Square Dance Clubs. He often calls our Bingo games and can be counted on for Friday afternoon Game Day and First Saturday Games/Potluck gatherings. He is an avid cribbage player. Something else that Leon really loves is fishing….actually trolling with his Port-a-Boat and motor at Birch Lake.
When asked him if he had any regrets, and if living so close to the Center could be counted as one of them, he stated "it can be a hassle sometimes, but it's "ok." Pressed for details, he admitted he is the person people call to confirm they've locked the door to the Center or have turned out the lights. Nevertheless, Leon maintains his positive outlook, stays busy and continues to be a supportive influence on all of us. When I asked him if he had any advice he'd like to impart, his response was, "Enjoy life—it's too short. If you're eligible to retire, do it now so you can do the things you always wanted to do. Enjoy life."
Interview & Story by Francie Cork
Photo by Clarence Schulte