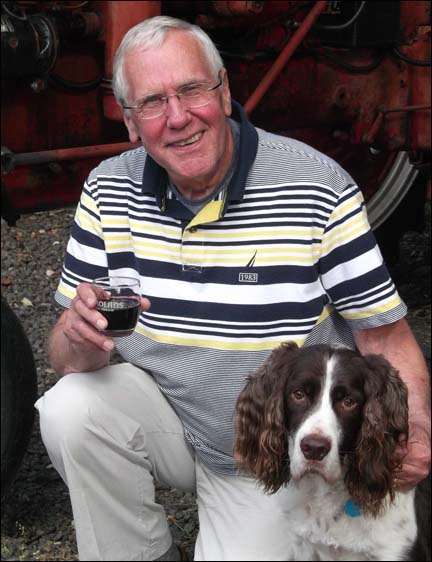 Larry White
Upon my arrival at his beautiful home, Larry led me down the hall to a display of three wedding photos of his children. Above each picture hangs a light, which he explained, is turned on whenever that particular child visits. This way, he and Sharon can easily determine their "favorite," by the frequency of the battery changes! Thus, the tone of this interview was set.
The son of a grocery store manager, "who drank his way through the best—Kroger, Red Owl, A&P, Piggly Wiggly and others," and a homemaker who also ran a small corner grocery store, Larry Erwin White was born in 1941 on his Mom's birthday, July 2, at Mercy (her words upon his arrival) Hospital in Oshkosh, Wisconsin. As his Mother's story goes, he was named after her friend's well-mannered son whom she admired. His middle name was his Dad's first name.
Larry and his three siblings, an older sister and a younger brother and sister moved many times, following his Father's work, but was mainly raised in Wausau, Wisconsin.
A self-proclaimed "Mama's Boy," his Mother was his greatest influence in life. She was his moral compass and provided good direction. Larry was, in the eyes of his brother and sisters, her "favorite," which continues to be a source of debate even today.
As a young boy, Larry developed the frequent habit of running away from home. Reportedly born with "sawdust in his veins," he once left to chase his dream of joining the circus. His grandfather had boxed kangaroos in the ring during the Vaudeville years of 1910-12, so perhaps this is what lured Larry down the road. In time, his Father, apparently fed up with having to search for his son, brought him to the local police station and proceeded to have Larry locked up. While left to cool his heels behind bars, Larry experienced a change in heart and ended his disappearing act forever.
Not a particularly gifted or serious student, Larry took on the persona of class clown during his school years. He claims this has followed him into adulthood. His first six years of education were at John Marshall Elementary in Wausau, and continued through High School where he graduated in 1959. Owning a car at the age of 16 and having easy access to cigarettes and beer from his Mother's store significantly elevated his status. In 1958, during their junior year of High School, he met Sharon and immediately knew he was out of his league. She was talented, beautiful and, according to Larry, "could have had any horse in the stable." They dated throughout High School and he started saving for rings. The night he proposed, Sharon proudly showed her father her engagement ring and he, shook his head and uttered the ultimatum. "Give it back or move out." Sharon moved out and got an apartment for herself. This is the perfect Segway for the One True Thing that Larry believes: "You're never given a wish without the ability to make it come true. You may have to work for it."
In 1958, while he was still in High School, Larry enlisted in the Marine Corps Reserve which led to a transfer into the USAF in 1959. On 10-14-59, coincidentally Sharon's birthday, Larry headed to Milwaukee for military induction in Milwaukee. With tears streaming down their faces, (or at least down Sharon's) he puffed down the track on the Milwaukee Railroad locomotive toward an uncertain future. From there, Larry flew to San Antonio, Texas for his first duty station and assignment as a Personnel Technician at Wilford Hall Hospital on Lackland AFB. While in Texas, he privately soloed for the first time out of Hondo Field in a JP4 Cub.
On 5-28-1960, Larry and Sharon, both 18 years old, married in Wausau. Two years later, the first of their three children, Bryan Shayne, was born. Carrie Lynn arrived in 1965 and their last child, Sean Patrick, completed their family in 1971. All three children graduated from Ben Eielson High School and from UAF and still live and thrive in the area. He and Sharon celebrated their 55th Anniversary this past May and are the proud grandparents of 6 of the most beautiful, talented beings on this earth. Something he'd like to tell his younger self and has no doubt shared with this younger generation is, "Don't rush it." Of course, "It" can pertain to many things, but is nevertheless pretty darned good advice.
As a military family, the Whites' had their share of relocations and lived in Indiana, Arizona and California before being transferred to Alaska in 1974. It was here that they finally found their true, forever home. Larry continued with his military service and was appointed as Alaska's first Military delegate to the Fairbanks North Star Borough Board of Education. Being named one of the twelve Outstanding Airmen of the USAF (Senior NCO category) and serving as a First Sergeant are the achievements he is most proud of attaining.
In 1976, Larry started a small trophy/engraving shop, L.E. White & Sons, Master Engravers. In the early years of the business, the entire family was included in the day-to-day operation of this venture. In 1981, Larry retired from the Air Force and transitioned from military service to working full-time as an owner/operator. In 1985, he and Sharon purchased an interest in Forbes Square Mall here in North Pole, moved their small trophy/engraving operation in and renamed it "Atta-Boy Awards." After 22 years at the helm, Larry and Sharon passed the baton to their eldest, Bryan, and his wife, Maew, who now operate Atta-Boy Awards.
Aside from being the originator of a successful business, Larry was one of the founding fathers of North Pole Area Housing Association, is a former Fairbanks Memorial Hospital volunteer and a Mason and Shriner. While serving on the North Pole City Council, he introduced Resolution 92-5 that was adopted on 4-6-92. If that doesn't ring any holiday bells for you, perhaps this will: "North Pole, Alaska: Where the Spirit of Christmas Lives All Year Long." How many of you would have guessed that Larry was the author of this familiar phrase? He also was the master-mind behind the Santa Fax Program in 1991 and promoted and produced the thousands of ribbons and bracelets that were worn and displayed in support of our military during the Persian Gulf War and the famine relief effort, "Restore Hope" in Somalia. In 1996, he and Sharon were chosen to represent North Pole as King and Queen. Presently, Larry is serving on the Board of Directors for Santa's Senior Center.
Blessed with a sharp mind, and quicker wit, Larry has always been able to think "outside of the box." His most recent ideas are directed toward benefiting Santa's Seniors, but we'll have to stay tuned to discover how this turns out. Larry says, "Ideas are cheap. It is the implementers whom I admire." This has led to some personal degree of frustration, when great ideas and plans aren't given enough support or encouragement. A good case in point is the North Pole Princess concept which lasted only a couple of years because the ball was dropped and nobody picked it up.
Besides his wife and grandkids, Larry is most grateful to call himself an Alaskan, which has come about through the experience of enjoying the bounty and opportunities this state has provided. What frightens Larry? The thought of Alzheimer's. He said, "His memories were a treasure trove that he values above all else and to lose the recollection of them has to be some kind of hell on earth."
Larry was the only boy taking Home Economics in High School and Sharon jokes he took this class only to get closer to the girls. He loves to cook, likes a tidy home and helps with household chores. He does admit, however, that he isn't the quickest at getting projects completed. His favorite recipe, Shrimp with Bok Choy and Peppers, was clipped from the News-Miner and as for the dessert department, "Anything with whipped cream topping will do just fine."
As a contemporary, New Age male, he has completed the accelerated, "How to Put Toilet Paper on the Spool" course and mastered the use of the toilet bowl brush.
A self-described "hoarder" who also considers himself "impatient" and a "spendthrift," Larry's wish is to be remembered as a "generous being." He favors a nice Merlot and likes to tell his doctor he drinks only one glass a day or two if it is good. Buddy, the Springer Spaniel, is an important member of the family.
Something else he shared with me is a sentence, when spoken, NEVER ends well. It is: "Here……hold my beer and watch this!" I have actually heard stories about this and Larry is correct.
Larry's final statement, committed to memory, is taken from William Shakespeare's play, Julius Caesar. It is: "If a man were to know the outcome of this day's events ere to come…suffice to say the day will end and then the end will be known. And if we meet again, then we'll smile and if not, then this parting was well made."
Interview and Story by Francie Cork ~ Photo by Santa's Senior