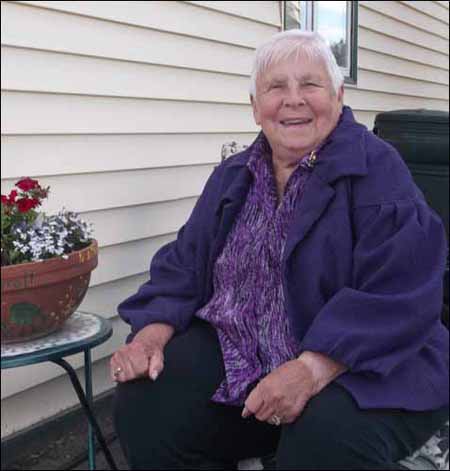 Joyce Miller
Joyce Miller is the first to admit she has been blessed with a wonderful life. At an early age, her parents taught her the value of hard work and doing a job to the best of her ability; she has shared her heart with two outstanding, good men; her three children and three step-children are her pride and joy and she really, really loves her family! Joyce's yard stands as a testament to those who are her legacy. Ceramic "rubber" boots, watering cans and cement stars celebrate the "10 grand-children, 16 great-grand-children and 1 great-great-grand-son" she holds so dear. From the street you can easily spot the candy-cane posts, striped mailbox and beautiful plants and flowers. Clearly, this is the home of a woman who loves all things Christmas! Closer examination reveals a frog pond, two water features and an extensive collection of gnomes and figurines. When I visited her in July, her pink and white peonies and beautiful roses, which she says "take her breath away," were blooming and provided the perfect backdrop to learn more about this interesting lady.
Born on a farm in Alliance, Nebraska on September 5, 1927, Joyce Eileen Purington was the eldest of 4 children. She had a brother two years younger than she and after a six year "break," two more siblings followed—a second brother and a sister who arrived when Joyce was ten. Dad was a farmer and Mom, a homemaker, who'd taught school prior to her marriage. Although her baby sister has passed on, Joyce remains close to her two brothers.
Life on a family farm requires complete cooperation and everyone worked together. Chores were expected and Joyce took her turn of carrying in coal and wood for the stove, working in the large garden and home, running errands for her parents and, as the oldest, and also a girl, helping her mother raise and keep the two youngest in line. Thankfully, their burdens were somewhat lifted by having electricity.
With no little girls around, and surrounded by boys, Joyce played football, kick the can, pom-pom pull-away, and a variety of "boy" games. In quiet times, she also entertained herself cutting paper dolls out of catalogs and magazines. In those days, an empty cardboard box held all sorts of potential for someone with a vivid imagination. When she was just five, Joyce began attending the local all-grades country school. She stayed half-way through sixth grade.
Following a terrible drought, the family was forced to leave Alliance and the farm when Joyce was ten years old. They settled in Riverton, Wyoming where an Aunt and Uncle were already living. To support the family, Dad got work as a laborer installing irrigation throughout the valley. Joyce was immediately enrolled in Riverton Elementary School. She recalls that transition as being very difficult. The "town kids" weren't very friendly, and unlike the country school she'd come from, there were so MANY of them! They teased her and called her "A Hay-Seed Who Blew In From Nebraska." Many tears were shed that year. The indignity of having to repeat 6th grade only added to her pain. In time, things settled down and Joyce graduated to Junior High School and as a seventeen year old, earned her High School Diploma. One memory that really stands out for Joyce was when she was a teenager and the Junior/Senior high school students were let out of school to help harvest. Remember, that during World War II, the majority of able-bodied men were serving in the military, resulting in a lack of laborers for farmers to hire for gathering crops. The experience taught Joyce that she didn't want to be a farmer! Payment was made to the entire class and was spent on field trips and for graduation.
Her beloved Dad became seriously ill during Joyce's senior year of high school. Sadly, the treatment available at that time rendered him mentally defective. While he remained in the home, her Mom supported the family by clerking at J.C. Penny in Riverton. Joyce, who was out of the house by then, worked for a local dentist for a year as his receptionist, dental assistant and lab technician. Her paycheck was $60 a month, her room cost $40 and $2.49 was taken out for taxes. In order to afford food, Joyce took a second job as a clerk and soda fountain jerk at a drugstore from 6-10PM. Though there was nothing for extras, Joyce managed to save $5 a month and prides herself as being thrifty and frugal even today.
Around this time, Joyce accepted a marriage proposal from Herschel (Who was known to all as "Hut") Coats, a young man who was serving in the Navy. World War II ended on August 15, 1945 and the two wed on April 7, 1946. The couple moved to Montana in time for their first daughter, Sherri, to arrive and stayed one year before returning to Riverton, Wyoming. Joyce worked as a homemaker while her husband was employed on the Battle Axe Ranch, in Cowley, then known as the second oldest ranch between Casper and Lander. They moved far from town to a ranch where second daughter, Terry, and son, Ricky, joined and completed their family. Looking back at the challenges and isolation of rearing three babies, ages three, fifteen months and a new-born, Joyce is amazed by how, at the young age of twenty-one, managed to keep things together for her family. Little did she realize that her biggest adventures would take place several years later in Alaska?
Joyce and Hut owned and operated a general store in Jeffrey City, Wyoming for many years. Sensing the need for a change, they sold their business. At the urging of daughter, Sherri, and old family friends, decided to check out Fairbanks for themselves. Their son wanted to attend UAF, their nest was nearly empty, had time on their hands and a strong desire to travel. So, in 1967, they made the trip. As it turned out, both Hut and Joyce were equally enchanted with Fairbanks, and decided to stay. To supplement their income, Joyce went to work for MUS in Fairbanks as a cashier before moving on to accept a bookkeeping position. She was there for thirteen years. In 1970, Hut passed away while sheep hunting in Healy—which was exactly how he always said he wanted to go.
Ricky, who shared a close relationship with both his parents, took his Dad's last words, "take care of your Mom," quite seriously. The two of them decided to leave their rental in Fairbanks in search of a suitable house to buy. Joyce found a place on Homestead Drive in North Pole, bought it and together, they shared this residence for about three years before Ricky married and moved to Ketchikan. As a widow, Joyce continued to stay in touch with the old friends Hut and she had shared. As it turns out, those same old friends had also befriended a single, lonely gentleman by the name of George Miller. Joyce and Hut had made his acquaintance around 1969 and recalls George accepting their invitation to Thanksgiving dinner. She also remembers sending a shower gift to him and his second wife before their marriage! Their friendship was rekindled and once their mutual friends learned that both Joyce and George loved to dance, suggested the two get together. Joyce and George enjoyed a standing Saturday night dance date for quite some time before acknowledging the fact that they made a darned good team. Wedding bells rang and they were married. George also brought three teenagers, Steve, Jody and Lori to this union. The couple bought a home on Badger Road then built another on Loose Moose Drive where they lived for eighteen years. They sold that dwelling and, in 1992, built, owned and operated Santa-Land RV Park on St. Nicholas Drive in North Pole. They lived in the upstairs apartment in the Park, so found themselves without a place to live when they sold it in 2000. Fortunately, in 1982, George Miller Construction had built and sold two small houses on Yukon Drive and one was now empty and available for purchase. In 2001 they bought it back, moved in and lived there for a dozen very happy years until George's passing in August of 2013.
These days, Joyce her "Malti-Poo", Sweet Pea, have new "roommates" to keep them company. Terry and her little black and white Papillon, Tally, have joined her. Since Joyce no longer drives, Terry has become her chauffeur and also does the cooking. Joyce washes the dishes and they both work in the yard and keep a watchful eye on the great-great grandson who often visits. Sherri and a multitude of family members live near-by and gatherings are frequent. Regrettably, Ricky passed away in 2006.
Joyce waited until she was 80 years old to join Santa's Seniors because "She wasn't really a senior before." Since then, she has been quick to request her Senior Discount. In years past, she was active in the North Pole Chamber of Commerce and also served as the unofficial "Grandma" for the Boys and Girls Club. Since the Club closed, Joyce says she still misses the happy voices and endless energy of those children who were just across the street from her house. Joyce regularly lunches with a group of friends and enjoys socializing and staying in touch with people. When I asked Joyce if she had a pet peeve, Terry smiled and joked, "It depends on the day." Her bucket list includes a trip to the Aleutian Islands and she reportedly has a weakness for ANYTHING chocolate! Joyce considers her own Mother, who was very hardworking, smart, kind and had a great memory, as being her greatest inspiration. If it were possible, Joyce would love to again take advantage of her council and enjoy a long sit-down visit with her. One piece of advice that has served Joyce well through the years is, "Think before you speak." Goodness knows this is a good policy for us all, and one that many of us frequently choose to ignore.
If you ever feel the need for an attitude boost, just take a detour down Yukon Drive and inhale some of the happiness that emanates like sweet perfume from Joyce's little home.
Interview and Story by Francie Cork ~ Photo by Santa's Senior