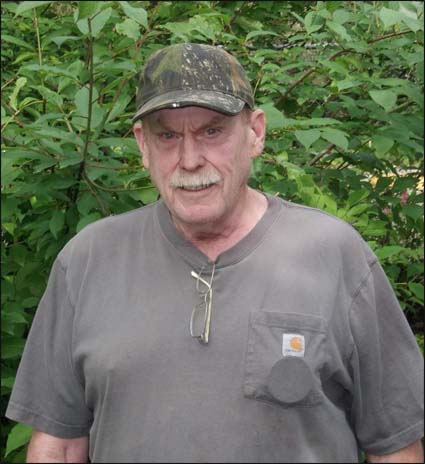 John Fischer
Watch for John at the North Pole July 4th Parade. He and his family have staked out a sunny observation spot on the sidewalk in front of the Senior Center for the past several years. If case you miss him, allow me to introduce you to one of our quieter members:
John Clifford Fischer, named after both of his grandfathers, was born in the home of a midwife in Leroy, Kansas on February 15, 1946. He lived there until his family relocated to Washington State when he was just a few years old. After a brief residency in Kennewick, John, his three siblings and his parents settled in Sunnyside, which is located in the Yakima Valley. There, his Dad made the ice cream mix for Carnation Milk while his Mom worked as a homemaker. His parents didn't force their own lofty goals or dreams upon John, but hoped only that he would remain in one piece as he grew up. Apparently this must have been of grave concern to his folks, but I took the high road and chose not to pry for details. John's dreams, however, were much loftier. He planned on becoming a college Professor of Philosophy.
John attended local schools and in the spring of 1964, graduated from Sunnyside High. Viet Nam was rapidly heating up, and that summer John was called for military service. He dodged a bullet, literally speaking, because he'd already enrolled in a two year course of study at Yakima Valley College. On November 11, 1967, after dating a Grandview, Washington girl for a couple of years, John married (Beverly) Jeanne Agard, best known to us as "Jeanne." In 1969 the young couple moved to Seattle, Washington, where John managed the Kennedy Hotel on 5th and Spring. Finally, in the early 1970's, John completed his BA in Philosophy through the University of Washington.
Over the next several years, John began a series of employment stints, beginning in 1973, when he accepted the position of Manager of the Kuskoquim Inn in Bethel, on the historic year when the town went "dry." John, Jeanne and baby daughter, Kristie, got their first skewed view of Alaska and learned much from that experience. After two years and a summer back in Seattle, John jumped at an opportunity to take on the Fairbanks Property Management for Alaska Airlines. Their son, John, was soon eagerly welcomed into the family in May of 1976.
With economic changes in the air, that job was followed by property appraising with Arctic First Federal Savings Bank. And then, in March of 1977, John gratefully took on the position of North Pole City Administrator, teaming up well with Mayor and friend, Carleta Lewis. They served together for the remainder of Carleta's long-running mayoral term. Afterwards, John worked as a State Loan Officer with the Delta Barley Project and later with the Department of Community and Economic Development.
John Fischer is one of the few remaining individuals who was present during the conception, birth and growing years of Santa's Seniors. As their "Business Manager," he was allowed only guest member status because he was too young to even cast a vote on association issues. He remembers working closely with many of our members who are no longer with us. Ralph LaSalle, Kaye Baker, Carleta Lewis, Birdie Buck, Fred and Eleanor Barrett and Grace Ford are just a few of those who came to mind. Later, Jeannette Gaul provided valuable input. He maintains that until Fred Barrett joined the group, Santa's Seniors served more as a social group than anything else, and it was through his urging that they became incorporated and began to move forward and establish goals.
With no daily time card to punch and with a renewed sense of priorities, John began to refocus his spare time. Since then, he has spent countless hours at his 400 square foot, dry cabin located off Chena Hot Springs Road on 10 acres of wooded terrain. Though he lists this as one of his "hobbies," it is clear to see this is truly a labor of love. He typically spends at least a couple of days a week there, year-round, cutting wood, hauling water, filling his lanterns and solving the world's problems. He has no television, but his Kindle and IPod are fully charged so he can continue to work his way through the 100 or so books he has on his reading list. He has a vast assortment of genres and is interested in many topics. Though his family has joined him often on these forays off the grid, John considers his time alone in the woods as an opportunity for renewal. Usually accompanying him are his dogs, a black Lab, Sincy and a yellow Lab, Jackson. He also enjoys gardening and has built beautiful raised beds and cedar planters on his deck.
Family continues to be of great importance to John, and with nearly 50 years of marriage under his belt, he is sure to save some quality time for his bride, Jeanne. Kristi, a non-verbal, special-needs adult, stays in a unique assisted living home and has meaningful activity through two local agencies during the week, comes home to spend time with her parents each weekend and holiday. John loves his time with Kristie on weekends, always looking forward to Fridays when she comes home. Tragically, their son, John, passed away in 2014 and this loss continues to be painful for his family and friends alike. When I asked John how me manages to cope with such sadness, he told me he doesn't play the "If Only Game" but holds on to the sage advice of his Mom. "Keep putting one foot in front of the other." He does believe that time heals….often slowly, but eventually the hurt does dull a bit.
Hunting, trapping and fishing have all been enjoyed over the years by John to a lesser or greater extent. These days, he still enjoys wetting a fly, but hunts moose "primarily and not seriously" these days. The last animals that succumbed to his traps were fox and a sable pine martin who had become a pest at his cabin.
Like most of us, John has been greatly influenced by many who have crossed his path. They are parents, relatives, co-workers and casual acquaintances. Clearly, he cherishes his friendships and mentioned two gentlemen who may also stir up memories of our own at their mention. John Boulette and Jack Reese, who is, unfortunately, no longer with us, quickly came to his mind. One man kept John on his toes during his many years in City Hall and the other taught him to fly fish. They each, in their own way, contributed to his molding and shaping.
At one time or another, John has belonged to several service groups and organizations. Currently, he holds no particular affiliation exception for the Friends of the North Pole Branch Library and of course, Santa's Seniors! Most recently John served on the Audit Committee. He currently holds the title of Registered Agent for both of these groups. As such, the State of Alaska and the Internal Revenue Service depends on him to be the go-between for these non-profit organizations and those governmental agencies. Because elected members on boards change frequently, having a designated person who can be a dependable liaison able to pass information or requests between those groups is invaluable. This unpaid position carries with it no political sway, and can only be changed by the process of a Board vote, but you can understand now the importance of having a Registered Agent in place. On occasion, John has had to relay reminders about deadlines and/or other prompts that keep the machinery of our organization running smoothly.
As John has aged, he has learned one truth that can be counted on. It is: "Trust your instincts." This adage has been tested time and again and has never failed him and is advice he readily shares with the younger generation.
Another saying that becomes truer with each passing year is, "Don't believe everything you hear."
For now, with limited responsibilities and fewer lists pressing in on him, his Perfect Day would be described as "a crisp, September day at his cabin, with the leaves turning color and a particular smell in the air that foretells—moose hunting time."
Interview by Francie Cork 6/13/16. Photo by Santa's Seniors.