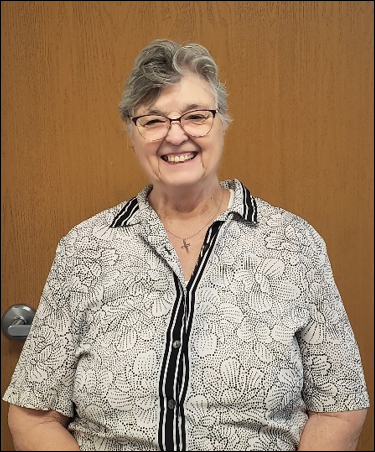 Jo Small
Meet Jo Small, 77 years young (Surely, most of you know her from her dedicated work on behalf of the North Pole Senior Center). However, this interview hopefully will enlighten you with information which you may not be aware of about Jo.
Jo was born in Everett, Washington. Jo's parents moved to Juneau, Alaska with their family of five daughters. Two years later when she was ten years old, the family moved to Fairbanks and Jo spent a great part of her youth there ultimately graduating from Lathrop High School.
"Dad was a baker, Mom, a waitress in Fairbanks. She worked at the old Model Café downtown." Jo spent a great deal of her time as a young girl at Ladd Air Force Base, now Fort Wainwright. She also learned to dance and fence at the USO. It was near the Chamber of Commerce Building downtown on First Avenue.
People like Bob Hope, 4 Tops, and other famous entertainers came to town and performed. "I got to see and greet them all." Jo loved her life growing up in Fairbanks. She was raised as a Lutheran and still practices her faith.
Jo married Dennis Small, also raised in Fairbanks. Together they had two daughters, Denise, and Lisa and at last tally Jo has 8 grandchildren and 15 great grandchildren. After buying holiday presents for all the children and adults, Jo quipped that she spends the next four months in bankruptcy; She laughed, but love for all her offspring flows freely.
In the sixties, Jo and Dennis would drive to Haines to see her parents and take the Alaska Marine Ferry to Ketchikan for Six dollars per person. Presently, Jo travels all over the country visiting her family at least twice a year but COVID has curtailed her travel. Here in North Pole, she shares a home with one of her sisters, Pat who is also a member of the senior center.
Dennis died at the age of 75 after years of volunteer service to many organizations including the North Pole Senior Center and the couple was crowned king and queen of North Pole for one year.
For many years, Jo chaired the nominating committee at the center and worked at the same time. She served at the 4th of July Breakfast Gala for five or six years. The list of all her accomplishments is prodigious. She was elected to represent Alaska to a huge convention of girl scouts in the State of Washington. She also was a member of Toastmistress to work on a fear of speaking before large groups. She worked for Smucker's for ten years. They make jams and jellies. She graded the fruit for their product and mentioned that Dixon Jams and Jellies are the top of the Smucker's line.
"I was National rep for Women of the Moose representing Alaska in Hawaii, all over the Last Frontier and wherever I was sent. I am still involved with their work for children." Jo has also volunteered at her church for years.
The senior center and a group called 17 Mile Homemaker have worked together to write letters to soldiers, wrote for Santa Claus to kids in the country and "we did many other projects as well. Dennis and I did many projects for them over the years."
When asked if there is anything she wishes to do before she settles down, she admitted that her dream is to go to a Broadway show in New York City. She has no preference for a specific show, a musical if possible. Jo laughed affectuously when she told me that she sang once at the Grand Old Opry in Nashville, Tennessee on stage around 1993. She sang Happy Birthday for the audience.
She sees her future as traveling to Anchorage, learning in the Osher Lifelong Learning Institute (OLLI Project). "I am a life-long learner." She tries to learn something new every day and she wants to see the Hot Air Balloon festivities in New Mexico to add to her list of experiences. In summation, Jo Small is an erudite woman, a woman for all seasons with a lot of interests and plans to be active so long as she can. Let it be so.
Interview and Story by John Spitzberg.
Photo by Santa's Senior Center.