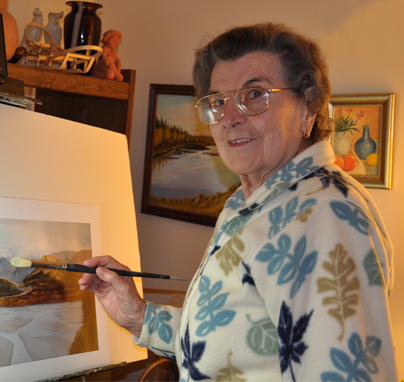 Jeannette Gaul
The youngest of four children, Jeannette was born in Medford, Oregon and raised in the Seattle/Tacoma area. She and her husband, Carl, recently celebrated their 68th Wedding Anniversary. If you ask for her secret to a long, successful marriage, Jeannette will say, "Hang in there, day by day, and keep a sense of humor."
When questioned about her employment history, she told me her favorite job was running her own business, though she continues to hold a true dislike for filing. Her most interesting job was as an Office Manager in the laundry section of a German POW camp in Marsa, Texas toward the end of WWII. Although this was a minimum security facility, three guards were required. The first one for laundry arriving, the second one for laundry leaving and third one to watch HER! The question is obvious: Who was the prisoner?
Residents of Alaska for 31 years, the Gauls' left grown children and friends behind in Washington State to begin their adventure in Dutch Harbor where Carl had accepted a job. For the next two years, Jeannette was employed by the local Native Corporation. Seeing a need in the community, as well as a business opportunity, she left that employment and started her own enterprise. As a bookkeeper, notary, real estate broker, money manager and general paperwork expeditor, Jeannette turned her expertise mainly toward a clientele base of individuals who were far from home and working on the fishing boats.
Following their stint in Dutch Harbor, their thoughts turned to finding a suitable place in which to spend their retirement years. Originally, they'd seriously considered Steilacoom, Washington because Jeannette desired a small town located outside a larger town with a nearby airport, hospital, library and college/university. Carl's list, however, differed somewhat in that he wanted to live in a remote location that offered hunting and fishing with others like himself who lived in close proximity to him and shared his hobbies. After spending two months sightseeing around Alaska and reestablishing their long-time Portland friendship with new Alaskans, Bud and Virginia Howell, they made their choice. It was North Pole! They have resided in their log home on Outside Blvd. for the last 24 years.
Jeannette has held the offices of President and Treasurer and has served on numerous committees for Santa's Seniors. Instrumental in the development and organization of the Breakfast Place, the Gift Shop and the North Pole Art League, Jeannette has also been honored in the past as North Pole's Volunteer of the Year, as Volunteer of the Year for the Fairbanks North Star Borough's Senior Recognition Day and has shared the duties and accolades with Carl as they were crowned the North Pole King and Queen in 2001. Jeannette believes that serving others is the key to enjoying a well-rounded, happy life and encourages us all to become immersed in something bigger than ourselves. This is her idea of "Living Well."
Serendipity, chance or perhaps fate, played a big part in Jeannette's gift as an artist. One morning, as she was cooking at the Breakfast Place, Jeanne DeNapoli, a noted master of the easel in her own right, came in for breakfast. Under her guidance and inspiration, Jeannette soon discovered she had a talent and love for painting. Considered an accomplished artist, Jeannette's favorite medium is oils and prefers painting Alaskan landscapes. By concentrating on her art for extended periods of time she was able to experience "vacations" from the pains and problems of the day, admitting she wished she'd begun her artwork sooner.
Although her favorite season is fall, when asked to describe her Perfect Day, she said it would be spending time with family and friends on their deck on a sunny summer day. Having just hosted son, Carl and his family, and anticipating upcoming visits soon from daughter, Susan, and son, Bill, it looks like Jeannette and Carl will be realizing at least the first part of their Perfect Day before the year ends…..just like it says in her favorite Scripture, Psalm 118:24 which proclaims, "This is the day the Lord has made, let us rejoice and be glad in it."
Interview & Story by Francie Cork
Photo by Clarence Schulte