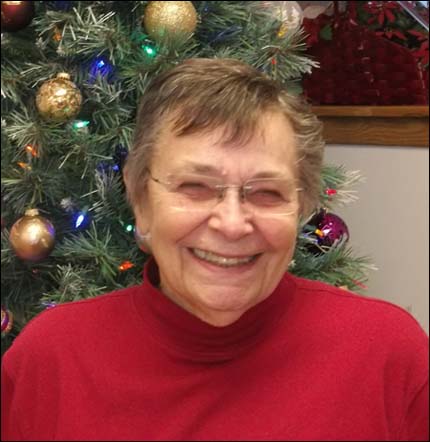 Jana Belle Gordon
Jana (pronounced "Jayna" but most people know her as "Janie") Belle Beecher was born at home in Fresno, California on January 29, 1928. When news of her impending arrival reached his ears, her Dad wrecked his Model T Ford rushing home to be by his wife's side. Fortunately, he was not injured, his vehicle was unharmed and he made it in time to hear his first baby's cry. Jana was the eldest of four children and named for a character her Mother had read about in a Southern novel. Her family tree includes a Loyalist great-grandfather who relocated to Canada for a period of time but returned to the States to fight in the Civil War.
Until she was fifteen, Jana and her siblings were raised in Santa Cruz, California when their Dad, a carpenter, moved his family to Upper Lake, California with proceeds earned from a house he'd built and sold. Jana's Mom worked outside the home cleaning houses and as a "handicapped employee" for Good Will as a donation solicitor. Her disability? She wore glasses!
Jana grew up in a very close, happy Seventh Day Adventist family with certain understandings that the children were encouraged to heed. They were: "Talk loudly", because her Dad was hard of hearing, "Never be late," and "Family always attends church together."
Growing up, household chores were the norm. Jana's was to put the potatoes on to cook when she got home from school. Living through the Great Depression, her family was fortunate to always have a garden, a cow and chickens. They were well fed, but not particularly well dressed. I couldn't resist asking her if she was typical of many who lived through those times of hunger, want and need and as it turns out, she is not. Jana hates clutter and has told her kids that when she goes, all they'll have to do is go through her closet and change the sheets on her bed!
As a young girl, Jana gave serious thought to becoming an Occupational Therapist. She'd read about this profession in a book and believed that her strong needlework skills would serve her well in this capacity. Instead, her life took a different, unexpected course and she wound up getting married, instead.
Grades 1-8 were spent in Santa Cruz at a church sponsored school. Jana attended her freshman year of high school in Upper Lake before leaving for Ukiah, California where she earned her room, board and $10 a month as a live-in housekeeper. It was here she spent her sophomore and junior years of high school. She returned to Upper Lake for her senior year where she graduated. During this final year of school, she met her future husband, Bob Gordon. He was "a grown-up" who'd gone into the military before finishing secondary school and had returned to complete his education after his service obligation was served. He and Jana were in the same class for one semester and following some exams, at the age of 22, earned his diploma. Jana knew his family and was best friends with his sister. On graduation night, when he invited her to dinner, she eagerly accepted. In her own words, "That was it!" Five months later, as Bob was driving her back to Business College in Fresno, they detoured to Nevada and were married at 11:55PM on November 12, 1947. They spent their wedding night in Nevada, then got up early to complete their drive to Fresno and pick up Jana's belongings, break the news to her parents and get Bob to work in time to make his deliveries as a milkman. Jana's parents, who didn't like Bob in the first place, were not at all happy about this news. In fact, it took some time for her Mom to come around…..about four years! Fortunately, for the newlyweds, her Dad got over his initial negative feelings toward his new son-in-law fairly soon. According to Jana, Bob and her Dad were the two most influential, important men in her life. Bob was the person she most admired and while she certainly loved him, she also really liked him! Her Dad was fun to be around, was dependable and really adored children. Jana's Mom often said he spent his whole life learning to be a Grandpa. Jana recalls many happy memories of her children and neighborhood kids asking if Grandpa/Mr. Beecher could come out and play!
In due time, Bob and Jana were blessed with three children…..exactly as Bob had foretold and in the exact order he'd speculated. Cliff made his appearance in 1949, followed by Barbara in 1950 with Bob Jr. completing their family in 1952. His birth and delivery by Bob resulted in the declaration, "That's enough." Jana holds the unusual distinction of having all three of her children living in this area and enjoys the special acclaim of having her three grandchildren and four great-grandchildren residing elsewhere in Alaska. Her family brings her nothing but great joy and she takes delight in her relationship with her "kids."
On May 12, 1951, Jana's plane landed at Ladd Field. In tow were two kids, two suitcases and two diaper bags. As she stood at the top of the stairs, two thoughts struck her full force. The first was how terrible the cold air smelled and the second was how brown the landscape was. She immediately questioned her decision to join Bob, who had come up the previous month to "get rich," after having gone broke in California. Facing an uncertain future, the young couple decided to go north where the wages were twice what they'd experienced in their former home. Their plan was to stay a year, bolster up their bank account and then return to warmer climes. Thankfully, it wasn't but a matter of time before things greened up and Jana's outlook brightened as well.
Before their arrival in Alaska, Bob had made previous living arrangements for the family which was a house that sat on 55 gallon barrels with cracks in the floor that were wide enough to see the dirt below. They resided here until their move at -50 that November to another rental on 7th Avenue, where the State Building is located. They lived there about a year until they purchased their first home, a trailer, and relocated to Berry's Trailer Court across the Chena River where the Borough Building stands. By then, they were a family of five. In 1955 Bob accepted a job as an oiler on a crane in Whittier, so the family moved to Anchorage for one summer while Bob commuted to work. The windy, damp weather didn't suit them, so when the job ended, they happily returned to Fairbanks, which had by then become home. They moved their trailer from Berry's Trailer Court and placed it over a basement on Ina, off Minnie Street. In 1957, on that same property, they began construction on a two-story house, finally reaching completion in 2005. They lived there for 46 years.
Jana owned and operated a successful Standard self-service gas station on the corner of Minnie and Clara from 1960-70. This venture ultimately provided the capitol that allowed them to go into the crane business. Jana Belle Inc., considered by many to be the premiere crane company in the Interior, operated for 22 years. By late in 2007 the kids were gone, and the large house and yard had gotten to be too much for just Jana and Bob to handle. Also, Bob's health was poor, so they decided to sell their place and move to 12 Mile Village and live closer to their son, Bob Jr., and his wife, Carol. Jana described this last transition as being a particularly difficult one for her. Sadly, Bob passed away in January 2010 but Jana remained and has entered into yet another phase of life, close to her church and the family she loves so dearly.
As an avid birdwatcher, Jana has traveled many times and several thousands of miles in pursuit of this hobby. Currently on her bucket list is a trip to west Texas, more specifically the Rio Grande area, with her daughter-in-law, Karen, who is personally campaigning for Mexico. Not picky about the mode of transportation, all Jana needs to hear is "Let's go," and she is ready to roam and is anxious to undertake almost any adventure. Jana also likes to take pictures and reportedly travels light with only one suitcase and her Kindle. One of her more intriguing trips was her visit to the Panama Canal, which she'd read about as a young girl. Though she says she'll read practically anything, Jana particularly enjoys the writings of naturalist, Bernd Heinrich, whose focus is on animals and birds. Never one for idle hands, Jana also enjoys quilting, knitting and crocheting, a skill she learned as a third grader. She also does needle tatting and is familiar, if not proficient, in nearly any sort of handwork you can think of. She has gifted all of her family members with quilts she has made especially for them and has given countless others away to the Cancer Center and to other places and people who need comfort. When we sat down together, Jana had completed a series of potholders and was working on another but was planning on making a hat for herself next. As Santa's Seniors Wednesday Gift Shop Lady, she fills her time between customers with projects like this. Actually, it was at the urging of her children that she serves in this capacity. They worried she wasn't getting out and mingling as much as she should. Lucky for all of us, she listened, so we're able to enjoy her company weekly!
Besides her work at the Center, she is active in her church and serves as an Elder. When I pressed her for details on this title, she told me she is responsible for delivering the sermon one Saturday Sabbath each month. In fact, she laughed when I asked her about her biggest challenge these days as she answered, "Preaching once a month!" Additionally, until she was seventy-five, Jana also served as a Voter Registrar for Precinct #1 in the Borough Building during many years of elections.
Jana loves to cook, but has difficulty preparing meals for just herself because she claims she always makes too much. Thanksgiving, which is by far her most favorite holiday, gives her the excuse to get back into the kitchen, dust off her culinary skills and make large portions. Peanut Brittle is her Christmas specialty. Last year she produced over eight pounds of this delicious confection. When I asked her who she'd invite and what she'd serve for a "last supper," she quickly reeled off, "All my kids and I'd serve fried chicken, mashed potatoes and gravy, peas and apple pie." Her Mother's recipe for potato soup which contains the "secret" ingredient of canned evaporated milk has always been her long-time favorite comfort food, mainly because of the happy memories it conjures up for her.
Though Jana says she wasn't born with natural money sense, Bob helped guide and redirect her thinking so well that she now tends to lean toward frugality. She shared that were she to become suddenly wealthy, she'd spend the greater portion on a church expansion and travel with the rest of the money. She describes herself as being "opinionated" and someone who "talks too much," but when I asked her to tell me "What One True Thing Do You Know?" Jana recited Matthew 7:12, which many of us will recognize as The Golden Rule. Truly, as we approach this new spring season, let us all join Jana and be reminded to "Do unto others."
Interview by Francie Cork. Photo by Santa's Seniors.