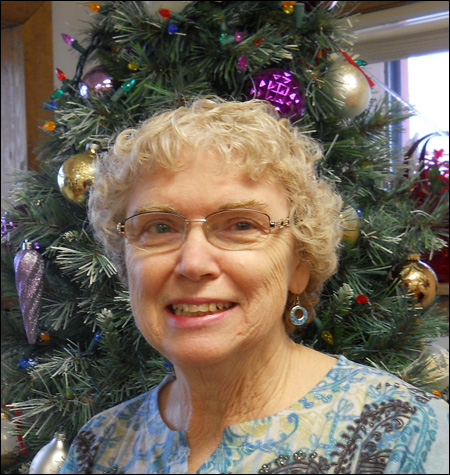 Goldie Southwood
Goldie Ellen Campbell, self-admittedly the spoiled baby of her family, was born February 8, 1943 in the family doctor's office in Bremerton, Washington. She was the last of four children born to a homemaker (who was, indeed, by the literal sense of the word, a Homemaker's Club member!) and a civilian employee at the Bremerton Naval yard. While in Bremerton, her Dad became the owner/operator of a trucking company which resulted in the relocation of his family to the Olympic Peninsula of Washington state. It wasn't all fun and games. Even the youngest child in the family had to help with the vehicles in her Dad's business. Goldie's job was to fill batteries with water and to grease trucks.
Goldie's earliest memory is of an earthquake that took place when she was four years old and still living in Bremerton. She clearly remembers sitting in the kitchen on a folding metal stepstool, eating cherry pie and watching the plaster fall from the walls. She recalls everyone leaving the house in a panic and abandoning her to ride the quake out alone while she ate pie and cried.
Goldie and her siblings, Edie (seven years older), Jim (six years older) and Mary, (three and a half years older) were all raised in Forks, Washington. It was a happy day when Mary went to school, because it meant Goldie would finally have her Mama all to herself. They spent hours washing dishes and sharing time together, just the two of them! This continued until Goldie was old enough for school.
She attended first and half of second grade in Beaver, Washington before moving to Forks for the remainder of second grade through high school. High school years were busy with Pep Club, International Order of the Rainbow for Girls, Student Council and many other activities, clubs and groups. If there was something to join or be involved in, you could bet that Goldie would be there. Perhaps it was those early years that instilled in Goldie the joy of giving of her time and talents? Even today, Goldie lists "helping out and volunteering too much," as her double greatest strength and weakness. Goldie received her diploma in 1961 but instead of continuing on to college or trade school, Goldie worked as a keypunch operator for Pacific Northwest Bell in Seattle for about a year before moving back to Forks to work days as a bookkeeper in the family business, Forks Sand and Gravel, and nights at the local movie theatre.
Goldie's sister Mary had dated Bob Southwood before he joined the Navy. When he returned home in 1960 he asked Goldie, who was seventeen years old at the time, for a date. Her sister wasn't interested or serious about Bob so she encouraged Goldie to "Go for it!" This turned out to be the greatest and best life-changing decision of her life and one neither of the two sisters regretted. Goldie and Bob had been engaged two years when he announced he'd accepted a job as a log loader in Ratz Harbor on the Prince of Wales Island in Alaska. The couple had previously envisioned a huge, fancy wedding ceremony sometime in the future, but jobs didn't grow on trees and Bob needed to report to work. So, Goldie's parents gave her the choice of having a big ceremony or a nice reception. A close, family-only wedding with a nice reception won out. The couple was married January 5, 1963 in Forks, Washington and the young couple soon moved north. Their first two years as newlyweds were spent in Ratz Harbor until an insurance salesman arrived via boat and sold her husband a life insurance policy. By then, the couple was expecting their first child, but the only reasonable place to deliver a baby was in Ketchikan, so Goldie returned to Forks for the birth of their first son, Scott, in the fall of 1963. When Scott was three weeks old, he and Goldie rejoined Bob in Alaska. By then, the insurance company who had sold that policy on Bob determined his occupation as a log loader was too risky to insure, so the family moved to Sitka. Bob secured work as a mechanic and they stayed there about six months before relocating to Fairbanks in January 1965. Second son, Carl, completed their family in August of that year.
For the next many years, Goldie worked in the home, raised kids and became very involved in the non-profit weight loss support and wellness educational organization, TOPS (Taking Off Pounds Sensibly) Club, Inc. She was instrumental in starting a chapter in Fairbanks and ultimately became the Interior Area Captain which later developed into Coordinator for the entire State of Alaska. She held this position for ten years. She only recently retired from this post after twenty years of service to this institution.
Reportedly named after her Mama's best friend, "Goldie" was the perfect moniker for her next phase of life. Her husband, Bob, was approached by a business associate asking him to grub steak a mining operation at Gold King Valley in the Alaska Range. With a readily available source of heavy equipment and agreement terms that stated the mining rights would revert to Alaska Unlimited if things didn't go as planned, Bob and his partner built a mining plant in 1986 that was moved over the frozen rivers that winter. Supplies, groceries and other necessities had to be flown in and their fuel arrived via huge cargo plane. They started covering the entire claim the following year and finally pulled out at the end of the season in 1991. Each April the work began and didn't end until freeze-up, usually in September. The family, that included Carl and Scott and a dozen crew members worked twelve hour days, seven days a week, trying to eke out as much gold as possible in the short season they had to work in. As an active participant in the operation, Goldie loved mining and particularly enjoyed the daily "clean up" she was put in charge of. She didn't lack for excitement, even in this remote location and recalls one day pulling onto the air strip on her 3-wheeler. Goldie expected the fuel plane would be arriving soon, but figured she would hear it coming. What she didn't account for was how loud her ATV was so she failed to hear the aircraft's approach until she looked up to see the wing tip and prop directly over and in close proximity to her head. She, thankfully, had the presence of mind to swerve off the runway and save herself. Later, the pilot told her he'd seen her too late to abort the landing and was forced to choose between crashing the plane with a full load of fuel and workers on board or hitting Goldie. Had she not looked up, we wouldn't be reading her Spotlight now! When I asked if this mining operation proved profitable or could be considered a success, she quoted her late husband who said, "You never ask a woman her weight or a miner how much gold he got." She would commit to saying it was an adventure she was glad to have experienced, regardless of the outcome.
Following the passing of her beloved husband in 2000, Goldie found herself a widow at 56 and living in the huge family home on Birch Hill with just herself and her dog. After nine years of life alone, she was ready to take the next step so put the house on the market. After eighteen months it finally sold. Though January wasn't the best time of year to relocate, she settled in with son Scott and his wife, Julie, in their house trailer, for several months. The three collectively decided to move from the mobile home and build a house off Sandusky Court. That construction was completed but Goldie soon discovered she needed a lot more room for her hobbies. Eventually, an adjacent "mother-in-law" apartment, where Goldie lives now, was constructed behind their three car garage. She loves her place and is quick to point out the fact that while there is no kitchen (she continues to eat her meals with Scott and Julie) there is a spacious craft room, complete with drawers, cubbies and lots of storage. In fact, it is her pride in this dwelling that served as the incentive for holding her first Annual Picnic. For the last two summers, Goldie has invited former and current friends, neighbors and family to see her apartment, enjoy great food, socialize and play outdoor games. The garage has proved to be the perfect location for serving and protects the party-goers from sprinkles and hot sun. Since June of 2014, Goldie has shared her life and new digs with a furry, tan roommate, her Shih Tzu/poodle mix dog. Molly has taken over a huge chunk of Goldie's heart. Socialized and well-behaved, Molly is as cute as a button and has a few travel miles under her collar, to boot.
Goldie's community involvement includes but is not limited to being the Past President of 17 Mile Homemakers FCE, Past Noble Grand of the Fairbanks Rebecca Lodge, Board Member of the North Pole Community Chamber of Commerce, member of the Friends of the North Pole Branch Library, Den Mother for her sons during their Boy Scouts years, and a Senior Games participant. She is also a devotee of the OLLI (Osher Lifelong Learning Institute) program that is offered through the University. In May 2015, Goldie was recognized by the Fairbanks North Star Borough as the North Pole Volunteer of the Year at their annual Senior Recognition Day. In September 2015, she was awarded the Heart of FCE for the Northern District by the Alaska State Homemakers.
Though her athletic ability is questionable (aside from straight A's, the only C grade she received in high school was for PE), Goldie has enjoyed success in the novelty games, bocce ball, horseshoes, disc golf and miniature golf of Senior Games. She stays fit by participating twice a week in both the Fairbanks North Star Borough's Parks & Recreation Exercise Class as well as Strong Seniors here at the Center. Her Argus phone application keeps track of her steps. Her goal is 10,000 a day, but even on days she falls short, she aspires to someday meet this number. She plans to get back on her tricycle this spring, after she speaks with her doctor. Goldie does not take good health for granted and is grateful to enjoy it!
Goldie joined Santa's Seniors as a result of an invitation extended by Ardena Morway to one of the monthly Birthday Luncheons. In May 2015, Goldie was appointed as the Gift Shop Manager, where she continues to serve in that capacity. An avid Monday & Friday Santa's Senior Center games player, Goldie holds a special affinity for board and card games in general. In October 2015 she was elected as President of the Board of Directors for 2016. She can be called upon to step up whenever and however she is needed and is a very busy lady who takes her responsibilities very seriously and who is "as busy as I want."
Goldie is tremendously blessed to have both of her children nearby and says her greatest passion is her family. Carl, who lives in Anderson, has given her two grown grandsons who both live in Washington State. Her only great-grandchild, Devin, resides out of State with his mother. Scott and Julie continue to be her closest neighbors and are parents to Goldie's only granddaughter, Morgen. Goldie's relationship with Morgen is one from which she derives her greatest pleasure and joy. Morgen accompanied Goldie on her trip to Anchorage for hip surgery. She sat with Goldie and stayed with her during her recovery and as a result of this, is currently enrolled at UAF in pursuit of a career in Physical Therapy.
Goldie describes herself as "Happy, busy and crafty." Her artistic interests have ebbed and flowed with time and will most certainly continue to evolve. Once very involved in woodworking, she is in the process of putting this activity aside, citing space, lack of interest and time as being the main factors for this decision. She has many interests and isn't afraid to dabble in anything. She has, at different times, explored watercolor, collage, tile painting and other forms of self-expression. She doesn't knit or crochet anymore and is a poor sewer, but her eyes light up at the thought of pursuing glass etching and fusion sometime in the future.
As it stands now, Goldie would like to be remembered as a "giving person," and if she could give her younger self words of advice, they would be, "Go for it!" Coming to Alaska was her biggest adventure, to date and would encourage people to not hold back for fear of failure.
One thing Goldie has learned in this life is, "No matter how bad you think it is, SMILE." This adage became her mantra when her husband's health was quickly taken away and she was required to stay strong for him and their family for the several difficult weeks of his hospitalization.
If you should manage to pin her down, be sure it is a day you've eaten a good breakfast. You'll need your strength because Goldie Southwood is a very hard person to keep up with and most usually is either just coming back from a trip or has imminent plans for another journey!!
Those who know her consider it a privilege to call her "Friend."
Interview by Francie Cork. Photo by Sharon Geese.