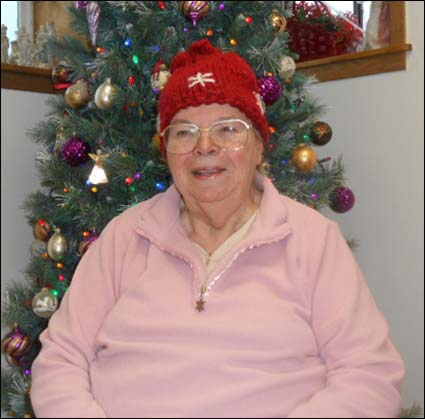 Gloria Brines
Although she hasn't been a member of Santa's Senior's for terribly long, her impact on this organization has been significant. Here is her story:
The eldest of twelve children, six boys and six girls, Gloria Ann Wooster was born on March 8, 1936 and into the capable arms of a family friend who assisted at her birth. Though previous arrangements had been made for the doctor to be present, her father, having no transportation of his own, set out on foot to get him and they both wound up missing the delivery. This took place on a farm in Portage DeSioux, Missouri, where her father was employed as a laborer and her mother cleaned houses. Gloria's mother was 16 years old and her father was 31 at the time of her birth and had been married for two years at the time of her arrival. Citing her 14 year old mother as being "too young," their local priest had refused to marry them, so the couple had been forced to stand before a Justice of the Peace. Eventually, after many years, they were able to be married in the Catholic Church.
Gloria's early years were spent in Grafton, Illinois on the Mississippi River. When her mother was expecting Baby #6, the family left the farm so her father could accept work with the railroad. The family lived in two boxcars on a siding. One car held two bedrooms and the second contained the living room and kitchen. The family carried water and used an outhouse. Because her parents were minimally educated, it was necessary for the family to move often to follow job opportunities. Orphaned at age ten, her father played a part in the history of the Orphan Train in Missouri and was taken in by a farmer to work on his land. He was well treated but never adopted. Reportedly, his mother was half Indian, though there are no records to prove this. To this day, Gloria wishes she had more information and details about her father's family.
Gloria set her life goals early. Returning home from her first day of school in Brighton, Illinois, at the age of five, she announced she "wanted to be a teacher and have a stable full of horses." A total of ten students comprised that school's enrollment for grades one through eight. She was there a year before moving to Greenfield, Illinois for second through fifth grades. Several farms, towns and schools later, she and one fellow student graduated eighth grade in Elsa, Illinois. Gloria completed high school in Jerseyville, Illinois, the County Seat, and received her diploma on June 2, 1953. After high school, she attended business school for six months while working part-time at the Woolworth lunch counter in Alton, Illinois, just across the river from St. Louis. She remembers she was paid 60 cents an hour, a vast improvement over the 50 cents she usually earned by babysitting! It was here at the lunch counter, in September of 1953, she met her future husband, Paul (called Jerry) Taul as he regularly stopped for pie and coffee. He gotten out of the Navy and had accepted work as a policeman "on the corner." Gloria was torn between Paul, a Catholic, and her allegiance to a young man she'd dated for two years in high school who was not of her faith. When she and Paul married December 31, 1953, it was with the realization she'd broken the other man's heart. Gloria completed Business School, and was employed by the First National Bank of Illinois in Alton as a proof operator. She was responsible for sorting and routing incoming checks by machine and was paid the astronomical salary of $160 a month!
Jerry and Gloria's first child was born on Halloween in 1954. In 1964 they returned to Jerseyville, Illinois, where six more children were added to their family. In 1965, when their baby was 17 months old, their world came crashing down on them. All seven of their beautiful children perished in a tragic house fire. Work and faith sustained them thorough those dark times, and two years later, Gloria and Jerry adopted three sisters through Catholic Charities that had been taken away from their parents. Still devastated by the loss of their first family, and after many, many moves, the relationship began to fail. Jerry filed for divorce in 1976. They had been married 22 years. In the 80's, the girls reconnected with their original family and Gloria lost touch with them.
Words Gloria holds true and strives to live by are, "Live each moment as if it were your last. Enjoy life." The knowledge that "God is always with you," helps her stay strong and is a real assurance to her.
Several years passed and in 1978, while residing in South Carolina, Gloria was introduced to John Brines, a widower with a 23 year old son, Maurice. John had served in the USAF for 26 years, was retired and living there, too. As the two spent time together and got to know each other better, they were struck by how much they had in common and how many parallels they shared with regards to dates, experiences and history. It didn't take Gloria to fall in love with both the father and son, and they married in 1978. She and Maurice, with whom she remains close to this day, lives in Charlotte, N.C., is married with children of his own. Gloria is the proud "Grandma" of two. Sadly, John passed away in 1991. But, because of John, in 1992, Gloria was able to finally enroll in college on his G.I. Bill.
Gloria owned one horse for about three years as an adult while living in New Mexico in the early 1970's. In 1996 at age 60, she achieved her dream of becoming a teacher by graduating from Southern Illinois University at Edwardson with a BA in Education. Gloria recalls this as being the proudest moment of her life. She was a Special Education Resource Teacher in Bunker Hill, Illinois and wore a variety hats as a Substitute Teacher for the Fairbanks School District.
Drawn by the cooler weather and the promise of beautiful scenery, Gloria arrived in Fairbanks, Alaska on July 20, 2001. She lived in town until her move to Planters Lane in the North Pole area in May of 2002. Her sister, Judy, accompanied her and helped her settle into her home and eventually returned for a visit which lasted ten years. Since August 2014, Gloria has shared her home with a young woman who does beautiful beadwork and her two cats. Since she is using her walker more, this arrangement has turned out to be a real blessing for Gloria. Having a roommate who is able and willing to help with some of the more strenuous household chores has allowed her to stay in her home.
Gloria is a crafty sort who loves to sew and always has at least a few projects underway at all times. When I spoke with her, she was working on fleece pillows and a Christmas tree skirt. Aprons, pillowcases and other items are destined for the Santa's Senior Gift Shop, local Bazaars and for personal gifts. She and Ina Holden co-managed Santa's Seniors Gift Shop 2013-14 and made important changes and improvements to our record keeping methods. Whenever possible, Gloria still volunteers there.
Asked to describe a perfect day, Gloria chose a warm and sunny spring or fall day. The windows would be open and she'd feel great. A friend would either call or stop by for a visit and one of her long-running projects would be completed. A new sewing pattern would be sitting close at hand. As a woman who loves a bargain, perhaps a quick jaunt to Value Village or a detour to a large church bazaar may also be in order. But, if Gloria were to plan a big splurge, she'd pack her bag and head to North Carolina to visit her son and grandkids! She is very fortunate to have her nephew, Michael, and his wife living in the area. They ensure she is able to get out and about and are very generous with their time. Life would certainly be much harder without them.
The idea of somebody mistreating either a child or an animal brings tears to Gloria's eyes. She has strong opinions regarding the inadequacies of the current judicial system and local school boards. She champions the opinions of those teachers and others who speak for those who cannot do so for themselves. What makes her happiest is hearing the sounds of children playing. Their laugher is like a tonic to her.
Gloria admits that she is somewhat disorganized, though always manages to find what she is looking for. She holds many interests and is the owner of a dynamite collection of lighthouses and Precious Moments figurines. She describes herself as being friendly, caring and a survivor. She hopes to be remembered as Someone Who Cares.
At this printing, Gloria is seriously considering a move Outside. If it turns out she decides to make this transition, we'll send her from us with grateful hearts for having known her and with these words:
"May your days be many and your troubles be few. May all God's blessings descend upon you. May peace be within you, may your heart be strong, and may you find what you're seeking, wherever you roam." (Irish Blessing)
Interview and Story by Francie Cork ~ Photo by Santa's Senior