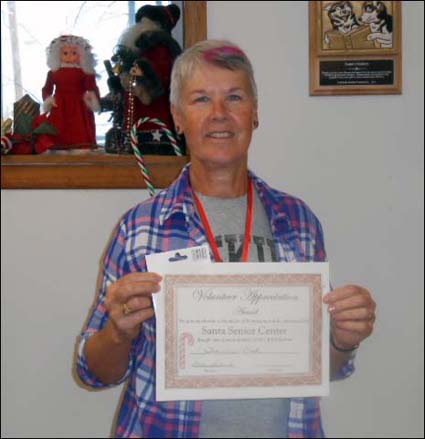 Frances Grace Cork
Frances Grace Cork, better known as Francie, was born in Fairbanks, Alaska on April 25, 1950 to Jim and Grace Ford. Her parents moved here from southern California in the late 1940's and homesteaded a large parcel of land. The 160 acres the Ford family farmed was split so that 80 acres could be designated as part of the future City of North Pole. Jim Ford was the first Mayor of the City of North Pole and won that title by a coin toss. Jim Ford owned Ford Refrigeration in Fairbanks for many years before working for Civil Service on Eielson. Grace Ford left the post office in Fairbanks to raise kids, then became re-employed at the Eielson Post Office when Jim's health began to fail in 1960.
Francie has many interesting memories of growing up in a small homesteading community. Back then, doors were never locked and Francie and her brother Joe would play with the other children in the small town from sun up to sun down, running through trails, and building forts and rafts which were taken to the nearest gravel pit to be floated on. Thirsty? Grab the hose from a neighbor's yard and have a drink. Sunday drives to visit other farmers were always exciting. On their "spy" drives, they visited the farms of George & Virginia Plack, Harley Hurst and the Howard Jones Farm (Aching Acres) which many of the local kids worked at in the summer months, all of which are well known to this day with roads named after them in the North Pole area.
The small school house in North Pole went from 1st- 8th grade and Francie was the last graduating 8th grade class in 1964. Francie attended Lathrop high school. Kids from North Pole and the surrounding area who attended Lathrop High School and Main Junior High were bussed into town. In September of 1968, Francie graduated and received a scholarship to attend hair dressing school in Anchorage at the Alaska Accredited Beauty College. Francie's mother and her brother drove her and her belongings to Anchorage via Richardson & Glenn Hwys. (The Parks Hwy. wasn't there yet) to Beauty school. The closer they got to their destination, the more upset her mother became. This added to Francie's excitement to finally be moving away from North Pole and to her new, independent life in the big city.
Prior to their wedding day, Sharon had begun taking classes at Baldwin-Wallace College, a Methodist University in Berea, outside Cleveland. After the wedding, she transferred to Northern Michigan University in Marquette as Joe was stationed at K.I. Sawyer AFB in UP Michigan. Although she began her studies as a music major, she soon felt this was not a good fit for her so, changing her focus, graduated with a Bachelor of Science degree in elementary education the spring of 1968. Her parents both felt very strongly about the importance of Sharon graduating college. She recalls her Mom saying, "This degree will be like a second insurance policy for you," and thus pledged their financial assistance. This turned out to be a true blessing, because as Sharon put it, "Joe had two stripes. We had nothing to put toward tuition."
Anchorage is where Francie met Willy and the rest is history. They were married at the Ice Palace, a flat track - oval motorcycle racing track between the 2nd and 3rd heat, August 25, 1972. In 1989, the Corks moved back to North Pole, bought a house, and started a business next to Hawks Greenhouse, known as Corks Pit Stop which they sold in 1989. Shortly before closing that business, Francie went to work for the Dept. of Commerce, Divisions of Measurement Standards as the sole oversize/overweight permit clerk in the Interior and was there eleven years. She later worked as an Adjudicator for the DOT, Unemployment Insurance Division, until her retirement in 2005. She said that was the hardest job she had ever done and the most stressful.
Many of us have regrets and Sharon is no exception. When her children were young and she was teaching full-time and volunteering outside their home, she missed a lot of time with her children. To this day, she regrets her "busy-ness" during their younger years. Quite often, circumstances and financial situations influence our choices and parents are left to do the best they can at the time. Certainly, neither of her kids have suffered for this!
In 1995, when Grace Ford moved to the Pioneer's Home, Francie and Willy settled in to the prove-up cabin, where they still live today. They have two sons. Their oldest son Jeff, lives in the St. Paul area and has given them two of the best grandchildren life has to offer. Jeff is a senior editor for Game Informer magazine and has written a book on gaming which Francie says is like reading Chinese. Their son Jason is a coach for the US Nordic Ski Team and travels all over the world.
Francie has been involved in the Senior Games, is a lifetime member of the Running Club North, and the Pioneers of Alaska. She is also actively involved in the Friends of the North Pole Branch Library, New Hope Methodist-Presbyterian Church and P.E.O. She was the editor and author of the Senior Spotlight at Santa's Senior Center for four years and thoroughly enjoyed it. The couple like to snow bird for a couple of months in Benson, Arizona and enjoy hiking, working out, and staying active. Francie has deep roots in North Pole and strong ties to the community. She doesn't see herself leaving the area any time soon and would eventually like to run for City Council.
Interview by Kathy Weber. Photo by Santa's Seniors.