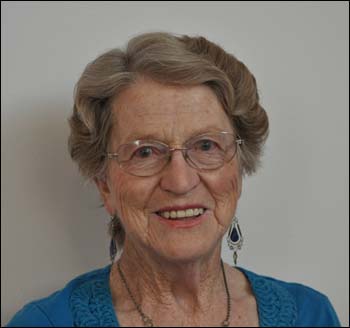 Ethel Stoneman
Born the second of six children in Montrose, Colorado, Ethel-Faye Hull (known to us simply as "Ethel") was raised in Eckert, Colorado on a 640 acre sheep ranch. Besides kids, her parents raised tomatoes and beans for the nearby cannery and grew hay.
One of her earliest childhood memories was being physically attacked by a mean turkey gobbler as a pre-schooler. Luckily, her Uncle Robert Williams, alerted to her cries, came to her rescue and then proceeded to knock the bird unconscious with a scoop shovel. The bird was the only casualty, though one can certainly understand why Ethel has never forgotten this incident.
Because of their home's remote location and the lack of neighbor children nearby, there was no school bus service. So, for the first four years of her education, Ethel and her older brother rode horseback seven miles each way to class. When she turned sixteen, the school district arranged for her to obtain her chauffer's license, provided her with a gasoline ration book and gave her a very modest salary. By default, she had become the new school bus driver! Day in and day out, Ethel picked up and delivered ten children to the elementary school, then drove another ten miles to deposit eight teenagers to the high school. She did this until she graduated.
With high school diploma in hand, Ethel made her way to Gunnison, Colorado to Western State Teacher's College. Before she could complete her degree, she received an Emergency Teacher's Certificate, relocated to Uncompahgre, Co. and taught grades 1-3 for two years. While there, she married briefly and in 1947 her son, Darwin, was born.
Time passed and Ethel's life changed when Glenn Stoneman, single father to Frank, walked into her life….or more accurately, into the café where she worked as a waitress. As a single mother providing for a small child, Ethel had determined early on that this sort of work paid a whole lot more than teaching school. Two years passed and the couple decided to "pool" their resources, so in 1951, they become a family of four. The boys were four and five at the time and in the years since then, four grandchildren and five great-grandchildren have been welcomed into the fold.
In 1959, the lure of Alaska, along with the hope of securing more stable employment (they'd moved 38 times in 8 years while Glenn worked for Mountain Bell Telephone Company) brought the Stoneman family to Fairbanks and the 6 Mile Richardson area. Glenn worked as an electrician, later rising in the ranks as Northern District Manager installing telephone systems for Trans-Alaska Telephone Company in North Pole, Delta Junction and other northern villages. Ethel worked as a stay-at-home Mom. In 1960, she took a position as Officer Manager for Trans-Alaska, which later became known as Glacier State. That building is still standing at the corner of Santa Claus Lane and 4th. Six years later, Ethel left and went to work for MUS in Fairbanks as their Collection Officer. In 1972, she and Glenn purchased and operated a lodge on the Canadian border until 1976. That next year Ethel enrolled in UAF, in part to heal and recover from the experience of business ownership! It wasn't long before she landed a job as the Accountant for a local paint company. In 1978 she accepted her last paid position as CEO for the Ft. Wainwright Federal Credit Union and retired from there in 1994.
Apparently, nobody explained to Ethel about how "retirement" works, because since leaving the Credit Union, she has tirelessly served in several different capacities on many boards and committees. They include, but aren't limited to Samaritan Counseling, North Star Council on Aging, Alaska Housing PAC Board, New Hope Methodist-Presbyterian Church and Ice Alaska. Ethel estimates she gives at least 30 hours each week to assorted volunteer work.
Santa's Seniors has been the recipient of Ethel's time and talents over the years as well. She is currently serving as Treasurer on the Board of Directors and Secondary Member for the Gaming Committee. She has been our Bake Sale Chairperson more times than we can count, is a former Breakfast Place Cook and is one of those persons who are always willing to provide a batch of cookies or work a shift. A real "people person," Ethel does not tolerate negativity well. Her glass is always half full, which is demonstrated by her cheerful smile and happy attitude.
When she isn't attending meetings or doing board or committee work, you can find her in her garden. She grows both flowers and vegetables and is a long-time, loyal donor to the Fairbanks Food Bank and to St. Jude's Food Pantry. Ethel also loves to fish….puddle or ocean, it matters not! Although she used to cross-country ski and mush dogs, these days, once winter arrives to the Interior and the snow blankets the ground, you'll find her deeply involved with Ice Alaska.
Widowed since May of 1999, Ethel still lives in the beautiful log home she and Glenn built on property off Badger Road on the Slough. On many occasions, she has generously provided temporary storage in her garage and shop for Santa's Seniors and the Friends of the North Pole Branch Library.
Although her favorite meal would somehow involve crab, it is her jams, jellies and cranberry squares that have become her signature foods for the rest of us. No empty canning jar (or glass flower vase) is safe around Ethel!
A four time cancer survivor, Ethel has recently experienced a bump in the road and is facing yet another challenge. Thankfully, she feels good and fortunately for us all, no resignations are pending; neither is there any long-term plans involving rocking chairs. Instead, this lady chooses to continue drawing inspiration and peace from the great outdoors, who reminds us that the beauty of this country is our great gift from the Lord.
Interview & Story by Francie Cork
Photo by Clarence Schulte