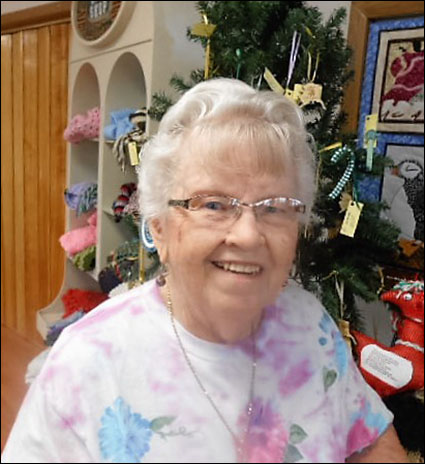 Ellie Herrera
Known in local circles as THE person to contact if you want a spectacular flyer, a unique pattern or intricate hand-work accomplished, we are honored to shine the Spotlight on Ellie this month. Born Eleanor Jane Buel in Denver, Colorado, Ellie's Mom, Beatrice, a true fan of this iconic woman, named her for Eleanor Roosevelt. Though she has younger siblings who arrived several years following her appearance on April 22, 1931, the wide gap in ages meant Ellie was basically an only child for her early years. Her Dad, Chester, joined the military when war broke out, but prior to that he was a jeweler. Once in the military, he was a captain with the U.S. Army Corps of Engineers. Until her parent's divorce when Ellie was an infant, her Mom, Beatrice, was a homemaker.
From the time Ellie was about 8 months old until she graduated from high school, she lived in the Panama Canal Zone. It was the logical place to be since her mother grew up there, having been moved there when her father, Walter, began work as an engineer. He operated the world's largest dredge called "The Goliath," to dig the Panama Canal. Beatrice subsequently remarried and a brother appeared on the scene when Ellie was 10. Twenty-three years later, her sister arrived. Despite the years between them, they stayed in touch and continue to do so today.
While her mom worked for the military, Ellie found many ways to entertain herself. When she was 8 or 9, her mom taught her to crochet and her grandmother introduced her to embroidery. She happily fished, sketched, and rode Panamanian buses, called Chivas, to old ruins and rode the trains to experimental gardens to explore. Her mother recognized her artistic talent and gave her a set of oil paints when Ellie was 12. Her first painting was a cat and an African violet. It was painted on cardboard and still hangs at her house today.
Ellie attended schools in the Canal Zone. Some of her favorite activities in school were basketball, volleyball, softball, archery and aqua ballet. Art, of course, was an important part of her education. She still credits Miss Gardner, a teacher she had for 6 years, with giving her the fundamental basis for developing her abilities and helping to empower Ellie's confidence in herself. Miss Gardner so deeply believed in her talent she recommended her for the New York City School of Art. Ellie was accepted, but unfortunately, her mom was not able to afford the tuition. She graduated from Balboa High School in 1950.
After high school, the next step was finding employment. She soon learned the only jobs available were with the military and often office related. Since this was exactly the kind of work Ellie wished to avoid, she decided to join her grand-parents who had relocated to Florida. Once there, she quickly secured a position as a long distance telephone operator with Peninsula Telephone Company in Lakeland, Florida for minimum wage. About 6 months later, a hurricane hit the area that scared Ellie nearly to death. She'd never experienced such a force of nature before, and with no phone in the house, was unable to call in her absence to work. When she returned to her job, she was promptly fired. Before leaving the Canal Zone, Ellie had become engaged to a young Air Force serviceman with whom she had maintained contact. He was eventually shipped back to the States for duty in Michigan. Finding herself now without work, Ellie got on a bus and traveled to her fiancé's parents' home in West Virginia where she was welcomed with open arms. They quickly grew very fond of her. Shortly after her arrival, the wedding plans were cancelled. Despite the change in plans, the family still arranged to have her stay with other relatives in Welch, WV.
Ellie moved again and was hired as a cashier and hat checker at the American Legion Club. It didn't take her very long before she recognized this as being a dead end job with little to offer for her future. With this thought in mind, she enlisted in the Air Force as a WAF and was promptly sent to San Antonio for basic training before receiving her first assignment at George AFB in Victorville, California. Although she'd successfully side-stepped it before, Ellie had tested quite well for office work and her affirmative response to hearing the question, "who can type?" found her assigned to a dreaded office. Ever resourceful, Ellie applied for other work as an aide at the hospital and was accepted for training in a field she truly loved. She was exposed to many different departments and would have achieved her LPN had she not fallen in love with Buell Priddy. They dated, got married, and when Ellie was expecting her first child, she was given an honorable discharge. Being the spouse of a military man, Ellie relocated several times during the course of his service. When the family, which by now included two sons and a daughter, were stationed in Illinois, they were ordered to Spain. They closed Priddy's Pizza, a business they had begun, the government packed up their belongings and in typical fashion, changed their orders after their possessions had left. They'd been re-assigned to Eielson, AFB. In August 1968, they arrived in Fairbanks, and soon discovered the pictures they'd been shown of Alaska's white-capped mountains did not apply to the Interior….and were disappointed. There was no available housing for them so the family and their dog lived in what was known then as the 4400 Barracks Area of Eielson. This was past the power plant, past the trailer court, and out where the only bus that drove by was the one that took the children to school each day. This left Ellie to walk to the commissary. Finally, housing was ready so the family moved to a residence near Ben Eielson High School off Arctic Blvd. They were there for two years before purchasing a trailer house in Birchwood Trailer Park near Moose Creek. They happily resided there until they were forced out by the State Department of Transportation because the new Richardson Highway was coming through (the living room). Fortunately, they were able to move across the road on a piece of property where they stayed until 1972. What began as an unfortunate situation wound up leading them to the house Ellie still calls home on Dyke Road. The couple paid a whopping $21,500 for a two bedroom, 1 bathroom house with a garage on almost an acre of ground. Eventually, a second bathroom, two more bedrooms and a bigger kitchen were added. It is a typical Alaskan home in that somewhere in the middle of the building is a trailer house! To supplement the family's income, Ellie worked as a custodian on Eielson at Taylor Jr. High for the Fairbanks School District before the schools were turned over to the Borough. She also worked at North Pole Jr-Sr High from 1976-80. Summertime, when school was no longer in session, she worked in various dining halls on Eielson.
Over the years, Ellie has entered hundreds of items in the Tanana Valley Fair and has received much recognition and many accolades in the form of ribbons, including several Grand Champions, and monetary awards. Items entered included plants, canned goods, breads, craft items, and porcelain dolls. Even her painted suitcase received a Grand Champion ribbon! She can also claim fame as a four-time winner of the giant cabbage contest. The Fair was not her only venue to share her talents. She has a studio sized kiln and "hundreds of molds." She sold her dolls at the Santa Claus House and at The Ornamentary, along with many other craft items. Ellie also shipped dolls outside to customers, spreading her talent beyond the 48th state. Her license plate reads "DOLLMAKR," but that only hints at her artistic talents. She did a mural of Noah's Ark at Friends Church in Fairbanks for the Toddler's Room.
Ellie has shared her talents with others through her 45 year membership in the 17 mile Homemakers whose motto "Family, Home, and Community," describes her commitment. Recently, she designed the kuspuk-wearing Eskimo ladies that were featured on the Christmas tree skirt on display during the 2015 holiday season in the Alaska's Representatives' office in Washington DC. She designed the Pioneer Convention Logo in 2002.
She has belonged to the Santa's Seniors for many years and is actively engaged in the monthly birthday luncheons, the twice-weekly exercise group, potlucks, and board games as well as the 1st Saturday Bingo Games. She also volunteers in the Gift Shop. Ellie enjoys music of all types but her favorites are from the 70's, 80's, and 90's. She loves (and misses) Panamanian cuisine and prefers reading and watching movies that are horror, suspense or mystery in nature. Now retired, she enjoys her garden, though it is no longer the magnitude it was when she regularly canned, froze, and preserved for family and friends.
Though she isn't one to live in the past or with regrets, Ellie wishes she'd learned to read music instead of honing her ability to play the piano by ear. She feels sorry about not being honest with her Mom who forked out hard-earned money for months of lessons only to learn Ellie had no clue about written musical notes.
One little known fact about Ellie is that she NEVER kills a spider. Living in Panama as a very young girl, the bugs and snakes outnumbered the humans. Her Mom forbid the needless elimination of creatures, saying, "They have a job." Ellie has never forgotten this and continues to relocate spiders outdoors in warmer months or to inside potted plants during the winter.
Of all the things in her life, she is most proud of her family which includes three children, Walter, Ginnette, and Ronald; four grandchildren: Nathan, Olivia, Aric, and Nicholas; and five great-grandchildren: Molly, Addison, Isabelle, Ronan, and Kaya.
Having grown up in a country where everyone was equal, Ellie has no tolerance for discrimination in any form. She also stands firmly on this belief: "Whatever you put out comes back to you ten-fold. So make sure what you put out is good."
Interview by Francie Cork 7/8/16. Photo by Santa's Seniors.