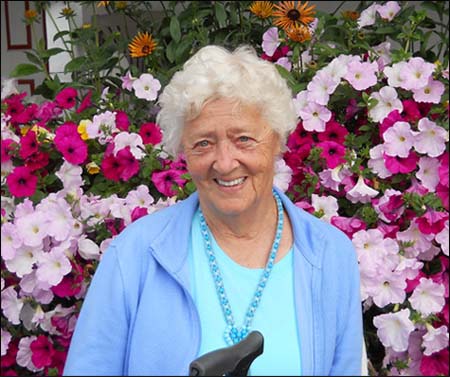 Elaine Hawks
Elaine made her appearance in this world on a cold winter day in 1932. She was born at home, and took her place in the middle of what would eventually become a family of five children. Her mother was a full-time homemaker and her father was a plaster mason who successfully built silos all over Minnesota and Iowa. She lived and grew up in Lakefield, Minnesota. The outbreak of World War II in 1939 greatly impacted the country and those who were employed in the building trades were especially affected. Elaine's family was no exception. When she was in third grade, her father could no longer find employment in his chosen field, so he relocated the family to Montgomery, Iowa and took work as a tenant farmer to support his family of seven.
As a little girl, Elaine was painfully shy and went to great lengths to avoid social situations. When she started school in Lakefield, her walking route took her right by the Swedish Lutheran Church. This was where her family worshiped, and this territory was very familiar to her. On school days, she'd kiss her mother good-by, detour off the road, head for the outdoor privy and would stay inside until lunchtime when she'd return home, eat and retreat again to the safety of the "comfort station." Once her mom caught on, aided no doubt by some unknown tattletale, she quickly put a stop to this behavior and made sure Elaine stayed on the straight and narrow all the way to school.
Shortly before her graduation from high school in Spirit Lake, Iowa, Elaine took a job as a waitress in a local restaurant. Still very shy, she did her work but didn't interact with the customers. One evening, she received a phone call at work from Charles Hawks. Elaine couldn't recall ever meeting this man or ever speaking to him and because she'd never dated, was sure he wasn't anybody she knew. He asked her out and she proceeded to hang up on him......FOUR TIMES. Her boss Francine, remembered who he was and knew Chuck well enough to vouch for him. She encouraged Elaine to accept his invitation. With this new information, Elaine agreed to go to a movie with "Chuck." At the end of her shift, she went home to change out of her work clothes and to give her folks her evening plans. Nobody was there. So, totally out of character, she got dressed and went out anyway. Imagine her surprise when she spotted both her parents and one of her sisters leaving the theater as she and Chuck were entering! Most likely dumbstruck by the sight of their shy, reserved daughter out and about in public with a virtual "stranger," her folks said nothing and only waved at the couple. Elaine and Chuck dated for about six months and were married June 17, 1951. This long and happy union ended only at Chuck's passing in September 2007.
Eventually, Elaine and Chuck were blessed with four daughters and three sons who provided them with the additional gifts of fourteen grandchildren and the astounding number of sixteen great-grandchildren, as determined by significant finger counting. Their legacy continues to increase as time goes on.
Shortly after Elaine and Chuck were married they moved to Fresno, California. As a very talented mechanic, Chuck's forte was cars. He was a hard worker and made a good living by buying and fixing automobiles for resale on his friend's lot. Within the next few years their family grew to include four children but after six years in the "Golden State," the couple was restless. Neither of them liked it there and Chuck had grown a bit discouraged by his employer's lack of family values. And, to complicate matters, Chuck found himself in the middle of a business reorganization. One night, they happened to tune in to a television show that featured a couple who were seeking money to homestead in the Mat-Su area of Alaska. After a brief discussion, they decided that Alaska, and Fairbanks in particular, would be a great place to live. They traded in Elaine's car, "a very nice one," for a truck, built a box in the back of it, hooked a sleeping trailer behind and two weeks later, the family of six, plus Chuck's younger brother (who stayed with them one year), were loaded up and ready to head North. Right before leaving, they sold many of their belongings and everything with an electric cord, figuring that power was a luxury that they'd be forced to go without for quite some time. All went as expected until they came to their first big hill. After spinning out, they decided to stop in Seattle for the holidays and begin again in January of 1958. Unbeknownst to Chuck, another little passenger, Baby #5 was along for the ride as well. Elaine recalls this time as, "An exciting adventure and the most wonderful trip ever. We didn't even have a flat tire."
Once in Fairbanks, the Hawks' made their home base in a trailer court on South Cushman while they looked for land to homestead. Elaine remembers Betty and Elt Buzby as being instrumental in their search and it wasn't too long before they found what they were looking for. They purchased the rights on 160 acres off a cat trail and what is now commonly known as Nelson Road, being named for Henry Nelson who had a cabin in that area. Elaine's azure eyes sparkled when she asked me, "Guess what was already on the homestead?" Turns out the one thing that surprised and amazed them the most was the presence of a power pole....and there they were, without one single electrical anything to plug into it!
The family moved onto their property in April of 1958, mindful of the thaw that was just around the corner that would be a significant roadblock to access. They moved their trailer out there, Chuck began clearing the land and purchased a Quonset hut that became their first home. As required by the Homestead Act of 1862 which subsequently included the Territory of Alaska in 1898, in order to "prove up" their homestead and gain full ownership of the property after five years, certain requirements that involved continuous residency, development of the land for agriculture and construction of a permanent living structure had to be met. Looking ahead and anticipating gardens in the future, they provided for a root cellar under the Quonset hut. Water was hauled and Elaine worked hard to make a happy home for her young family. Determined as he was, Chuck found work at a wrecking yard in Fairbanks, but was hired only after dogging his prospective employer for three days in a row.
Early years found them both working on their property, getting to know their neighbors, and dreaming of their future. They'd always intended to own some sort of family business, and at first, they thought they'd farm. But, when the children named their cow and pig and made pets of the animals, they realized this wasn't quite the answer. Coming from a growing background in Iowa, Elaine's DNA kicked into high gear and it soon became apparent to them both that they should reconsider their agricultural scale. They put up a small greenhouse, mainly for the family's use, but Elaine soon saw the prospects for selling vegetables to people without space or time....namely those living in trailer courts! With her kids in the car, she'd load up her extra produce, pass the newest baby between the kids and sell door-to door. This was such a success, they enlarged the greenhouse and expanded to include bedding plants. When Pay 'N Save bought their entire stock, Elaine took this as a sign to start growing with a vengeance, so she stripped the store's seed display and got busy....REALLY busy! Soon there was a second, larger greenhouse. Their hard work paid off and by the end of the season, had sold everything they'd grown. By then, Chuck was working a civil service job on Eielson and the last of their seven children had joined them in 1962.
Elaine's favorite memories are of the days when her children were youngsters. Her greatest challenge was keeping them entertained in the winter. With so many of them to keep busy, she laid out a big sheet of plastic on the floor and then dumped a bucket of silty sand retrieved from under the house on it. All this was done with the understanding and solemn promises that the dirt would not leave this confined area. Many a road, car wrecks and towns were built and torn down on those days when it was too cold to send the kids outside. She also remembers the fun they all had with singing games. These days, with the plastic put away forever, Elaine enjoys reading historical novels, walking and quilting. She recently completed a queen-sized Drunkard's Path quilt that featured lots of color. She does both hand and machine quilting. One of these days, she'd like to write a children's book, based on stories from her own childhood and life's experiences. No doubt, this would make great reading!
Another example of Elaine's artistic leanings can be found in the form of the dinosaur, horse and three ladies that grace the lawns of Hawks Greenhouse at 12 Mile. She has also spent her share of hours working on Golden Days and North Pole July 4 parade floats. The first all flower float was created by Elaine and her family for one of the Golden Days parades. Throughout her many years in the Interior, Elaine has been an active member of 17 Mile Homemakers, PTA, Santa's Seniors, North Pole Assembly of God Church and the Horticultural Association, to name only a few. Together, she and Chuck started the first North Pole High School Booster Club, in the days it was jointly a middle school and a high school. It was a rare game that didn't have one of both of the Hawks' sitting in the bleachers, cheering on the home team.
After Chuck's passing, Elaine relocated to Iowa for a while but has now found a new home in Florida, close to family. Since she no longer drives, she is looking forward to making new friends at a senior center close by her new home. For someone who gets the most pleasure from traveling the lesser known road and experiencing places and things she has not seen before, this should be an excellent fit.
While Elaine is quick to say that Alaska has been very good to her family and she misses her friends, she hasn't missed the extreme cold or the poor winter air quality of the Tanana Valley. She recalls especially loving the long drives she and Chuck would take, with no particular destination in mind or those occasions when they'd drive all the way to Delta just for breakfast.
To this day, Elaine remains grateful to those who were so generous to her and her family in their early days of growing. The help and information she got from really good, knowledge-able people made all the difference, especially when the time came to turn the reins of Hawks Greenhouse over to competent family members.
When I asked for her favorite song, Elaine said, "Only Imagine" was her choice. She also shared, "The happiest time in my life was when I met Chuck. Our years together were often challenging, but were never hard and were always an adventure!"
I have a feeling that Elaine Hawks will soon be creating some new undertakings of her own that may surprise us all!
Interview/Story by Francie Cork - Santa's Senior Photo