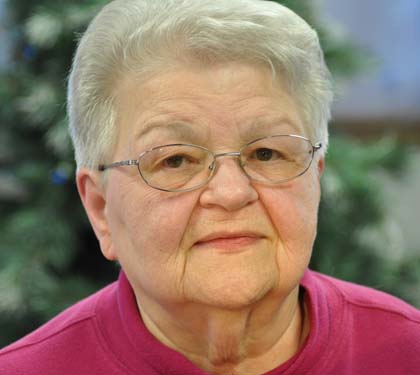 Dolores Adams
To the handful of North Pole "kids" who still live in the area, Dolores Adams is known as "Dolly's, Charlie Junior's, Byron's, Veronica's and Wanda's Mom." She is so much more than that!
Born and raised in Deodate, Pennsylvania, Dolores has traveled many miles since leaving that part of the country. As a military spouse, she has lived in Nevada, Illinois, Georgia and California and remarked, "I love to travel, hate to move." Not one to permanently put away her suitcase, Dolores took a cruise to the Caribbean, via Ft. Lauderdale, Florida three years ago. She has also visited several places located on the highway system within Alaska. One road trip she hopes to someday take off her "bucket list" is the Denali Highway between Paxson and Cantwell. Fortunately for Dolores, with the exception of three of her eleven grandchildren, the majority of her family resides in Alaska, leaving her content to read about far-away places and watch travel logs while staying close to the home she has established with her son Byron and his wife, Barbara, right here in North Pole.
Dolores first spotted her future husband, Charlie, as he passed by the window of her grade school. Her teacher remarked, "That is a boy you should avoid. He's nothing but trouble." Fast Forward to High School: Dolores's brother, Andrew, and Charlie have become friends so Charlie spends a lot of time at Dolores' house. Charlie leaves high school at 17 and enlists in the Air Force. Dolores generously agrees to add his name to her long list of military pen pals. One thing leads to another. Charlie returns from Korea on leave in 1952, marries Dolores and together they relocate to his next duty station in Nevada. In 1957, the couple and three children (Dolly and Charlie Jr. born in Arizona in 1953 & 1954 & Byron in Illinois in 1956) transfer to Eielson and set up housekeeping in North Pole. Shortly, two more little Adams kids (Veronica born at Ft. Wainwright in 1959 & Wanda in Washington DC in 1961) make their appearance.
A turning point for the family occurred in North Pole, on February 11, 1958. Their small 6th Street home caught fire while Charlie was at work and Dolores was alone at the time with their three children, ranging in ages from two to five. She managed to get her two oldest out of the house and into the waiting arms of a neighbor. In that brief period, their home became fully engulfed in flames but Dolores, intent on rescuing her baby, managed to wrestle herself away from the well intentioned neighbor who was trying to prevent her from re-entering the burning home. Their little house had turned into a tinderbox of fire, thick black smoke and toxic fumes, but she pushed her way inside anyway. Miraculously, and truly this was a miracle, she located her baby boy who was huddled under the covers on a bed and got both of them safely outside. Her son suffered no ill effects from the ordeal, however, Dolores sustained 2nd degree burns to her back and earlobes and singed her hair, brows and lashes. In those early days, the City of North Pole was served entirely by a Volunteer Fire Department and had no ambulance, so Dolores was transported to Bassett Hospital at Ft. Wainwright in the back of a Territorial Police Car.
Their house was a complete loss so the family found refuge with neighbors for a time, later on living in a house trailer and eventually moving into and purchasing the house next door to where they'd originally settled that fall.
For 19 years, Dolores was a hard-working, stay at home Mom, both to her own children and to those living in the neighborhood. At a memorial service this fall, Tina Nievar Tompkins remarked, "We couldn't get away with anything with Mrs. Adams just down the street." In 1971, Dolores went to work in the kitchen of the Eielson AFB Dining Hall and stayed there until relocating in 1976 to the 1995th Communication Squadron's Telephone Exchange as an operator. She retired in 1986.
That same fall, Charlie and Dolores left Alaska for Pennsylvania to care for Charlie's father. It took much longer to return than they'd expected but eventually, in 2001, they managed to make their way back "home" to North Pole.
Tough times were ahead for Dolores when her older son, Charlie Jr., was killed in a plane crash above the Brooks Range in 1996 and then again when she suddenly lost her beloved husband on November 29, 2003. She has never removed her wedding band.
Since joining Santa's Seniors in 2001, Dolores has been busy in several ways. For six years, she was the Monday and Friday Breakfast Place cook, stopping only because the hard concrete floor began to hurt her legs so badly. She is a former Board Member and has helped in the office from time to time. She used her telephone skills as the person behind that voice who called members reminding them of Birthday Luncheons and other events. In the past, she has worked in the Gift Shop, specializing in knit baby hats, booties and adult socks. Currently, she participates in the Parks & Recreation's Exercise Group that meets at the Center on Mondays and Fridays.
As for regrets, Dolores joins many of us in wishing she'd stuck with her piano lessons but is seriously considering getting out her books and starting again. She also wishes she'd gotten more details of her Mother's recipes and that she had listened harder to stories her Dad used to tell about his experiences with the U.S. Calvary and his days of service under General John J. Pershing. Although Dolores has outlived all her siblings, she still considers herself very blessed.
Dolores firmly believes her life has been guided by the Hand of God and not just by a series of fortunate coincidences. Some things are just beyond our understanding. The child she went to such extremes to save is the same man who has been such a great comfort to her as an adult.
Active in Plack Road Independent Baptist Church, Dolores loves chocolate and delights in the extravagance of regular professional manicures—something she could ill afford when her house was full of children and money was tight. Following her successful cataract surgery, Dolores has recently regained her driver's license and is again independently mobile.
Dolores begins each day by reading her Bible. One of her favorite verses is Hebrews 11:1 which says, "Now faith is the substance of things hoped for, the evidence of things not seen."
For a nice lady who followed a "Bad Boy" all over the country for over 50 years and who literally walked through fire for Love's sake, this verse is obviously a very fitting testament to her life.
Interview & Story by Francie Cork
Photo by Clarence Schulte