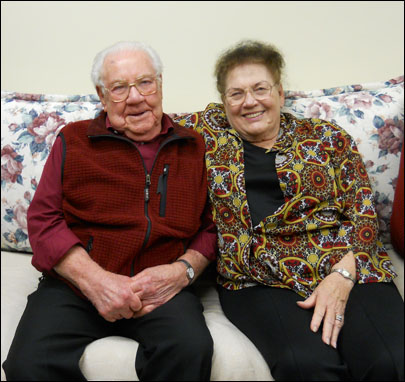 Chuck & Mary Holt
This is the first "Couple's Interview" for Santa's Seniors Spotlight. Much of the information is credited to the Holt's own "Fifty Years Together" Anniversary notice.
The eldest of five, Charles Eugene Holt was born May 15, 1926 in Missouri. In 1935, Chuck's family relocated to Downey, California. Mary Lou Williford, the middle child and only daughter, was born on December 27, 1929 in Lancaster, Texas. Her family moved west, eventually settling in Downey, California in 1942. It was there that Chuck and Mary first met.
After completing high school in 1943, Chuck attended the Farragut Naval Training Station in Idaho. He became part of an outgoing unit that replaced the people who were lost at Attu, Alaska during that skirmish. Eventually, after training at Camp Parks, just outside of Oakland, California, he was sent to Okinawa as a Seabee where he served with the 68th Naval Construction Company. When the war ended in 1945, he was shipped back to the States and discharged. Mary and Chuck had dated only occasionally, and as they had no "understanding," Mary had no qualms about seeing other guys while Chuck was away. In fact, she'd been engaged twice during his absence! When Chuck arrived to escort her to her Senior Prom, Mary was unavailable because……. she already had a date!
On July 26, 1946, they finally tied the knot and after honeymooning in Big Bear, California, began their life together in Downey. They both worked hard, Chuck for Alco Aluminum Plant and a glass factory and Mary worked in the office at the Vultee Aircraft Factory until the arrival of Charles Jr. in July of 1947. Following on his heels were Jim, in January of 1949, David, in December of 1950 and Danny, in August of 1952.
In January of 1956, Chuck, accompanied by his father-in-law and Mary's older brother, moved to Fairbanks to work at Eielson as an electrician. At the time, his intention was to fulfill only a two year contract. Who could have guessed he'd stay until he retired 30 years later? He was shocked to find gas selling for 50 cents a gallon compared to Downey's price of 29 cents a gallon. But, with all things being relative, Chuck's new job in Alaska paid a generous $3.02 an hour. After a short time, he returned to Downey to bring Mary and their four sons back to Alaska. With the help of family, the Holts' built a two-story log home at 17 Mile Richardson Highway. They happily resided there until 1959 when they moved a mobile home to 23 Mile Richardson Highway so their sons could be enrolled in school on Eielson. The Moose Creek Bluff had been designated as the attendance line between the Eielson and the North Pole/Fairbanks schools.
In the meantime, Mary had begun her employment at Eielson Base Supply on January 13, 1958 where she worked until her retirement 31 years later. The appearance of Robert, son number five on May 4, 1963 marked the beginning of their "second family" with many changes and blessings to come. The summer of 1965 was a busy one. Their oldest son started college out of state and a new house was built to replace the mobile home. On June 2, 1966, their sixth, last son and final child, Alan, was born. By 1970, their older kids had flown from the nest, leaving only the two youngest at home. Chuck and Mary are proud to say that five of their children graduated from college, David retired from civil service and has built homes in the area.
After 67 years together, you'd have to wonder if these two haven't evolved into carbon copies of each other. Nothing could be further from the truth! While they do agree on most points, there is still room for a difference of opinion. Chuck is boisterous, outgoing and social. He is fascinated by people's names and takes pride in his memory of them. He is a self-described neat-nick who claims his greatest achievement as "My family-my sons and wife." To which Mary responds with a smile, "Note the order there?" Chuck also maintains he likes being home, to which Mary argues, "Unless YOU want to square dance!" Mary is quietly reflective and calm and considers herself to be the backbone of the family. Chuck agrees. Chuck enjoys western music and "Dancing with the Stars." Mary's favorite song is, "You Are My Sunshine" and prefers news programs. While Chuck, who loves to fly fish and cites Tangle Lakes as his favorite spot, is busy wetting his line, Mary is most likely to be found safe and dry on the banks, reading. Although they wouldn't trade any of their sons for one, they wish they'd had a daughter. Fortunately, there are daughters-in-law and grand-daughters galore that have been added to their large, happy family.
Mary and Chuck belong to Tundra Rollers, Prospectors Square Dance Club, First Baptist Church of North Pole and Santa's Seniors. Now that Chuck no longer drives, and Mary no longer dances, she acts as his chauffer and sees to it that Chuck gets to square dance at least every Tuesday night, "and Saturday if I can work it in." In an earlier time, they had enough dancers in the family to form their own square.
Together, they have traveled extensively and say that the Panama Canal is truly the trip of a lifetime. By far, one of their happiest memories is when their entire family gathered at Jim's Texas home in 2011 during Thanksgiving to mark their 65th Wedding Anniversary. This celebration lasted for a whole week and enabled the entire family to reconnect.
As for bucket lists and goals left undone, Chuck mentions the desire for a lawn in the back yard "for someone else to cut." Aside from her plans of someday being a mother, Mary dreamed of being a nurse and wishes she'd been able to follow through. With six (6!!) sons to feed, bandage and care for, one can't help but believe her dreams really did come true. Like Chuck is fond of saying, "It is what it is!" (This, he learned from son, David!).
Interview & Story by Francie Cork
Photo by Sharon Geese