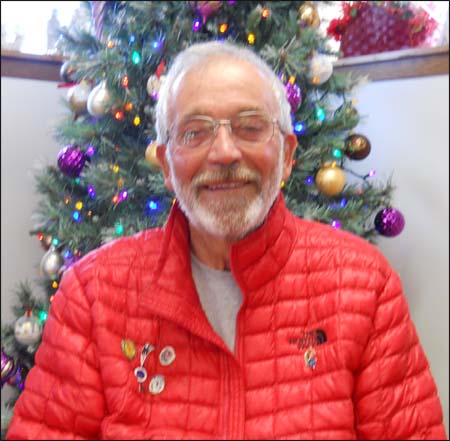 Carlo Zanazzo
If Carlo would admit to having one, his "claim to fame" would be as "that guy who picks up trash alongside Hurst, up Badger and across from the Beaverbrook Mall." Luckily, he is also one of our members who agreed to share some of his life story with us.
A second generation U.S. citizen of parents who were born in America but raised in Italy, Carlo Battista Zanazzo Jr. made his appearance in Norwood, Massachusetts on August 28, 1938. Canton, Massachusetts, Norwood's neighbor located about fifteen miles from Boston, provided the backdrop for a childhood straight out of the movies. He maintains close ties with his only sibling, a sister who is older by seven years. Growing up, Carlo's mother was a homemaker until her children were out of the home in the 1950's when she worked as an aircraft gyro winder for Northrop Aviation. His father was employed as a "dauber" for 30 years in an Italian business, Porter Patent Leather. When the company folded, Carlo Sr. found himself out of a job and minus the thank-you, gold watch or pension that would have been expected for so many years of faithful service. It was then that he became a yarmulke wearing, Catholic caretaker in a three story, Star of David building in a Jewish cemetery in Sharon, Massachusetts until he retired a second time.
As a young boy, Carlo dreamed of the day he would hunt big game with a high powered rifle like a 30/30. Already familiar with squirrels, rabbits, pheasants, grouse or anything that could be taken out with his .22, he kept his eye on the prize and became an official, card-carrying member of Canton Fish & Game at 15 and regularly attended meetings and seminars. His father had instilled in him a love of fishing and hunting and Carlo remembers a time when armed with his flippers, goggles and spear, he'd jig for frogs and share them with neighbors. The big dinners, parties and celebrations spent with people who weren't always blood-related but still considered family, contributed to his memories of living in a true Italian neighborhood where everybody knew everybody and doors were always open and unlocked.
Through the course of his education, Carlo attended three different schools. Kindergarten wasn't in the mix, so Grades 1-4 were spent at Revere, Grades 5-8 were at Elliot and high school was tolerated and completed at Canton where he graduated in May of 1956. At his own admission, he was no scholar and certainly no athlete, so as he entered his early teens, he secured work as a Class A caddy for the Blue Hill Country Club members. He carried double bags for 18 holes for $3.50 and held on to the fervent hope he'd receive a quarter tip from each of the golfers which would soar his earnings to the grand total of $4.00. When he was about a junior in high school, Carlo took a part time job near home for the Dardano Leather Factory. He stamped, measured and did general scout work after school and on Saturdays. He saved his money twice; the first time for a fancy English 10 speed bicycle which cost the heart-stopping price of $104 and bought him much street cred and the second time was for a Browning Sweet 16 (16 gauge) shotgun.
In June of 1956, right after his high school graduation, both of his parents and he were bound for Italy on the ship Christopher Columbus. They spent nearly three months visiting friends and remaining family in Gattinara, Italy. Passage was arranged back to the States for the end of August, but was delayed when their ship, the Andrea Doria, sank on her return trip to Italy. New reservations were made for the family to return home on the Conte Grande. As soon as he got back, Carlo began work as a foot courier in the big city of Boston. He took the train from Canton to South Station every day...about a 40 minute trip. He stayed with that job until he was called for military service.
In 1957, Carlo and three friends made the decision to join the Air Force on the Buddy System, but weren't called to duty until 1-2-58. This wasn't met with too much resistance, because it gave the young men several months to work and goof around. Even though Boston was a Navy town, Carlo had observed the billy club swinging Navy Shore Patrol on more than one occasion on the streets of Boston and decided he didn't want anything to do with that sort of brutality. Besides, a friend of his who'd joined the Navy and who'd come home on leave shared the woes and discomfort of having to wear itchy woolen uniforms which convinced Carlo that he wasn't cut out to be a Navy man. As luck would have it, the very first items of clothing he was given by the Air Force turned out to be made of......wool!
Basic Training at Lackland A.F.B. in Texas lasted only a month before Carlo had tested out as a likely aircraft electrician. Fortunately for him, tech school in Shepard A.F.B. was completed simultaneously with his Basic Training and he was able to graduate in May of 1958 with one stripe as an Airman 3C after only five months. He says when he came home on leave for the first time, sporting his sharp uniform, crisp tie, shiny shoes and new stripe, he said he was greeted by his family and neighbors like he'd been gone for 10 years! His "hero's welcome" was forged when his dad tossed him the keys to his black 1957 hard top Chevy for Carlo to use during his two weeks of leave. He was known at the time as a "Hot Ticket," a popular expression at the time that still makes his wife, Bonnie, (a/k/a "The Boss") laugh.
At the end of his leave, his first military assignment was for Mountain Home, Idaho. True to form, and with the highest of expectations, Carlo landed in Boise with a fishing pole in his hand. While in Idaho, he worked on B-47 bombers and KC97 refuelers. It was there that he met his future wife, Bonnie Nate. They married in Reno, Nevada (which is a story in itself, I'm told) on June 6, 1961. They were blessed with three children, who are all self-supporting and who live nearby with families of their own. Carlo and Bonnie are the proud grandparents of seven grand-kids. Carlo's Air Force career eventually took him to Puerto Rico, Grand Forks, N.D., Plattsburg A.F.B. in upstate New York and Eielson A.F.B. It was here, on March 30, 1961, while on a temporary duty assignment, that he fell in love with Alaska, and vowed to return. After waiting for a long time for a transfer to Eielson, the family of five crossed the Border into Alaska on Thanksgiving Day 1970 and celebrated with dinner at the Tok Lodge. It was while Carlo was stationed at Eielson that he obtained his promotion to E8 and soon after was shipped to Grissom A.F.B. in Indiana. In May of 1978 and with 20 years and 5 months of military service under his belt, Carlo was retired! The family returned to Moose Creek and ultimately did a lot of house hunting and wound up purchasing a home in a new Mavencamp subdivision off Hurst Road. In September of 1979, they settled in and Carlo says they are there to stay. Truth be told, moving is perhaps out of the question because of all the collecting Carlo has done over the years and he has no intention of getting rid of "all that good stuff."
Now retired and a little restless, Carlo, and by this time, Bonnie, both began working for the State of Alaska; Carlo, as a Corrections Officer at FCC and Bonnie as an administrator for the Public Health Center. After 19 ½ years, Carlo retired again in May of 1997. Bonnie followed a couple of years later. Now that they're time is basically their own, they enjoy regular vacations and already have their trip list made for 2015. Although Carlo has seen a lot of the State, he'd really love to see it ALL. He has been fortunate to accompany one of his sons to some outlying areas and also has a friend with a plane who also shares his interest in fishing. He still considers camping, hunting and fishing his favorite activities and most recently attended Arctic Man at Summit Lake.
Carlo belongs to many organizations and no doubt, some have been missed in this telling. He is a member of St. Nicholas Catholic Church, American Legion Post 30, VFW Axillary Post 10029, Santa's Seniors, and a life member of AMVETS AK. Post 2 (Anchorage), NRA, North American Hunting Club and Good Sam. He and Bonnie represented the City of North Pole in 2012 as the King and Queen. Crowns were seen in Honolulu, Juneau, Ketchikan and Haines that year!
As for realizing his boyhood dream of hunting big game, Carlo has stocked his home freezer with more moose, caribou, grouse, ptarmigan and fish than most of us can even imagine. He has also successfully hunted one Kodiak bear, two black bears, two buffalo and a dall sheep. One thing for sure, his family has never gone hungry!
These days, his family is what brings Carlo the most happiness and joy. He has managed to attain accolades and rewards and yet remains a really nice guy. Carlo freely admits to having a good sense of humor, as being a good family man who is generous with his kids and who is a collector of most things interesting. Left to his own devices, his favorite place would be at his home off Hurst, sitting on his deck in the sunshine, admiring his wild ducks and keeping his bird feeders filled. Of course, all this would happen only after he'd set aside that hour each day for litter patrol!
Interview and Story by Francie Cork ~ Photo by Sharon Geese