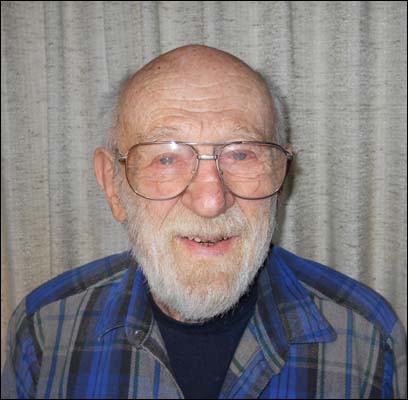 Carl Gaul
I visited Carl and his wife, Jeannette (See Spotlight #5), in their cozy log home on Mission Road in late August. The leaves were changing and rain clouds threatened, but the coffee was hot, the cookies were fresh and the conversation was stimulating. Even "Alarm Dogs," Tuffy and Skipper were friendly. This is what I learned:
Carl Joseph Gaul, the oldest of three sons, was born in Nisqually, Washington on 11-9-23 to a dairy farmer and homemaker. He stuck fairly close to home until joining the Air Force in 1944, "to get away from the cows."
A by-product of the Great Depression, Carl has been shaped and molded by that experience. These times also put an abrupt end to family trips and "extras". In those years, it became normal for families to live a day-to-day existence. Although he remembers "a hell of a lot of oatmeal," his family was fortunate to always have milk to drink as well as chickens and ducks on hand for eggs and meat.
A Model T touring car, purchased for $10 from a customer on his father's milk route was Carl's first vehicle. In the summer of 1939, when Carl was 16 years old, he and one of his brothers and a friend drove that same car, without adult supervision, to California. They visited Carl's relatives in Stockton, saw the sights in Fresno and experienced the San Francisco World's Fair before heading home to Washington through the redwoods. Young and hearty souls, they managed to avoid motels by sleeping alongside the road. With one big trip under his belt, Carl was the most likely, and certainly the most willing person in the family, to carry out the next big adventure the following year. He hitchhiked to Hibbing, Minnesota where his Mother's brother-in-law owned a Ford dealership. After picking up a1939 Mercury sedan, he drove it back to the west coast via Yellowstone and other scenic places. By 1943, gasoline rationing was in full swing and increasingly scarce, so Carl and his friend, who by then both owned a Model A Ford, managed to figure out how to modify their vehicles to start with gas and then run on kerosene. The jury is still out about how legal this was, but nevertheless, neither ever got caught.
Carl attended and graduated from a consolidated high school in Eatonville, Washington, in 1942, along with his good friend, Jeannette Beck. Aside from sharing the experience of Senior Sneak Day, they didn't date so a serious relationship didn't seem to be in the cards for them. Much later, they learned that one teacher in particular had decided they'd make a good couple, though it took a double date some time later for them to make this determination themselves. They must have had something very special, because on July 5, 2013 they celebrated their 69th Anniversary! When I asked Carl what he'd learned from all these years of marriage to Jeannette, he responded, "A lot of patience," but is quick to boast his greatest achievement as "Marrying Jeannette, was the smartest thing I ever did."
When he was 21, Carl joined the U.S. Air Force and was stationed at Roswell, New Mexico. He completed his service on home turf, pumping fuel for B-29 bombers. After his discharge two years later, he purchased a Harley Davison XH and rode it home to Washington. He wound up selling it for something Jeannette could comfortably ride in.
As a mechanically inclined, self-sufficient man who was used to hard work, Carl never lacked for a job…until that time when there simply were none to be had in Washington State. As luck would have it, opportunities knocked loud and clear in the form of a job offer in Dutch Harbor, Alaska from Pan Alaska. He repaired, maintained and operated their shore based equipment and their refrigeration facility for two years. Carl put down his razor the day he got off the plane in Dutch Harbor and noticed all the unshaven men. He has sported a beard, of various lengths, ever since. Jeannette says it was the only time in his life he was a copycat!
Dutch Harbor was good to them both. Jeannette had also secured work so were able to bank Carl's checks and save for their retirement. When they left two years later, it was with the intention of touring Alaska on their way back home to Washington State. While visiting Fairbanks, they became reacquainted with old friends from Washington, Bud and Virginia Howell, who encouraged them to stick around. One thing led to another, they settled in and Alaska has been their home ever since.
In his retirement, Carl bought, repaired and sold three and four wheelers from his shop at home. He is semi-retired now, but remains moderately active in the Early Day Gas Engine & Tractor Assn., Inc. Their steam and gasoline powered engines and old tractors have made several appearances in the North Pole Summer Festival Parade. Considered by many as "The Man Who Knows" when it comes to older engines and equipment, Carl generously shares this wealth of knowledge with all who show an interest.
Asked to describe himself, Carl was at a loss. Fortunately, Jeannette quickly stepped forward to express he is "a free spirit, has a great sense of humor, and is extremely loyal."
By the time this is printed, Carl will have celebrated his 90th Birthday. He attributes his longevity to "dumb luck," and says the best thing about growing older is "I'm still here! The frailties of age are catching up with me but I'm still in better shape than most guys my age….they're underground!"
Claiming to have a "voice like a frog," Carl particularly enjoys jazz and big band music. He reads the paper every day and feeds his curiosity by researching various topics of interest on the computer.
He and Jeannette have traveled a bit and have fond memories of Australia, where their friends, whom they hosted many years ago while in Dutch Harbor, reside. I was surprised to learn that Tasmania is very similar to Oregon. Who would have guessed?
Carl is really fun to be around. His quick wit and dry sense of humor (thank you, Jeannette!) is contagious. He is a gentleman through and through, doesn't hold grudges and just avoids people he doesn't enjoy. He is a walking encyclopedia of information and mechanical advice. Truly, time with Carl is time well spent.
Interview & Photo by Francie Cork