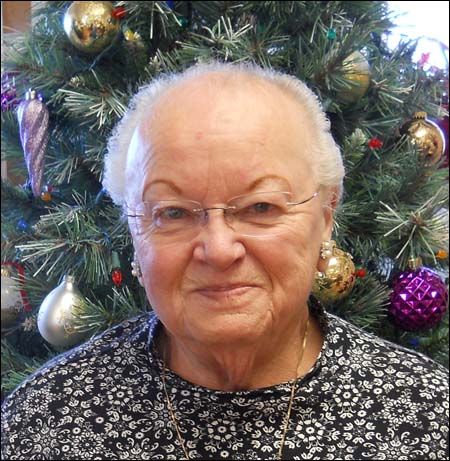 Ardena Lavira Roufs Morway
I was born in Merrill, Oregon. Soon after by birth, my folks moved to Bieber, California where my Grandfather ran a service station. My Dad "Mike" went to work for him. Soon after, Dad bought out Grandpa.
I grew up pumping gas, selling Coco Cola and Root Beer. Bing Crosby had a ranch in the valley I lived in so I pumped gas into his vehicle. At 12 years old I had many work opportunities such as helping in the kitchen, cooking in the school kitchen, working at the ice cream parlor, at the Post Office and in the Doctors' office. As a teen-ager, I always had a job working on a ranch.
One day when I was 16 and just out of high school (I completed my courses in 3 years and received my diploma early) a young man came to work for my Dad driving a logging truck. He also broke horses for area ranches. Clint Walker, one of my relatives tried to get him to pursue a career in the movies. He wasn't interested. We became fast friends and two months later we were married in Reno.
After a year working in the logging business, we bought a ranch with my grandfather backing us.We decided to move to the valley and bought another smaller farm where we raised calves and pigs.
When I was 20, during childbirth (caesarian section) I had a heart attack and was legally dead for nearly 20 minutes. I went to heaven's gates but was told it wasn't my time. Meanwhile, the Dr. slapped me so hard he almost broke my jaw and it brought me back.
Many movie stars lived in our valley and I fondly remember dancing with Tennessee Ernie Ford on my 23rd birthday. He also sang Happy Birthday to me!
Dave went to work driving lumber trucks all over the west coast. One day he came home and our house was burned. We rebuilt and continued to live there until one day Dave came home and said, "I want to go someplace where I'll know my kids." I said, "Where?" He answered, "Alaska." What a shock! That was 1964. In two weeks, we sold out. He and my Dad built a camper and pull along trailer and we headed north.
We crossed into Alaska, June 5, 1964. It was so hot and we only had winter clothes because we thought we were going to the land of ice and snow. God brought us home. Everything fell into place. In the next few days we had bought some land at ¼ Mile Badger. Dave found a job with George Horner and I was asked to go to work for Fred Pope. He needed a meat wrapper and it was just next door.
I've always been able to oil paint. My Grandmother was so talented and I was lucky to get some talent from her. I've taken lessons through the years. I went to Oregon for a time and studied under a wonderful teacher. I was blessed to have a shop at Alaskaland with 8 gals for several years. My husband and George Horner built Alaskaland. I worked with the Garden Club and planted the trees and flowers there.
I'm the first woman to go over Eagle Summit on a snow machine. I went with 5 guys. My hubby was supposed to do it but he was down at Kennecott building a road on the glacier. Art Carol and Bert Sharp said a Morway was going. I did and I made it! They gave me a plaque for doing it. After many years of road building which took us to Juneau, Haines, Denali, Cantwell, Paxton, Delta, Chicken and Tok, my hubby retired.
Upon retirement, we moved to our cabin on the Salcha River. We lived there for several years before our son-in-law and daughter went into business and they needed my husband which brought us back to town. Since 2000, we have lived on Badger Road. WE enjoyed our home, garden and being close to family. In 2012, my love of 60 years went home to be with the Lord.
Currently, I volunteer at the Santa's Senior Gift Shop and at some of their other events. I also really enjoy the times with my family and friends.
Story by Ardena
Photo by Sharon Geese