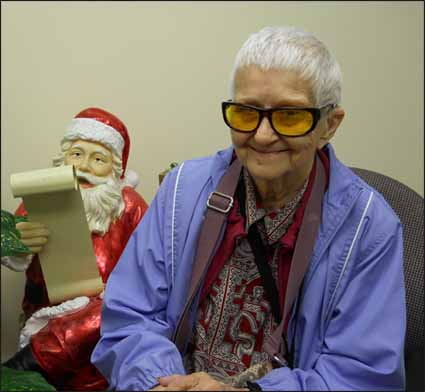 Anna Powell
In late August, I was called to an impromptu interview with Anna as she and her son, Duane prepared to leave Alaska for her new life with him in Catonsville, Maryland. Time was limited, but I was able to get some basic facts about Anna, one of Santa's Seniors Honorary, long-time members. A copy of the biography she'd submitted upon admission to the Fairbanks Pioneer's Home was a great help in the writing of her story.
Anna Lavada Hauk was born in Washington, D.C. in Walter Reed Hospital on October 11, 1924. She was the oldest of four children and was raised near Baltimore with her maternal grandparents who were of Czechoslovakian heritage. Her father, who served in the Army during World War I, left his family to join the Merchant Marines so her mother obtained work as a seamstress to help support her children. Anna didn't speak English until she entered school at age five. Because she wanted to help ease her mother's financial burdens, Anna secured a work permit when she was sixteen and made shoulder pads for women's garments in a sewing factory for two years. While she was there, she became acquainted with her future husband's two sisters.
Learning that the Equitable Trust Co. was granting three months free training to prospective employees, Anna jumped at the chance and proceeded to work as a bookkeeper in the banking business for several years.
Calvin Stephen Powell, better known as "Scotty," who was a Master Sergeant in the U.S. Army Engineers and also the brother of her former sewing factory co-workers, had come down from Owings Mills, Maryland to visit with his aunt and uncle in Taneytown, Maryland. Anna met Scotty at her eighteenth birthday party when he crashed it and spiked the punch. The two met, became better acquainted and married in 1946. Together they had four children.
Like many before them, their arrival here happened as a result of a military transfer. While they were stationed in Ft. Knox, Kentucky, Scotty was given a choice between Alaska and another European country as his next assignment. Since they'd recently spend two years in Germany, they chose Alaska and arrived in 1959-the same year we became a state. Anna soon found work at the Alaska National Bank. Scotty liked Fairbanks and wanted to make Alaska his home after retirement. Anna wasn't as convinced because of the harsh weather, but soon adapted. After serving his country for thirty years, Scotty retired from the military and started a wood business which he and Anna ran from their cabin at Harding Lake. They provided wood to Delta, Eielson AFB and neighbors in that area. They went on to contract with the Fairbanks North Star Borough and provided bundles of firewood for campgrounds. All the while, Anna worked at his side cutting, stacking and bundling. It took a while, but eventually she convinced Scotty that it was time to put down his chainsaw and retire. She was weary of the hard, physical work and wanted to spend time inside, working on her quilts! The two became very involved in Salcha Seniors. Anna joined 17 Mile Homemakers FCE and Santa's Seniors and remains a member of both organizations to this day.
Calvin Scotty Powell passed away in 1998 and shortly after that, Anna left the Salcha area and moved to a new residence on Farmer's Loop. She lived there until she relocated to the Pioneer's Home on Moore Street in Fairbanks. While at the Pioneer's Home, she continued to maintain her affiliations with Homemakers and Santa's Seniors, even as her eyesight began to fail and she needed hearing aids. She especially enjoyed visitors and had several close friends and family members who stayed in close contact with her. Friends would stop by and read Santa's Seniors newsletters to her and catch her up on local doings around town. Leon LaSalle (Senior Spotlight #9) would make sure that Pebbles, who was one of her favorite furry Companion Dog friends, was available for petting on a regular basis.
Though Anna is courageously beginning this new phase of her life by relocating so far away from us, this is a good decision, as she'll be much closer to family and old friends. This move will also bring her nearly full circle in this life.
I asked Anna what she thought she'd miss the most about living in Alaska and she was quick to respond: "the beautiful summers, the flowers, Midnight Sun Baseball games, my close friends, reindeer sausage…..and Fat Man Pie from Hilltop Cafe!"
We'll certainly miss her, but I'll venture a guess that few of us will swat mosquitoes in the stands at a midnight baseball game or stuff ourselves with a decadent dessert that we don't think of Anna Powell!
Thank you, safe travels and may God bless you, Anna!
Interview by Francie Cork - Santa's Senior Photo by Sharon Geese