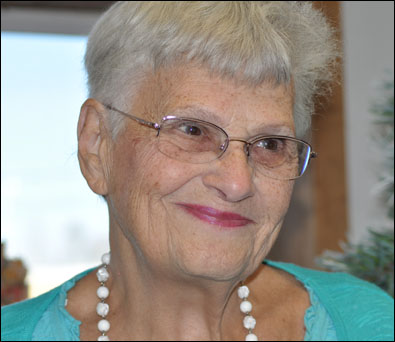 Alma Rider
Alma Ruth Spera was born at home in Central Islip (Long Island) New York on May 17, 1934. Her paternal grandfather had immigrated from Italy as a young man and her father followed his footsteps and became a cobbler while her mother worked at home. Alma is the oldest of four sisters who are spread out in age over 18 ½ years. Few of us can boast, as Alma can, that she was born, raised and married in the same family home, a Sears building that is standing to this day. Although she was at the tail-end of the Great Depression, she still remembers how it was to make do or do without. She remains resourceful and still can stretch her dollar further than most.
Alma, who was shy and quiet as a young girl, attained her full adult height of 5'10" by the time she was eleven. The only garments her mother could find that fit were "old lady clothes," so Alma learned to sew and continues to fashion much of her apparel to this day. She doesn't spend all her time at her sewing machine though, but has shared her talents and gifts with others through her six years of service work with the Foundation for Parents & Children in Fairbanks, as a member of the Church of North Pole, and as the honorary mascot for the North Pole Softball Team. Hers is a familiar face around the Senior Center as she volunteers in the Gift Shop, is a loyal attendee of the monthly Birthday Luncheon, First Saturday and Tuesday Bingo at McDonald's. She also enjoys gardening and berry picking and is particularly fond of old hymns and music from the 40's and 50's….and "maybe some of the nice 60's songs".
Alma married Richard Rider in 1954. They were blessed with two sons, Richard Jr. and Alan. She is especially close to Richard, who lives nearby with his wife and family. He makes sure her yard is mowed, has a ride to church and helps out in many ways. Of her four grandchildren and ten great-grandchildren, two grandchildren and eight great-grandchildren live in the area. Her younger son resides Outside.
In 1979, the Rider family visited their son, Richard, who was stationed at Eielson. This was their first taste of Alaska. Alan stayed and lived with his brother. On Friday, July 13, 1984, Alma and Richard Sr. joined their son and permanently relocated to Alaska. Memorial Day of 1985 marked their move into the small 24 X 24 cabin they'd constructed from pallets on property off Peridot. It had one bedroom, a loft, a small living room and a kitchen….just right for the three of them. It had no electricity or running water but because this was Alma's home, counters and appliances were installed higher than in most homes. In 1996 they hooked up to GVEA, but water is still delivered because drilling a well at this location has proved to be impossible.
No stranger to the workforce, Alma's first job was as a babysitter for 25 cents an hour. Her last paid employment was as Santa's Seniors Administrative Assistant, a position she held for 6 years, until 2011. When asked if she'd had a favorite occupation through the years, Alma admitted to particularly enjoying her years as a Teller for North Country Credit Union. This was a good fit for someone who describes herself as "easy-going, compassionate and friendly." Although she was often offered advancement, she was perfectly satisfied interacting with the customers on a daily basis.
Alma, "people person" that she is, had dreamed of having a Bed & Breakfast for many years. She'd even managed to set aside some funds for just this purpose; because it was clear to her their present home could not accommodate guests. After her husband had passed away in January of 1996, the house was jacked up that summer, logs were peeled, a large living room was added and Alma was finally on her way to seeing the fulfillment of her imagination! Finally, in July of 1998, two of her sisters and one of their husbands became her first guests. Although she no longer is officially in business, through the years, she has welcomed many visitors to her comfortable home that contains many of her own childhood keepsakes.
She has had a few health bumps along the way but is greatly influenced by Rhonda Byrne's self-help book, The Secret (available at N.P. Branch Library) that contains guidance on how we can tap the power within ourselves. This and Alma's strong faith that "God is in control, so why worry?" is critical to keeping her steadfast, strong and cheerful. Right now, because she has made the personal choice to give up her car keys, her lack of independent transportation has become somewhat of an annoyance. Thankfully, there are those who are willing to step in and see that she gets where she needs to go.
It may be somewhat of a surprise to learn that gentle, unassuming Alma has a bit of dare-devil within. In past years, she has Para-sailed, white water rafted and ridden in an ultra-light aircraft! She has traveled extensively and has taken several cruises and currently has her eye on a trip to Skagway. She'd also like to see more of our State.
Alma's personal motto, "In order to have friends, you've got to be friendly," is something she puts into practice each day. We are fortunate, indeed, to have such a good, easy-going, compassionate friend so close to us.
Interview & Story by Francie Cork
Photo by Clarence Schulte